Indulge In A New Hobby With Kitch.Ph, A Homegrown Line Of Cross Stitch Kits
They provide "A Modern Twist To An Old Favorite"
We've grown and learned so much these past months in quarantine. Though we've had our activities curtailed, there were moments where many realized that it's been a good time to indulge in personal endeavors to evolve, nevertheless. One of the ways people have discovered themselves this pandemic season was through taking up hobbies. In a time where familiar life routines such as gatherings with friends and family, shopping at a favorite mall, going to restaurants and cafes and traveling has been reduced to a monotonous bubble restricted to the confines of the home, hobbies have helped channel the anxiety, loneliness and nerves caused by the pandemic.
Cross stitching is an old favorite hobby, a throwback to home economics classes where girls were taught this embroidery skill with a basketweave cloth, embroidery thread and a needle.
This craft is actually thought to have its origins in Tang Dynasty China, crossing over to the West via the Silk Route. In the sixteenth century, Catherine of Aragon is thought to have introduced the craft of "blackwork," to England. Blackwork, made with black stitches made from black sheep's wool on white linen, is known as the ancestor of cross stitch as we know it today.
As times have evolved, so too, have the patterns, colorways, trends and styles of this craft. Enter Kitch.ph, the newest kid on the local crafting scene, providing "a modern twist to an old favorite." Birthed by mother-daughter tandem, Mariluz Agujo and Diane Agujo, Kitch.ph offers cross stitch kits for the beginner and the seasoned crafter alike. "My mom (Mariluz Agujo) and I both like to do cross-stitch. One day during a video call, my mom told me she found our old stash of unfinished cross-stitch projects from years back. She picked up the hobby again which gave her the idea to start our own cross-stitch kit brand. And after a few weeks of planning, we were able to launch Kitch," Diane Agujo tells Metro.Style. The best part is that the brand is homegrown with designs that celebrate local flora and fauna, made especially for Kitch.ph by the Agujo family, Mariluz, Diane and her brother, Adrian, a freelance graphic designer who created their packaging as well.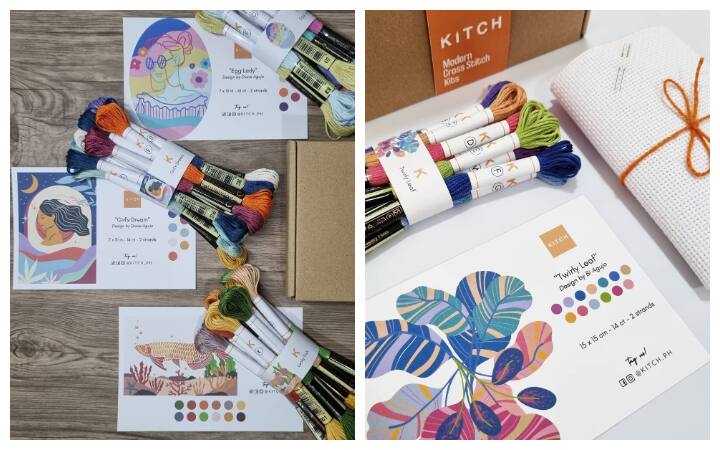 Photo Gallery
Photo Gallery
The kits that contain the patterns, the cloth, as well as the palette of threads needed to come up with the embroidery. "Cross-stitching [and crafting in general] is a very relaxing activity. It allows us to redirect our focus from our usual chaotic day to day activities into something creative. It can also be a form of meditation for some which can help ease anxiety and reduce stress… We're working on a lot of different designs and styles for our patterns because we want to introduce cross-stitching to as many people as we can. From kids to teens to adults - we want to provide a fun and creative hobby that will keep them off of their screens," Diane Agujo encourages those who want to indulge in a little me-time, whilst creating something pretty for their home's corners.
The future looks bright for this recently-launched craft brand. "We recently just launched a kiddie line which are mini cross-stitch kits for kids and beginners. We have our 2nd collection coming out soon which features bigger patterns with different themes. We also have a BTS-inspired collection coming out in mid-June," Diane says, looking forward to the many possibilities cross stitching has to offer.
Shop this story: