This Building In Taguig Gives An Immersive Peek At Korean Culture
The Korean Cultural Center takes pride in being an interactive space for Koreaphiles to learn more and enjoy the culture here in Manila
Everyone is into all things Korean now—whether it be shows, music, fashion and beauty, and so much more. Our fascination with the country is on a growth spurt, and more and more people are getting curious about what life in South Korea is like. We imagine being in K-drama lead actors' shoes; we dream about meeting our favorite idols; we devour Korean food wherever we go—there's just so much to whet our appetite with!
Further amplifying the K-wave experience, the Korean Cultural Center (KCC) is on the mission to have Filipinos experience more of what Korea has to offer. Opening their new building at 59 Bayani Road earlier this year, they made sure that the space is that one-stop place for a completely immersive and interactive adventure.
The five-storey modern building is an interesting spot that offers a holistic experience. "Actually, this building is a remodeled one. Despite this limitation, we thought of the best interests of our guests while constructing and designing the building. We want our guests to experience and feel Korea as soon as they enter our doors," KCC director Im Young-a tells Metro.Style. The space merges traditional and modern Korean architecture, a reflection similar to the country itself, where its history and the contemporary times blend in seamlessly.
Even before entering, a huge mural outside made by Filipino artist Jappy Agoncillo will greet everyone. The picture, which includes both Korean and Filipino elements, is representative of the friendship between the two nations as well as KCC's goals for the coming years.
Open the glass doors and find the beginning of your South Korean sojourn—an LED screen that features a colorful animation of Korean history and culture stimulates the anticipation for other displays to be found within the building. The ground floor they call the Experience Hall—the director's personal favorite part of the building—boasts of traditional displays and modern kiosks and LEDs where guests can experience Korean culture for themselves.
"Before, when we were in our former space, there was no chance for us to hold an interactive exhibit where guests can experience and enjoy traditional Korean culture. We only had one exhibition hall that had to be converted and transformed every time, " she narrates. "Now, we're able to provide an exhibit where our guests can experience traditional Korean culture with our LED screens, interactive kiosks, and informative displays."
You can learn about Hangeul and even print your pictures with your name written in Korean (we love the details on this part—the chairs themselves are styled in Korean characters!). Discover traditional clothing, and delve deep into their dining culture with an exhibition of beautiful ceramics on the shelves (there's even a kimchi jar!).
At the mezzanine level, the library is an open space for learners who are looking for reading materials. "Since a lot of students nowadays are studying in cafes, we wanted a similar ambiance for our library. Anyone can visit our library and study freely with the same comfort that of a café," Im Young-a shares. Reading nooks, colorful study areas, neat piles of books, a children center (where Poporo is on loop!), and even a VR area can be enjoyed here.
The upper floors are dedicated to KCC's students, as they offer language, cooking, dancing, and other cultural activities. The language classrooms are fit with necessities for studying Korean and brightly lit to encourage learning. Into the cooking classroom, it boasts of an open kitchen design that's similar to the ones in Korea. Finally, the K-studio, where taekwondo and dancing classes are held, has Korean patterns on its ceiling.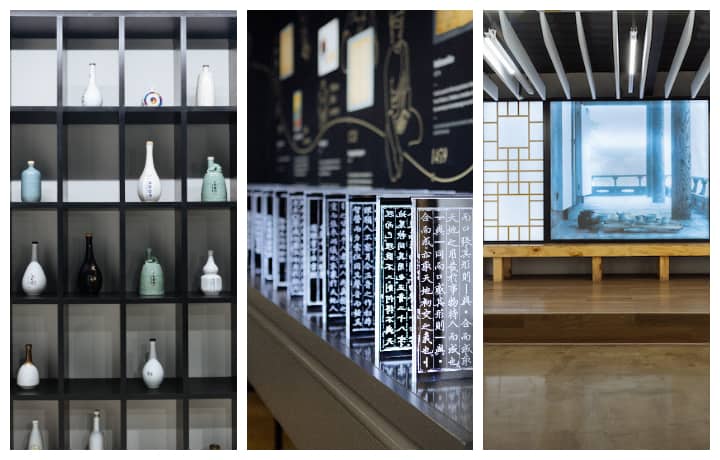 Photo Gallery
Photo Gallery
On the top floor sits KCC's Multipurpose Hall, where most of their events are being held. "The Multipurpose Hall is like a blank canvas for us where you can paint it into anything. Here, we can hold different exhibits, projects, or events inside," she says. They have previously mounted one-of-a-kind showcases, like the Punghwa, Light of ASEAN where traditional lanterns hung in the high-ceilinged space and the and the Mannam, an art competition exhibit.
"For KCC, we are always thankful for the Filipinos' continuous love and support for Korean culture—whether it be the arts, films, dramas, music or food. Their continuous love and support is what makes us come up with different projects and events that they can enjoy every month. We try our best to give them the maximum Korean culture experience, and let them also experience Korea right here in the Philippines," the director opens up about our country's love for all things Korean. Thus, they are cooking up many ways of further introducing Korea to us—like the recently held Phil-Kor friendship media art show called Donghaeng: Gunita at Pag-asa, a first.
"It featured both the Korean cutting-edge technology and the Filipino art and culture that told the tale of the longstanding development of the friendship between the two countries," she explains. "Korean and Filipino artists closely collaborated and shared their craft to make the media art show a success."
As they close the year with a special Hanbok illustration exhibit this month and the conclusion of their third online and onsite class term, there's more to look forward to in KCC. Next year, they plan to expand their activities outside of Metro Manila so that more people can enjoy their events.
And of course, for us living in the city, the KCC building is always open and ready to welcome you to dive in—you'll see us spending time reading the afternoon away in their cute library. See you there!
Learn Hangeul, K-pop dance, view an exhibit or perhaps attend a cooking class at the Korean Cultural Center at 59 Bayani Rd., Fort Bonifacio, Taguig, Metro Manila. Call (+63) 2-8555-1711/1709 or visit https://phil.korean-culture.org/EN.
Photographs by Paola Aseron