Pet Of The Week: Jjoonjie Is Remembered By K-Drama Star, Lee Joon-Gi, With A Heartfelt Note
The long-haired chihuahua has crossed the rainbow bridge, but his memory lives on as the "kind and pure-hearted angel who was like a friend and family member"
K-Drama star, Lee Joon Gi, who we know from his compelling performances in Flower of Evil, Moon Lovers: Scarlet Heart Ryeo and much earlier on his career, My Girl, was missing in action from social media for a while. It seems like the actor's silence had something to do with losing his beloved dog, Joonjie. After his last post on July 2, he posted yesterday (August 16) the sad news of his furbaby's passing.
Many fans have gotten used to seeing Jjoonjie on the actor's social media feed which proved Joon Gi's excellence not just on-screen, but also behind the scenes, as a pawther. Take a look at some of most adorable snaps of this furbaby shared by the actor in this gallery: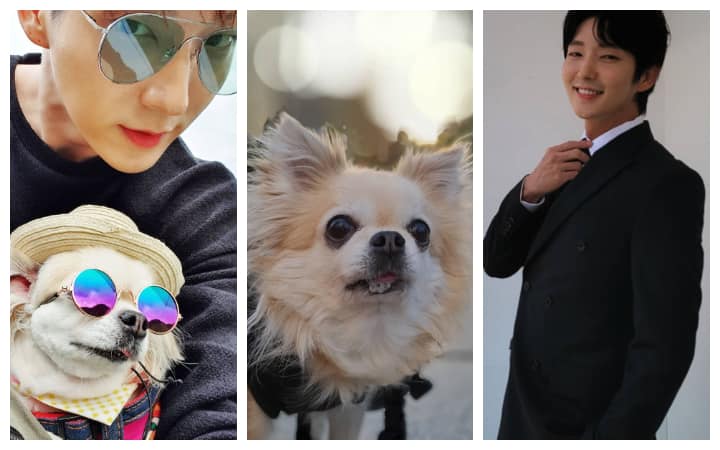 Lee Joon Gi's Jjoonjie
Lee Joon Gi's Jjoonjie
Originally posted in Hanggul, the actor's sentiments showed his depth of emotions on losing his furry companion. Its eloquence gave an intimate view of Joon Gi's expression in the face of this sad event, highlighting the relationship he had with Joonjie who was treated like a member of his family. He also admitted that he needed time to focus on his healing and moving on, as well as to collect his thoughts on this loss, thanking his fans who have made Joonjie a part of their lives as well.
Soompi translates Joon Gi's statement as follows:
During these tiring and difficult times due to COVID-19 and the heat, I have some heavy news to share.

I believe in sharing this news because he was someone who had received a lot of interest and love from those whom I consider my family.

On July 23, Jjoonie left the arms of his beloved family and crossed the rainbow bridge. The next day, we held a funeral in deep sadness and longing and could only cry. His ashes have been put inside a small jar and he is watching over us now. He went to get an MRI and was diagnosed with a brain tumor… I was so shocked and sad and sorry. But since I didn't know how much time we had left, I decided to do all I could and do my best to love him… I wanted to make as many happy memories with him as long as he could still remember them, so I devoted all my time to Jjoonie. He was such a kind, angelic baby who had eyes for no one but his owner, and he endured the pain well as if to spare his family pain. After a brief period of illness, he has left for puppy heaven. Jjoonie was a kind and pure-hearted angel who was like a friend and family member whom we could depend on to care for us.

I felt such deep sadness at saying goodbye to Jjoonie that I had a hard time for a while, but now I am working at spending more time with Ggabi [his other dog], who is also sad at having lost a friend.

I believe that Jjoonie will one day greet me on the other side of the bridge with a wagging tail and guide me, so I don't think of this as the end. My family and I are pulling ourselves together and sharing more love and affection with Ggabi, who still remains with us.

I want to thank all those who worked hard and helped with Jjoonie's period of illness.

I also want to share my sincere thanks for the fans who have watched over Jjoonie and Ggabi since they were young and sent them their love. Thanks to you, Jjoonie was able to live a really happy life, and I'm sure that he is wishing for everyone's happiness where he is right now.

Since I wasn't able to write about this before, there were many people who were concerned and worried, but I wanted to sort out my thoughts first. When it came time for me to write, I kept erasing what I wrote and starting over.

I think that I will soon be able to greet you all with good news. It might take some time, but please wait for me.

Please take care of your health first during this time that is difficult for so many reasons. I will pray that we only have good days ahead of us.

Jjoonie, thank you for the time that you spent by our side. We miss you and love you. Until the day we meet again, be happy wherever you are.
About The Long-Haired Chihuahua
An ancient breed dating to 100 AD, the long-haired chihuahua is known to be diminutive in size, weighing between 3-6 lbs. What it lacks in size, it makes up for in life span and character. They can live up to 15-20 years as protectors of their pack. They are also known to have big hearts and to be fiercely loyal to their humans. Vivacious, they are recommended for households with no small children. Notoriously difficult to house break, they are prone to bouts of separation anxiety and can be destructive when left alone. They are active, but do better when walked on a harness versus a leash because there is a danger of tracheal collapse due to their small bone structure.