EXCLUSIVE: Meet LA Closet Design's Lisa Adams And See The Luxurious And Covetable Closets She Has Designed
We're having some serious closet envy with these luxury closet and dressing room designs by LA-based expert Lisa Adams
"I like my money right where I can see it... hanging in my closet," quips Sarah Jessica Parker as Carrie Bradshaw in Sex & The City. Every fashion-obsessed woman dreams of having a spacious walk-in closet with shelves upon shelves of storage space for one's well-loved collections of clothes, bags, shoes, and accessories.
Long gone are the days when these items were mostly kept stored and hidden in enclosed cabinets. Today, walk-in closets at home have come to resemble the boutique designs of luxury fashion brands more and more. We now see a lot of open closet styles and wardrobe systems that beautifully display prized possessions because, well, they're absolutely flaunt-worthy.
Carrie Bradshaw will definitely agree when we say that seeing your closet staples impeccably organized in hanging rods, neatly folded and lined up on shelves, and perfectly stored and categorized in drawers is quite therapeutic—a fool-proof mood booster and stress reliever for many fashionistas! More than just a space for your things, a closet has become synonymous to a private sanctuary, and having one that's stylish and Instagrammable gives a sense of fulfillment many women of today can relate to.
Now, if you're planning to build or renovate your closet, turn to LA-based high-end luxury closet and dressing room design expert Lisa Adams' portfolio for ultimate inspiration. Lisa is the CEO/designer behind LA Closet Design, which was established in 2007 "with the intention of revolutionizing the concept of closets."
If countless designs are being explored to marry style and functionality in the other areas of the house, why can't the same be done with the closet? After all, it's where all things fashionable and beautiful can be found.
Lisa's education background may boast of a BA in Chemistry from the University of California, Berkeley and an MBA from Malibu's Pepperdine University, but it was her love for fashion, style, and décor that eventually led her to pursuing a career that was never heard of.
With 12 years of experience in turning dream closets into reality, Lisa has become the go-to of celebrities. She had designed closets for Khloe Kardashian, Tyra Banks, Kris Jenner, Christina Aguilera, Giuliana Rancic, Olivia Culpo, and Monique Lhuillier.
Get to know Lisa more in this exclusive interview with Metro.Style:
How did your career as a closet designer begin?
"It started when I worked on the operations side of a kitchen and bath design firm. I saw a niche in the market and decided to pursue it. I took classes at UCLA in interior design and have a BS and MBA."
Why did you decide to focus your attention and expertise on closets?
"I recognized that no one was doing design of high-end luxury closets and dressing rooms, and thought I could put all of my talents to the test."
During the early stages of your career, what were some of the challenges you had to face in terms of determining how to efficiently design and organize a closet?
"For one, timing wasn't perfect when I first started my company—I launched in 2007 and we had a recession in 2007-2008. Fortunately, people were still doing remodels (less new construction at that time); simultaneously, I had a few press/celebrity requests and also spent time doing philanthropy work."
LA Closet Design has been around for 12 years. How has your concept of a functional and stylish closet evolved through the years?
"It's amazing how it keeps evolving. When I started, the concept of a 'dressing room' was still new, so it was still mainly about the cabinets in a room. Today, the idea of a multi-functional space has taken over and closets have become fully decorated rooms, including decorative light fixtures, seating, upholstery, art and technology."
How do you define your aesthetic in closet design?
"Timeless, modern, luxurious"
What has been the most challenging and most fulfilling project you've ever done and why?
"The most challenging and fulfilling project to date has been a 3-story closet in Bel-Air, CA. The details were incomparable to any other project—first floor included the seasonal clothing and a jewelry room, second floor is for tailored clothing and accessories, and the third floor is where the everyday/causal clothing and accessories are. It was a labor of love."
Can you share some tips when organizing clothes, bags, shoes, and accessories?
"Organize your items by size, so you can best maximize the space (i.e. longer items together, smaller vs larger bags, taller vs shorter shoes). It also helps to organize your wardrobe by occasion, so more formal pieces are stored together (and protected) while daily/casual pieces are kept separate. This way, you always know where to go when you're getting dressed."
What are the top 5 key design elements every woman must have in her closet?
"A place for new items (staging area), a good full-length mirror, ample storage for accessories (shoes, bags, sunglasses, jewelry), dedicated workout storage, and a good landing space for décor/styling (bureau, vanity, island)."
What are some of the trends in closet design today?
"Grays or color being used in more adventurous ways
—
fewer white closets! Mixing metals. Incorporating areas for staging, charging, and makeup."
Photos from @laclosetdesign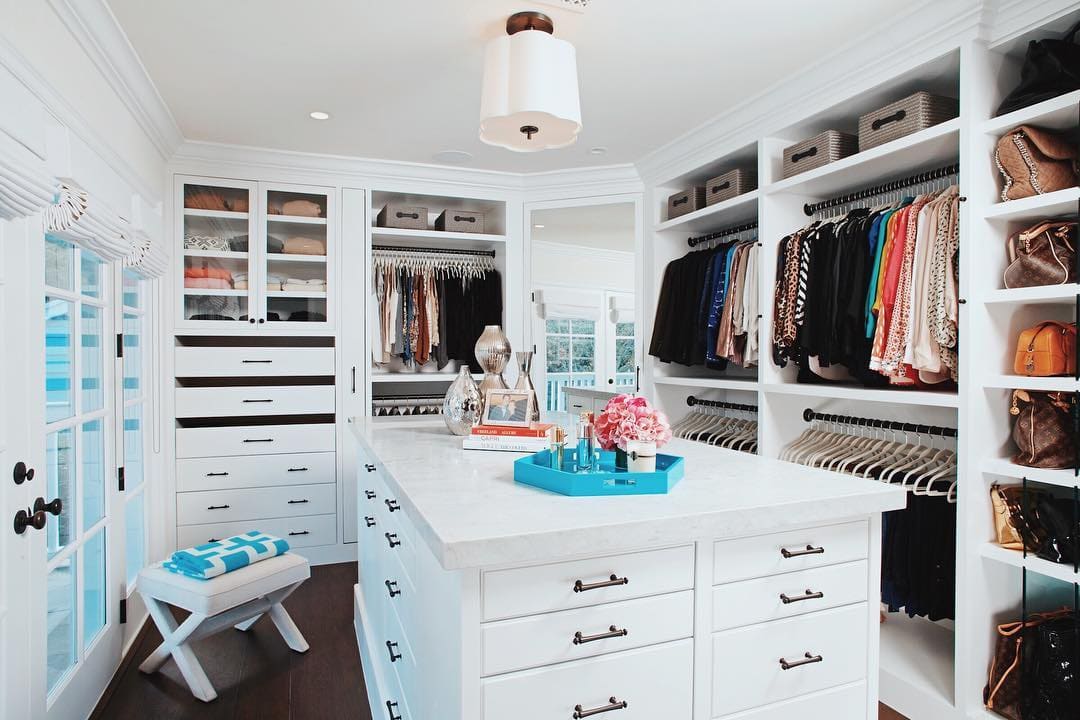 Our Favorite Closets By Lisa Adams
SWIPE LEFT OR RIGHT
TO NAVIGATE BETWEEN PAGES
Our Favorite Closets By Lisa Adams