Louis Poulsen Lights Up In Manila
The Danish lighting manufacturer celebrated its Philippine launch in a hygge-themed café event
It's become a trend that peaked in the mid-2010's, and nowadays, hygge seems to be a buzzword in interiors. Defined as "a quality of coziness and comfortable conviviality that engenders a feeling of contentment or well-being (regarded as a defining characteristic of Danish culture)," hygge has all the ideal qualities for living. After all, it is a concept born in Denmark, considered "The World's Happiest Country."
If you've ever wondered why hygge caught on globally, look no further than Danish interiors, especially their inviting lighting. Characterized by nothing more than a warm glow, sources of light illuminate pockets of calm in personal spaces, a must for Denmark, a country that experiences 17 hours of night time.
Here's some great news for Filipino fans of hygge who also happen to have impeccable design taste: lights are on at Louis Poulsen Manila as the premier Danish lighting manufacturer celebrates its formal launch with a special Scandinavian pop-up cafe last September 1 at the 28th Floor of the Twenty-Four Seven McKinley Building, BGC.
A Legacy of Light
Founded in 1874, Louis Poulsen was born out of the Scandinavian design tradition where form follows function. Its iconic lighting fixtures are a result of a series of close collaborations with world-renowned designers such as Poul Henningsen, Verner Panton, Øivind Slaatto, Arne Jacobsen, and Vilhelm Lauritzen to name a few.
Established as one of the key global suppliers of architectural and decorative lighting, Louis Poulsen prides itself in redefining hygge through ambient, downward, and glare-free lamps that create cozy environments which resemble the warmth and beauty of Scandinavian summers.
Caffeinate, Illuminate!
A Louis Poulsen Pop-Up Cafe, especially created to commemorate the formal launch of Louis Poulsen Manila, was set up on the 28th floor of the Focus Global building in Twenty-Four Seven McKinley, BGC.
The expansive space turned hygge haven overlooks the BGC skyline, setting the mood for a cozy evening as guests basked in the glow of Louis Poulsen lamps over crafted coffee and cocktails by The Curator, warm pastries from Eric Kayser, chill beats by DJ Pamcy, and meaningful conversations.
The carefully curated cafe space was set up to showcase some of the brand's most iconic pieces including the Patera pendant lamp, Panthella table lamps, the PH 3 1⁄2-2 1⁄2 floor lamps, and the eye-catching PH Artichoke pendant lamp.
As an homage to the brand's brilliant heritage, a history wall was also set up so guests could learn more about Louis Poulsen's key pieces, important historical milestones, design collaborations, and design processes.
Everywhere We Shoot, composed of photography and visual artist super duo Ryan & Garovs Vergara, also stunned with their own interpretation of Louis Poulsen lamps through a series of photos displayed in a spectacular suspended installation. Guests departed the cozy space with a pack of postcard prints as a memento from this visually stimulating experience.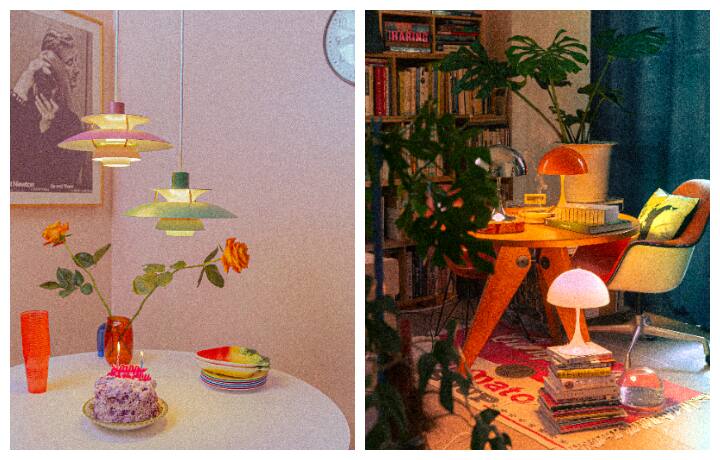 Photo Gallery
Photo Gallery
Louis Poulsen is officially and exclusively distributed in the Philippines by Focus Global Inc, joining a supercharged roster of over twenty global brands.
Visit the Louis Poulsen Manila showroom at the 10th Floor of Twenty-Four Seven McKinley, Bonifacio Global City, Taguig. For inquiries, follow Lights By FGI on instagram and Facebook (@lightsbyfgi), visit the local website, or call 8705-9999 to schedule a personal tour or showroom appointment.