Want A Vacation Home? These Luxury Out Of Town Locations Are Perfect For The Investment
So long, Metro Manila, and hello Antipolo, Batangas, Baguio, Cebu, and beyond!
We get it.
The COVID crisis has made city living the bane of our existence, what with all the rules to stay indoors that leave us nothing with our phone screens and TVs for company and all the restrictions that have kept us away from the beauty of the outdoors—beaches, mountainside trails, hidden lakes, tree-canopied lanes.
To be in our very own space away from Metro Manila where we can enjoy the comforts and conveniences the city, all the while being enveloped by our much-fantasized ideas of restful surroundings, is truly a luxury these days—but good news awaits.
It's a luxury that the pandemic has made more more accessible and affordable, much more than many Filipinos might realize.
Thinking back to 2020, there's no one that needs reminding of the damage inflicted by the year's economic standstill. Industries groaned and moaned over losses, the real estate sector taking some of the biggest hits. Come 2021, many of the country's real estate developers have to do substantial price cuts for a variety of properties to attract investors, and for the Filipino looking to purchase a home or plot of land to transform into a personal holiday home or weekend retreat (or even a luxurious pandemic bunker), this marks the perfect opportunity to materialize the dream.
Here to tell us about the most coveted properties and locations in the market worth investing in are Aina Cruz, Lamudi Philippines' Head of Brand, and Matthew Brimo, Manager for Landlord Representation at KMC Savills, Inc.
What areas have risen in popularity among Filipinos looking for out of town properties to invest in?
According to Aina, Tagaytay and Baguio have kept their top spots among Filipinos looking to put up a residence away from Metro Manila. Antipolo, however, is quickly catching up, but all three of these locations have unique qualities that will appeal to different kind of investors.
Baguio, to start, has several modernization projects underway meant to enhance the summer capital's defining destinations: its parks, famed market, and commercial hubs. A new and improved Baguio is coming. Tagaytay on the other hand is still beloved for its proximity to the city, beautiful views, climate, and altitude. It's a classic destination that will never fall out of vogue.
When it comes to Antipolo, Aina explains that "The city is scattered with scenic brunch spots, art museums, and health and wellness spas. Its proximity to hiking trails and protected areas make it an ideal home for property seekers who enjoy being close to nature, but do not wish to live too far from the metro."
Matthew offers another perspective; several beaches and farm properties in provinces in both Luzon and Visayas aren't just places to visit anymore, but are potentially places to live in. With lockdown having no end in sight, more and more city dwellers are considering moving to homes in formerly "vacation only" destinations for the long haul.
He says, "In the last two years or so, Filipinos have been interested in The Farm at San Benito or Lipa, Batangas, Amanpulo, Ariara Island, Balesin Island, and Inara Siargao. These luxurious hotspots have been some of the most beloved out of town destinations for Filipinos looking for a relaxing escape from city life." San Vicente Palawan, La Union and Zambales have also seen upticks in property investments.
Not only are these places beautiful escapes from city life, but properties here fulfill other modern living requirements (think connectivity, a fully functional kitchen, excellent service provided), but they're also private, secure, and allow residents to engage in pandemic-safe activities outdoors, thus improving their quality of life in this time.
Many of these places also offer the luxury of multi-use spaces; terraces that serve as plant sanctuaries, balconies that are safe for outdoor working and lounging, plus garages that leave enough space for cars, storage, and maybe even a home-based businesses.
What properties are best for different kinds of buyers (buyers with families, buyers preparing for retirement, buyers investing for just themselves)?
Though it truly all depends on the tastes of individual buyers, there are a few basic considerations to keep in mind when investing in a new property.
For buyers with families that have school-aged children, consider somewhere that has a lot of outdoor space that can be left as outdoor space (i.e.: space that won't eventually have a new structure constructed on it). Young children (and even teenagers) need room to flourish, and it's especially good for them to have a part in the house they can enjoy outside to encourage them to take screen and tech gadget breaks. Aina suggests looking for properties in emerging locations like Clark, Pampanga and Sta. Rosa, Laguna that are being developed to house commercial and business hubs, schools and universities, and a lot more green spaces. Matthew says that Sta. Elena, Laguna, Montecito Nuvali, and Punta Fuego are also choice options.
For buyers preparing for retirement, Antipolo and Tagaytay are top choices because of their proximity to family members that reside in Metro Manila.
For buyers investing for just themselves, Aina points out the potential of Lapu-Lapu, Cebu. The city that's close to many of Cebu's most beautiful destinations isn't just a great location for a solo holiday home, but it can also be rented out when not in use, providing a source of income for the solo investor. She also doesn't discount the value of investing in condos, both out of town and located in fringe cities Las Piñas, Parañaque, and Manila (cities sandwiched between major central business districts) for the same reason of earning additional rental income.
Overall, regardless of an investor's profile, real estate buyers still mostly purchase homes first, followed by land, and condominiums third.
What questions should potential property investors ask themselves when deciding on a property to purchase?
Naturally, the first question to ask is "Can I afford it, really?" Aina has a quick and simple rule to follow to help investors answer this with certainty. She advises that "monthly housing payment should not go beyond 28 percent of your monthly income, while the monthly allocation for debts (including the house loan, car loan, and others) should not exceed 36 percent."
More so, she reminds investors that most, if not all, banks in the country only allow an 80 percent loan. "This means that if a house-and-lot is valued at P1,000,000, you need to prepare at least P200,000 because most lenders will only lend P800,000 at most. Sort through your options and make sure that you can afford the down payment, with room to spare," she adds.
Once you've zeroed in on an option or two, the next thing you want to figure out are if you can keep up with maintenance (and even enhancement) costs. After all, maintaining an out of town property might have a little more upkeep than a city home, given the differences in environment and even climate, as well as the sophistication of infrastructure. A Baguio mountainside cabin might require some heating, for example, while a beach house will need protection for air salinity, and a farm property might require detailed plumbing plans.
Legal costs are also often left out of the picture by newbie investors, so Aina cautions to always remember to factor in the following: documentary tax stamps, local transfer tax, loan fees, and even notarial fees.
For specific properties to view and consider, Lamudi and KMC Savilles have a few properties to consider, from beach fronts to cabins: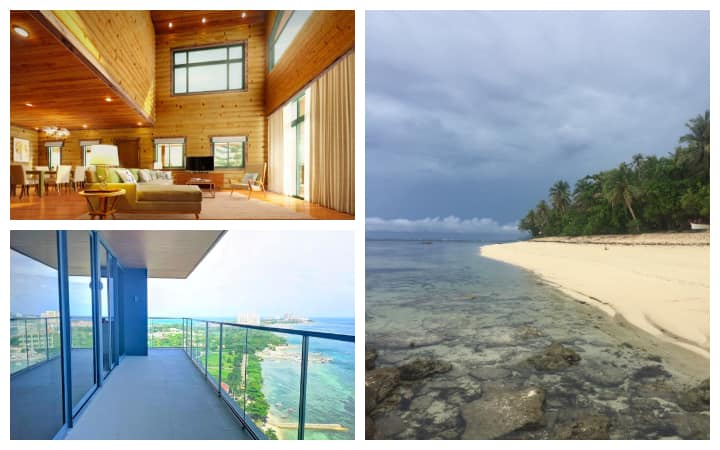 Luxury Out of Town Properties
Luxury Out of Town Properties
So what is it going to be for you in 2021? Is it time to finally call the beach home, or perhaps cozy up in your very own hill house? Now is as good a time to finally make that property investment!
Opening images from Pexels and Unsplash