Tidying Was Never Meant To Be The Goal
Local Konmari expert, Christine Dychiao, weighs in on the news of Mari Kondo "giving up" on tidying, and tells us what we can do to keep the home neat without feeling the pressure
In her website, Japanese home tidying expert, Marie Kondo reveals, "I am busier than ever after having my third child, so I have grown to accept that I cannot tidy every day – and that is okay," a sentiment that has spurred a discussion on on whether one should give up on the idea of neatness.
Christine Dychiao, a local Konmari-certified expert, weighs in on Kondo's sentiments:
For those who have read her books and understand the essence of her tidying philosophy, it is understood that the KonMari Method is not just about tidying - it's about creating a life that sparks joy while teaching us a system of tidying that allows us to enjoy our ideal life.
A perfectly tidy, aesthetically pleasing home 24/7 was never the end goal. In fact, in her book, The Life Changing Magic of Tidying Up on page 204, she says, " "Tidying is not the purpose of life...Pour your time and passion into what brings you the most joy, your mission in life."
In her website, this is her answer to the question, "Why Tidy?"
"Tidying is a powerful tool, but it's not the destination. The true goal of tidying is to clear away clutter so you can live the life you want."
What Marie has said lately is not about giving up on tidying or turning back on her career as a tidying expert. Of course as the most popular face of decluttering, there is the pressure for her to never be messy. However, as a mom of 3 kids now, she has eased up on the need for perfection. What she is saying is, her kids are her priority at this stage of her life, and she is okay with her house being messy these days.
This is easy for her to say, as she has a system in place so she can tidy her home in a matter of minutes when she does decide to tidy up.
As a Mom of 3 kids myself, whenever I do workshops and webinars on tidying, I always make it a point to tell people that when you have kids, the reality is, we can't expect them and our homes to be tidy at all times. Life and clutter happens, it's part and parcel of parenthood. What's important is we model the behavior for tidying as much as possible and we have a system for creating order. So when clutter happens, we don't wait 2 years to do something about it. We know that in 30 minutes, we can restore order once we find a pocket of time to get to it.
The true magic of tidying is what happens inside of us, it was never about the physical space. The real transformation happens when we become mindful and grateful for what we have, and we learn to prioritize what's truly essential in life. For Marie and as a cue to other moms, that means appreciating the privilege of being able to spend time with our growing kids over maintaining a perfect home.
5 Upkeep Tips On How We Can Tidy Without The Pressure
The funny thing is, I learned of her method right about the time I had our third child and it was the best thing that ever happened to me, because I finally found a system to put our own home in order. So I am thinking, her standards for messy may be different from the average person's standards.
I find that it is possible to keep your home in order even with kids, but manage your expectations by realizing a Pinterest pretty home, while admirable, is not the goal. We're talking KonMari Method, not The Home Edit. So no, you don't need to spend a fortune on storage solutions unless you want to. Here are some easy to apply tips:
Before tidying, identify where your things will go.
Think of people you'd want to give certain things to (make sure they want it and would use it) and organizations you can donate to. Have paper bags and boxes ready so you can get them out of the house immediately.
Bite size tidying.
If you only have 20 minutes to squeeze in to tidy while the kids are napping or because you're busy with work, work by subcategory. Instead of decluttering your entire pile of clothes, just do your underwear, then focus on shorts next, then your jeans, and so on. Your clothes are finite. You'll get to the end eventually.
When choosing what stays, think of what Margareta Magnusson, author of the book The Gentle Art of Swedish Death Cleaning suggests we ask ourselves - "Will anyone I know be happier if I save this?"
This goes beyond what makes us happy and considers the feelings of those who will tidy our things long after we're gone. Something to consider when we're faced with a box of broken Christmas ornaments or crumbly leather sandals from our college years.
Assign a space for everything - for your car keys, your steak knives, even your paper clips.
Identifying a home where every single thing goes will do wonders for your sanity and saves you time looking for things when you need them.
Know that mess happens and that's ok.
In page 203 of The Life Changing Magic of Tidying Up, Marie says, "Tidying is not actually necessary. You won't die if your house isn't tidy, and there are many people in the world who really don't care if they can't put their house in order." But if you have the desire to tidy, know that you can always go back to it and start anytime.
In the gallery below, shop some tools to help with your tidying journey: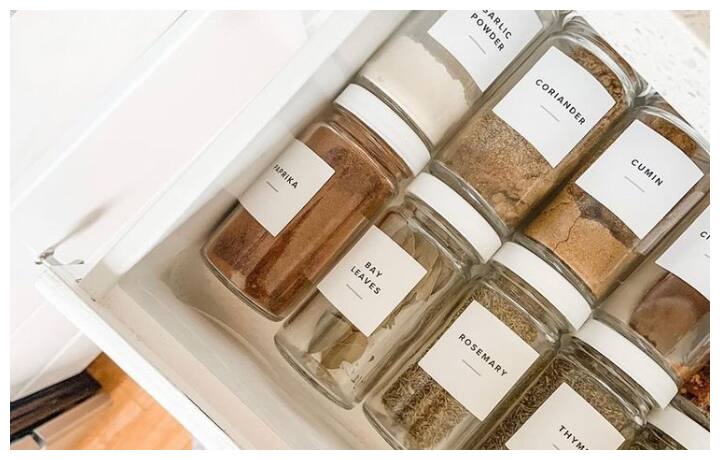 Photo Gallery
Photo Gallery