SHOP: Furniture And Art At The Metro Benefit Sale
20+ curated home and living items for the home are available for a good cause
Since the pandemic began, people have been focusing on their homes, making renovations and accentuating corners in order to suit their aesthetics and the expanded demands of the home. With its evolution into an office and a learning space, the home is now busier more than ever. As you continue to spruce your home, here's your chance to help someone rebuild theirs.
Metro.Style and Vantage, Inc. offers its readers and viewers the opportunity to shop for furniture and art in order to aid the survivors of Typhoon Odette, which ravaged parts of the Visayas region in December of 2021. As reported by the Department of Agriculture, the typhoon affected 7.4 Million people in 10 regions with over 459,837 people displaced and agricultural damages amounting to 9 Billion pesos.
Because it is every Filipino's true Kapamilya, the ABS-CBN Foundation has been active in its mission to send relief to those affected by the typhoon. To take part in the Foundation's Tulong-Tulong sa Pag-ahon, Isang Daan Sa Pagtutulungan campaign, the Metro group has called on its friends in the lifestyle sector, including furniture designers and artists to donate some of their most iconic pieces and works for the Metro Benefit Sale.
Here's your chance to shop Metro's curated list of furniture and art for the home: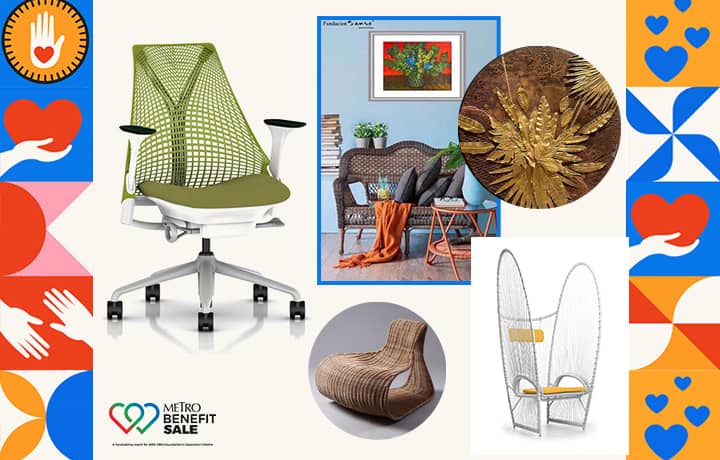 Furniture And Art At The Metro Benefit Sale
Furniture And Art At The Metro Benefit Sale
All of the proceeds from the Metro Benefit Sale will be given towards home repair kits which include 8 pieces of 12 ft. GI sheets, 6 pieces of plywood in 1/2 inch thickness, 2 plain GI sheets in 4 x 8 size, 1 kilo of nails for roofing, and 1 kilo of ordinary 2" nails.
Every purchase is a valuable gift to Typhoon Odette survivors! Take part in this 8-day sale by visiting metrobenefitsale.com this April 23–30. Learn more on the Metro Shop Live! livestream on April 24 at 4pm, on YouTube, Facebook, and Twitter.
*DSWD Authority/Solicitation Permit No. DSWD-SB-SP-00026-21, Nationwide. Valid until May 28, 2022**Terms and conditions apply. Per DTI Fair Trade Permit No. FTEB-139774 Series of 2022.