The Metro Green Thumb Club: Anna De Leon Marcelo's Hydroponic Balcony Garden Is a Soothing Sanctuary Of Edible Greens
For this artist and interior designer, obtaining inspiration from nature via her balcony garden is an additional benefit to harvesting lettuce grown by her very own hands
Artist and interior designer, Anna de Leon Marcelo, has gotten into the pandemic gardening trend. There's more to this new hobby than it sounds: it takes a good amount of dedication in order to see growth and harvest, but she is now enjoying the fruits of her labor.
Armed with an interior design degree, earned from the University of Santo Tomas, Anna's pieces are purposely designed to express materiality. Pounded aluminum wires, pieces of narra wood, and even paint brushes make up her visual vocabulary. She combines these with a rustic approach to her canvases, blending subtle colors with each other, using neutrals, blues and grays. They are imbued with a certain softness and delicate pauses that are marked by symbols, pregnant with meaning. They represent narratives that are open to interpretation, taking their viewers into a quiet world heady with sweetness and whimsy. The representation of strings populates Anna's work, perhaps to show a connection between each individual creating the art or viewing it.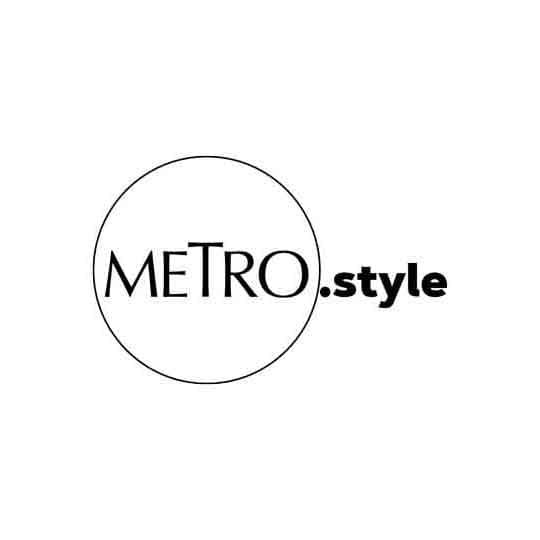 Anna de Leon Marcelo enjoying the view from her balcony garden. | Courtesy of Anna de Leon Marcelo
It Takes A Village
In the Saturday Group of Artists, where Anna has been a member since the year 2000, and even served as its President from 2008-2010, the string of friendship and a common love for art connect its members, including Anna. They are bound to share the canvas, much like they partake in their real life camaraderie.
Take Anna's balcony garden, for example. Having been interested in growing plants, but unsure where to start, Anna ventured into her own humble balcony garden only after hearing about hydroponic gardening from Susan Reyes, wife of her fellow Saturday Group artist, Omi Reyes. Both have been practicing hydroponic gardening in their roof deck since last year. "I love plants, but I'm not sure if they love me back. My constant excuse is that I don't have a green thumb, but I've always wanted to grow something [on my own]. It was through a webinar hosted Calyn and Dindy of Cresco Hydroponics called Jumpstart Your Hydroponics Farming that I got started on growing my vegetables without soil. It was timely, too, since I had just moved into a new apartment with a balcony blessed with sun exposure from the East, where the sun rises," she shares, advising that if people are interested in exploring any form of gardening, webinars are a great way to educate oneself about it.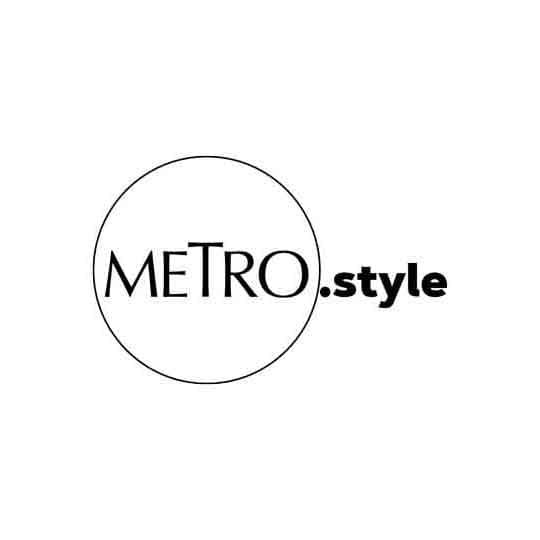 Anna with her lollo bionda lettuce in her balcony garden. | Courtesy of Anna de Leon Marcelo
The Benefits of Having a Balcony Garden
The relationship between artists and nature has long been an association pursued by many who brandish the paintbrush and the palette. Take Monet and his garden in Giverny or Gauguin and the tropical flora of Tahiti, for example. The thrill of being close to nature via an urban garden is likewise a source of inspiration for Anna. "As an artist, tending to my balcony garden allowed me to take a break from the long hours of painting. Since I am high up in my balcony with my small garden, I look up at the sky, and feel joy and gratitude every time. I believe all artists are nature lovers. Nature enhances our creativity," she enthuses. Her interior design background, on the other hand, gave her the know-how on configuring her hydroponic lettuce garden within her limited balcony space, considering that it has to co-exist with other plants.
From paintings to interiors, and now, to her balcony garden, see the work of Anna's hands below: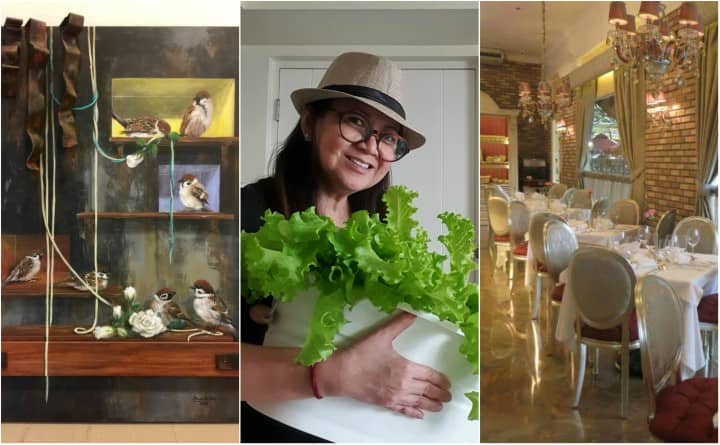 Photo Gallery
Photo Gallery
The Future With A Hydroponic Garden
With her new-found love for gardening and the success of her balcony garden, Anna is optimistic that she can share its benefits with anyone who is interested. "I am a happy newcomer to the practice of hydroponic farming. I wish everyone gets into some form of growing their own lettuce and vegetables. Aside from being healthy, the benefit extends to helping Mother Nature in our own little way. If I am successful with growing my own healthy and beautiful lettuce, who knows? It may be another source of income for me. With this pandemic situation, we are all at home, so I am trying to plant some basic vegetables used for cooking such as bell peppers, chilies and tomatoes, using the conventional method. My first harvest of lollo bionda lettuce (with curly leaves) was made two weeks ago. I felt a huge sense of achievement from harvesting, but the best part was eating it with my friend, Susan's Sauce-san Creamy Sesame dressing. Nothing compares to the feeling of eating the fruits of my own labor. As my friend, Linda says, 'Lettuce rejoice, and thank the Lord," Anna de Leon Marcelo, the painter, interior designer, and now, the vegetable gardener, happily declares.
For more information on hydroponic gardening, contact Cresco Hydroponics Urban Farm at +639166209608.