The Metro Green Thumb Club: As You Start 2021, Invite Big Positive Energy With Wonderplants' Giant Indoor Plants
It's yuccas, Hawaiian palms, agave venus plants, and fiddle trees galore with Wonderplants
Breathe in, breathe out. We're a few days into a new year, and the time is ripe for fresh beginnings.
Ask us at Metro.Style and we'll tell you that one of the best ways to invite a much-needed reboot post-2020 is to liven up a space. There's just something special about bringing new life into your bedrooms, kitchens, patios, salas, and favorite nooks, and the best way to do that is to quite literally bring something that breathes and grows and best of all, beautifies, too!
Just ask Giselle Yujuico, co-founder of Wonderplants that she manages with her best friend and fellow plantita Joanne Tengco, and she'll give you a green thumbs up in agreement.
As a lover of all things pretty, especially when they have to do with all things interiors and home, she's long discovered the magic that indoor greenery can bring to those that nurture them. The thing about plants is that they aren't just passively decorative; they thrive under an attentive and caring touch, and the more love you give them, the more they reciprocate through healthy leaves and sturdy stems, an array of earthy browns and greens you've yet to learn the names of, and on occasion, great big blooms! How much of that can you also say is also true for non-living décor like that antique vase, heirloom silverware set, or prized painting?
The wonder in plants, so to speak, is that they they're little pockets of life. Sure they're still and silent, and they certainly don't communicate and react the same way most living things do, but plant enthusiasts alike like Giselle and Joanne will be happy to tell you how welcoming them into your home invites the positive energy we all so sorely need in this time.
This definitely played a role in them deciding to launch Wonderplants at the beginning of life under lockdown last year when people's were spirits were at their lowest and minds at their most frantic.
"My best friend and I share a love for beautiful interiors and plants. We would spend a lot of time searching for the perfect plants for our homes," begins Giselle.
"Since we loved doing it so much, we decided it would be fun to do it for others. The funny thing is, we don't even have gardens. You don't really need a garden to truly enjoy plants. Wonderplants can help you create green spaces with or without a garden," she continues.
Seeing the surge in interest in home gardening of every sort (Have you heard about kokedama yet? What about urban tower farming, or this business that sources exotic plants?), the ladies behind Wonderplants saw an opening in the market. They're not here to saturate offerings with dainty flowers or fresh produce though; Wonderplants mostly specializes in towering, regal beauties that impress with their unusual leaf shapes and growths, unique silhouettes, and sheer size. But their roster is always expanding; Wonderplants continuously expands to include anything and everything eye-catching that Giselle and Joanne spot.
Think indoor Haiwaiin palms, tall yuccas, strutured oliva palms, springy agave venus plants, and selloums whose tops you can only reach if you stand on your toes! (Be honest, how familiar are you with those plants? It's alright if you're just now getting a crash course on them. That's another plus when it comes to Wonderplants; they source locally, and they give their buyers a chance to deepen their appreciation of beautiful Philippine foliage they never knew existed).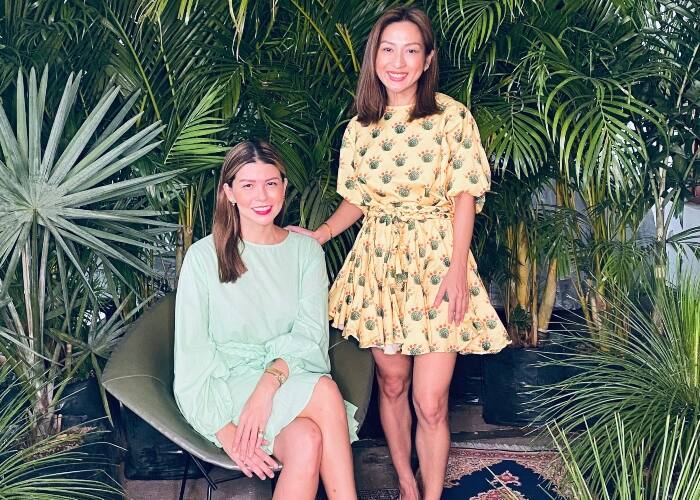 the many wonders of wonderplants PH
SWIPE LEFT OR RIGHT
TO NAVIGATE BETWEEN PAGES
Giselle Yujuico and Joanne Tengco, Founders of Wonderplants
Photo Credit: Courtesy of Giselle Yujuico
Wonderplants
Photo Credit: @wonderplants.ph
Wonderplants
Photo Credit: @wonderplants.ph
Wonderplants
Photo Credit: @wonderplants.ph
Wonderplants
Photo Credit: @wonderplants.ph
Wonderplants
Photo Credit: @wonderplants.ph
Wonderplants
Photo Credit: @wonderplants.ph
Wonderplants
Photo Credit: @wonderplants.ph
Wonderplants
Photo Credit: @wonderplants.ph
Wonderplants
Photo Credit: @wonderplants.ph
Wonderplants
Photo Credit: @wonderplants.ph
Wonderplants
Photo Credit: @wonderplants.ph
Wonderplants
Photo Credit: @wonderplants.ph
Wonderplants Founders
Photo Credit: @wonderplants.ph
Giselle Yujuico and Joanne Tengco of Wonderplants
Photo Credit: @wonderplants.ph
Almost a year into their pandemic-born business, Giselle remains committed to another promise of theirs: quality.
"Our plants are special because we hand pick every single one. We only sell what we love," she tells us.
The Wonderplants Instagram account is peppered with her and Joanne checking out farm and greenhouse locations and picking only the best of the best plants. And when they get a call or a message from an interested buyer that may be a little unsure of what plant is best for the space they have in mind, Giselle is also able to guide them into the right direction. Know that there's a plant for every space—including your powder room and narrow stairs landing, even your city balcony and cozy reading corner.
"Nothing makes us happier than when our clients send us photos to show us how our plants have beautified their homes" Giselle smiles.
Also, don't be intimidated by starting your 2021 plant journey with Wonderplants. You might think that starting small, say, with a potted cactus or succulent, is the way to go if you're new to the game, but Wonderplants actually makes your leap of faith into your plantita game much easier by sending out guide cards that instruct with you with the care specifics of each plant. If you need extra help, their Instagram page doubles as a great community for those looking for additional tips.
But as a rule of thumb, too much of anything is bad! Don't overwater, and don't overexpose to sun.
With much uncertainty ahead of us in the coming months, Giselle hopes that her business can at least help Filipino homeowners gain some clarity of mind, enjoy enlivened homes, and experience productivity of a different sort when they purchase a Wonderplants item.
"The pandemic has forced us to spend a lot more time at home," Giselle points out.
"Not all of us have the luxury of outdoor spaces but we should still be able to enjoy being surrounded by plants. It was such a relief to be able to sit under a tree in my living room. That's something we want to share with our clients," she ends.
Photos courtesy of Giselle Yujuico / Additional images from @wonderplants.PH