THE METRO GREEN THUMB CLUB: Step Into Maricar Xerez-Burgos' Tower Farm Rooftop
This culinary and interior design enthusiast advocates urban farming
Not only does homemaker Maricar Xerez-Burgos have amazing culinary and interior design skills, she also has quite the green thumb, enjoying time spent nurturing her little kingdom of plants. Having started the hobby in 2010, she had built a mini-farm on her roof deck with various herbs and vegetables one pot at a time. In 2018, however, she heard about Tower Farming from a high school classmate who was a fellow gardening enthusiast. This former classmate was also into gardening herbs and vegetables, and having bought one tower for herself, highly recommended it to Maricar knowing her friend's interest in growing things. "It's so much fun to see your seedlings grow everyday! Then when you harvest, you will always have herbs and vegetables that are pesticide-free," she enthuses.
Traditional farming is, by definition, hard labor. But the Tower Farm system by Down to Earth , headed by Nicolo Aberasturi, makes things easy by automating watering cycles, eliminating weeding and digging, minimizing pest risk, and more. They are designed to flourish in urban environments, a perfect fit for Maricar. "When you order the tower, they will set it up for you, and plant the seedlings for you. All you have to do is water the vegetables and care for the worms," she says, attesting to the ease of tower gardening.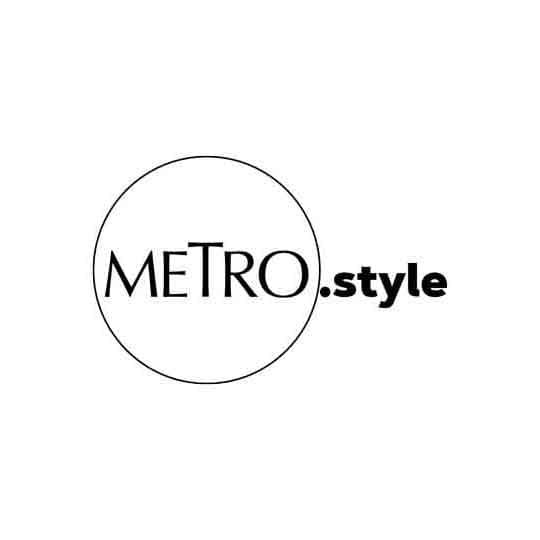 Accomplished culinary enthusiast and interior designer, Maricar Xerez-Burgos advocates urban gardening. | Courtesy of Maricar Xerez-Burgos
Must-Knows About The Tower Farm
The advanced aeroponic technology that powers Tower Farms yields as much as 30 percent more produce - up to three times faster compared to conventional growing methods. In fact, you can expect to grow most herbs and leafy greens from seed to harvest in just five weeks. Another benefit of growing a Tower Farm, is that you'll be able to save about 98% more water. Tower Farms also use 90% less space than traditional farms, which means you can grow more crops without paying for more property. This compact, vertical growing technology means you can start your farm virtually anywhere. It also doesn't hurt that they look aesthetically pleasing, while providing you with fresh produce.
Tips from Maricar Xerez-Burgos
Maricar has become a believer, now having 2 towers on her roof deck to save space. "Imagine, I would have had about 80 pots if I planted in individual pots!" Maricar laughs. With the tower, she only used around 2 square meters of her rooftop space. The sustainability of this system is no joke. You can grow a lot of herbs and vegetables in a single tower. It has about 40 holes to plant on all sides and the top portion of the tower pot allows you to plan more vegetables and herbs together. "On top of saving on space, I also save on soil and fertilizer. One thing that tower farming has taught me is how to do composting." The tower has a pipe at the center that houses the African worms which eat any kitchen compost and dried leaves that Maricar puts in. Doing so also saves her on kitchen scraps and reduces her food waste as she feeds these to her worms. In return, they fertilize the soil in the same pot to keep the soil healthy. Watering is pretty convenient because it's only done from the top and there is no need to water all the holes. "I also use rainwater or water that has been aired overnight inside a pail to let the chlorine smell out of the water," she adds as a pro tip.
Maricar shares with us her advice for those who want to grow their own tower farms: "You must like or enjoy planting and caring for your herbs and vegetables. You need to make time for them as the vegetables need some attention as well as the worms that will help you farm your produce. This means you must invest time and effort for composting as well as feeding them once in a while. I would highly recommend it if you are committed to planting vegetables and herbs," she further counsels.
Just like Maricar, you can have fun with mixing and matching herbs and vegetables to put in your tower. Maricar's Bahay Kubo tower grows bananas, okra, eggplants, tomatoes, kangkong, kamote, and sitaw. Her Pizza and Herbs tower, on the other hand, houses thyme, oregano, arugula, basil, malunggay, parsley, tarragon, peppers, mint, and romaine lettuce.
Come and explore Maricar's vertical plant paradise with us!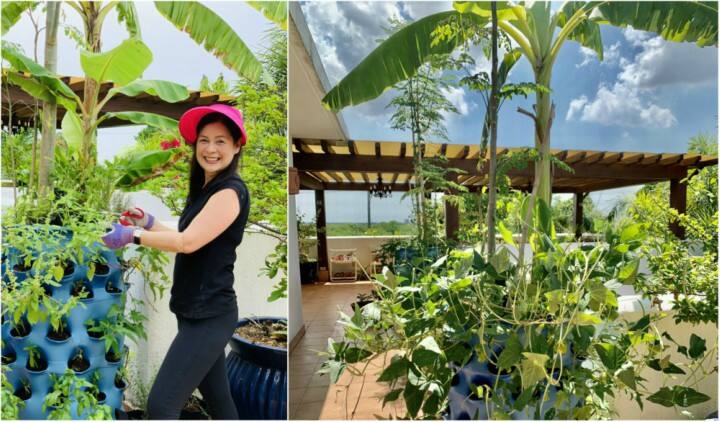 Tower Gardening With Maricar Xerez-Burgos
Tower Gardening With Maricar Xerez-Burgos