The Metro Green Thumb Club: OG Plantito Marvin Braceros Shares The Real Deal On Caring For Rare And Beautiful Plants
As the proud owner of Respira Plants, he gives a crash course on what it takes—and what it means—to prettify one's home with some of the most attractive greens and flowers there are in the market
Before there was a rise in pandemic-born plantitos and plantitas, there was Marvin Braceros, the OG king of them all.
The restauranteur-turned-ornamental plant collector and seller has everything gardening greenhorns aspiring to be desire; he has a touch cool and light enough to make any garden thrive, an eye for rare potted beauties, and the patience to come up with eye-catching arrangements one bud, one leaf, one pup at a time.
The talent led him to launch Respira Plants, an entirely new venture for the chef that he describes as one that "aspires for mall domination by being the top provider of popular and premium ornamental plants in the 'mallscape' of Metro Manila and its neighboring regions."
The difference between Marvin and newly initiated plant enthusiasts isn't only the length of time he's been caring for foliage (he was a green thumb way before the COVID-caused plant boom), but the amount of thought and effort he puts into caring for his personal collection and researching on the plants that end up in Respira Plants boutiques.
See, Marvin doesn't just want to ride a trend out, to make a quick buck out of a passing hobby that may or may not still enjoy the attention it's receiving once the COVID crisis has come and gone. As for his customers, he doesn't want them to simply come home with a living conversation piece and figure out how often to water and trim it.
With every Respira Plants purchase, he wants to accomplish something more: to nurture a much deeper appreciation for the cultivation of unusual plant species in others, and even inspiring them to go as far as learning about their origins and the stories behind their pretty peculiarities.
"I am more active in propagating plants, not just because I'm selling them, but also as a means of preservation," he reveals.
"I have multiple sources across different locations, from licensed wholesale sellers to neighborhood backyards. I go to mountainous provinces, but only to a point where I'm allowed to and usually, that's just at the foot of the mountain or its surrounding lowland areas," he continues.
For those who share the same passion as Marvin (or would like to nourish the same), he has a number of practical tips to share with you:
#1: The most important tip of them all—Make sure you are not purchasing endangered plants!
At what cost are you decorating your home? Are you unknowingly adding to the problem of disappearing protected plant species by bringing home a pot or two of plants that belong in their natural habitats, and not in your lanai?
There's a tried and tested way to shield yourself (and precious species) from this problem according to Marvin. Make sure to learn what plant you're buying, or plant to buy, exactly. The Department of Environment and Natural Resources' website has an accessible list of protected plant species that you can use to cross check.
If your plant isn't on the list, buy it, give it a great home, care for it, and watch it prettify your space instantly. If it is, put it down, and even better, move on to a more reputable seller.
"Just like other businesses, you should vet your sellers by doing your own research. For plants, you can go as far as visiting their nurseries and farms to be certain that sustainable and ethical practices are being observed," Marvin advises.

#2: For the plants that do end up in your home, Marvin starts with three practical tips
Begin with the second-biggest no-no next to buying endangered plants: Don't overwater them, especially indoor plants!
Decide on a permanent spot for your plant early on. Plants don't like being moved around and need time to get accustomed to their new environment. Constant relocation is bound to stress them out.
You could follow his lead of using just good old organic gardening skills and natural fertilizer. No sophisticated tech is necessary, even for the most delicate and rare plants.

#3: TLC is just as important as sunlight, water, and soil
Plants, though they serve decorative purposes, are living things and not furniture. This means that they do need your attention and affection to reach their full potential!
"If plants seem to die on you, don't despair. Keep on surrounding yourself with them, talk to them, and eventually, they will accept your affections and love you back," he says.
#4: Don't freak out when green turns into brown
This doesn't automatically mean you're doing a terrible job. Plants need to shed old leaves, stems, and blooms to make room for fresh sprouts. Browning is a natural process for the most part, so don't be quick to judge your plant as fighting for its life.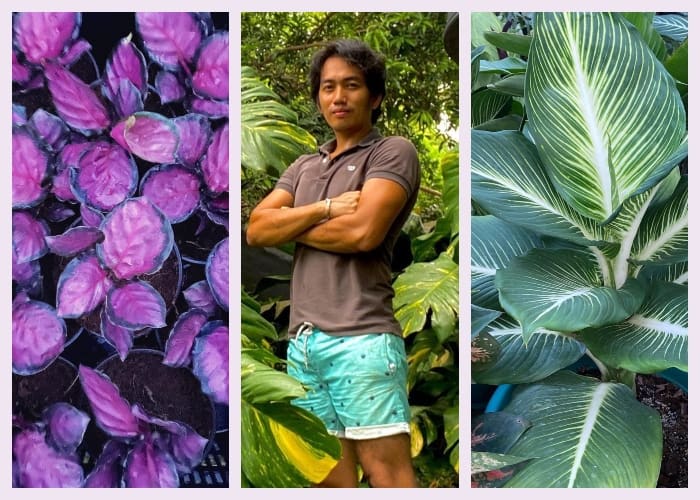 respira plants by marvin braceros
respira plants by marvin braceros
As a last piece of advice, no matter how new you are at the plantito/tita game, Marvin says to just keep it up. The therapeutic and stress-fighting benefits of caring for plants are beyond words, and his firsthand experiences of this are a testament to the fact.
With Marvin's specialty shifting from edible plants to purely ornamental foliage, the serious plant buyer needs to be ready with a budget when visiting a Respira Plants store.
"The variegated versions of popular plants can fetch more than 20K for a small size, with some having just two to three leaves. Plants that have this "anomaly" so to speak, are quite rare in nature, and are also slow to grow hence the hefty price tag. The cheapest ones on the other hand would be the small flowering plants that are sold for only 100 pesos or thereabouts," Marvin says.
Reflecting on how quickly Respira Plants has boomed in the last few months, Marvin is faced with the challenges of striking a balance between business and passion, sustainability and constant growth."
With many businesses being hit hard by the recent lockdowns, including mine, I had to think of another way to survive," Marvin explains.
And survive more than he did, with Respira Plants branches initially opening in Century City Mall, Makati Cinema Square, and Greenheights Village. He's since opened 10 more stores that cater to shoppers in SM, Robinson's Galleria, Megaworld, and Ayala Malls.
"We also have this desire to contribute to the revival of the mall culture which has practically disappeared given the pandemic directives. We have a creative store layout of blending live plants with natural elements and artificial structures which simulate a natural habitat for them. This will hopefully give a fresher and greener perspective by driving people back to the mall establishment, and see our shop as a relaxing, urban Eden," Marvin states.
Like his plants that come from far and wide and find new homes in Metro Manila, Marvin has also gone leaps and bounds from his childhood spent in Batangas growing all the bahay kubo veggies and enjoying their newly harvested freshness at the table.
If and when you find yourself at a Respira Plants store, keep in mind the love and care that Marvin put into all that you see, ensuring that you give them the same the moment they enter your threshold and settle into a spot in your home that's made just for them.
Images from @respira_plants