The Metro Green Thumb Club: Stephanie Fondroso's Urban Garden Is The Ultimate Expression Of Sharing To Care
What fills her plate—and her heart—isn't only the food she's grown, but knowing that she's helped others in the most fundamental of ways, too
There's something about sharing and connecting with others that's inherent to and so fulfilling for Filipinos.
There are many words to encapsulate the feeling of contributing to the good of the community that English vocabulary can't quite describe, like pakikisama, pagkakaisa, pakikipagkapwa, pagtutulungan, and yes, even bayanihan.
And in a time when Filipinos need to work together all the more to see themselves through to the end of the pandemic and up to a time of national recovery and personal healing, individuals have been taken it upon themselves to live out the bayanihan spirit in their own ways, big and small.
Take Stephanie Fondroso, a contemporary art curator who now smiles at the idea of "pandemic-born urban farmer" being added to her resume. Fruits, veggies, and edible flowers have taken over her home, so much so that she's been able to share any surplus her home-based garden yields with those around her and learn from more experienced gardeners. Next to being able to prepare anything from Filipino favorites and Italian dishes to self-concocted teas with what she's grown, the most rewarding thing about her project is being able to connect with others.
Who would have thought that harvests of mustasa, alugbati, gabi, patola, talong, tanglad and more could fill in the two of the biggest gaps left by the pandemic in the lives of many Filipinos—needs for physical and social sustenance?
As it turns out, having a green thumb isn't just all about having a talent for caring for foliage; caring for one form of life, even that of the humble monggo and ampalaya, can snowball into caring for human beings pretty quickly. With people like Stephanie leading the way, we're crossing our fingers to see more of this domino effect to happen this year and beyond, pandemic or no pandemic!
"I decided to pursue urban farming at the beginning of lockdown. Previous to the pandemic, my garden was purely decorative, with only ornamental plants," Stephanie begins.
"When lockdown was enforced, I was spending more time at home and realized that I should take advantage of the available space for growing vegetables, hopefully to decrease the need to go out shopping for vegetables and to eat healthier as better protection from viruses," she adds.
And so, the challenge to transform every available plant-friendly space in her home began. With a little help from her household staff with farming know-how and connections to a seed bank, mission impossible turned to mission accomplished sooner than expected.
"I was also very lucky that many friends and relatives started giving me seeds. My cousin Anna gave me seeds from Quezon Province, where she has a mini farm. My Tita Ludy also gave me seeds from her farm in Batangas, and my Tito Boy gave me seeds that are being given away for free by the Department of Agriculture in Lipa," Stephanie tells us.
For those wishing to follow Stephanie's footsteps, don't be afraid of a little (or a lot) of trial and error. Stephanie might be experienced at mounting beautiful art galleries and knowing which artists to feature side by side, but she was by no means an expert green thumb when she started out.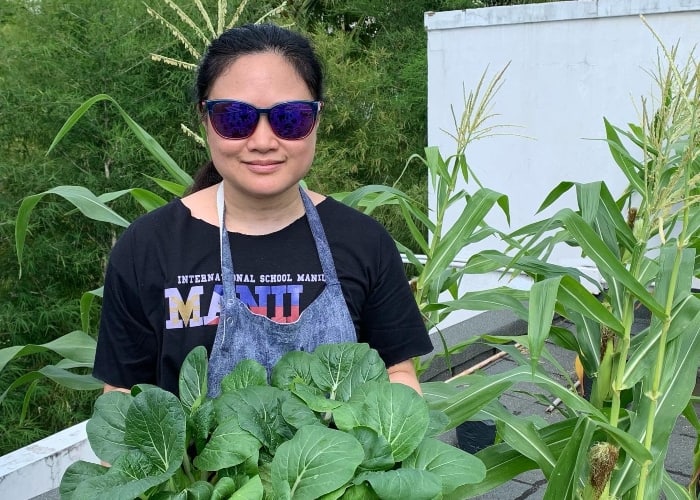 Stephanie fondroso's urban garden
Stephanie fondroso's urban garden
Don't be put off by your apparent lack of space, either.
Know that Stephanie doesn't live in a hacienda with acres and acres free for farming use, but instead lives in a city home where she took advantage of her front yard, backyard, balconies, and even rooftop! For areas that didn't have soil, Stephanie resorted to pots and recycled containers. (If there's a will, there's a way).
"Growing vegetables turned out easier than I imagined because nature somehow takes care of itself," she shares.

"We have successfully grown okra, mustasa, spinach, alugbati, lemongrass, gabi leaves, kamote tops, cucumbers, ampalaya, patola, eggplant, calamansi, sili, squash flowers and plenty of herbs such as dill, basil, oregano and ternate flowers. I am also still in the process of growing corn on the rooftop... All of these grow quickly and easily," Stephanie continues.
Every day, her garden yields different produce that can be harvested; small pleasures like finding out which veggies and fruit can be plucked, cooked, and eaten has given Stephanie's days a little more flavor so to speak, breaking the monotony of waking up to yet another day of life under lockdown.
The best part of the process hasn't just been what she's been able to eat thanks to her produce, but seeing how the humble hobby of gardening has introduced her to a whole new group in her community and how she now better appreciates the cyclical nature of ordinary things you find in your home.
Her community, for example, collects garden trimmings from all homes to turn them into a compost supply that all residents can get from, for free. Her neighbors that grow bamboo to cool their homes share bamboo trimmings with those with a use for them, like making trellises for veggie vines and climbing flowering plants. Recycling non-organic items is also something Stephanie has turned into a habit now that she has a garden to maintain, and things like unusable LAN cables have been turned into trellis support while boxes have been transformed into herb planters.
"Urban gardening has made lockdown an almost pleasurable experience because communing with nature is so relaxing and learning something new everyday is quite inspiring. I gained and enriched many friendships with others who love to plant and I also realized about myself that you can accomplish anything if you just try," Stephanie smiles.
With just a little less than a year of urban gardening under belt, Stephanie shares her bits of green thumb wisdom with those seeking to create their own urban farms for themselves:
1. "Start communicating with friends who are garden enthusiasts because they tend to trade cuttings and seeds. Be generous in sharing and exchanging. Save a portion of your plants for binhi and collect seeds to build your own seed bank so that you can plant more and share seeds.
2. Check around your home and your local community to find resources that you can use without spending money. Recycle containers. Check if you can collect bamboo poles and compost at the village center. Visit the nearest Department of Agriculture outpost, which has been giving away seeds for crisis gardens.
3. Explore permaculture vs. monoculture. Permaculture 'food forests' are more lush and successful because they are closer to what it is like out in nature. Combine different plants together; some act as companion plants that keep pests away from their neighboring plants.
4. Enjoy the fruits of your labor by preparing yummy meals with them, and if you have a surplus, share them with others. This is the most rewarding part of the urban garden.
5. My little tea garden is a source of joy. It is a treat to pluck a couple of ternate flowers and a couple of oregano leaves, and steep them together into a tisane, then enjoy them as freshly made tea. Instead of 'farm to table,' this is 'garden to teacup!'"
As Stephanie's garden becomes lusher and lusher every day, so do her relationships with nature and those around her. The more her garden yields, the more Stephanie wants to give. And the more she gives, the more she wants to nurture her garden to ensure the continuation and the strengthening of the cycle of sharing and connecting.
"Rookie gardeners will realize how easy it is," Stephanie says.
"The generosity of the planting community, the delight of seeing vegetables grow from tiny seedlings into full-grown harvest, and the pleasure of turning them into meals for everyone"—these are some of her new favorite things as a newly minted green thumb, and it's easy to see why.
Photographs courtesy of Stephanie Fondroso