Mirei Monticelli Creates Ethereal Lighting Pieces
This Filipina designer works with weavers in Bicol and is making waves in Milan
Influenced by the careers of her parents, Mirei Monticelli is a multidisciplinary designer who creates delicate and dreamy lighting pieces – which she chooses to call "luminaries." These lighting pieces are deeply rooted in conscious and sustainable design and showcases an ethereal intersection between craftsmanship and technology.
"My mother, Ditta Sandico, is a fashion designer, an artist and a creative person at heart [while] my father is an engineer – very logical and analytic," said Mirei.
"Creating lighting pieces is a direct consequence of all of that," she said, adding, "It allows me to unleash my artistic side but at the same time apply a lot of logical thinking into it." Mirei shared that while it may not be obvious at first, designing lighting pieces has demanded a lot of analytical thinking.
While homebase is currently Milan, she preserves her ties to the Philippines by closely working with a community of weavers in the province of Bicol – allowing each and every piece to be made and produced by hand. "My mom started working with the weavers of Catanduanes around 20 years ago and I am planning on continuing what she has started, as there is so much still to be done," she said. "The island of Catanduanes is very prone to natural disasters and my heart goes out to all the families that get affected whenever disasters strike." With her work supporting the materials of the weaves, Mirei hopes to preserve the sustainability of their livelihood and inspire the younger generation to keep this tradition alive. Proceeds of her work also go into livelihood development programs for the weavers and their families.
At the heart of her ethos is materiality. Using Filipino materials like Banaca fiber has allowed her to show pieces that are unique and distinct to people and communities outside of the Philippines. Her work is artisan-based craft and largely characterized by an organic fluidity drawing inspiration from nature and human's primal selves. "Although I try to incorporate the best of technology and innovation to my pieces, the craftsmanship always shines through," she said.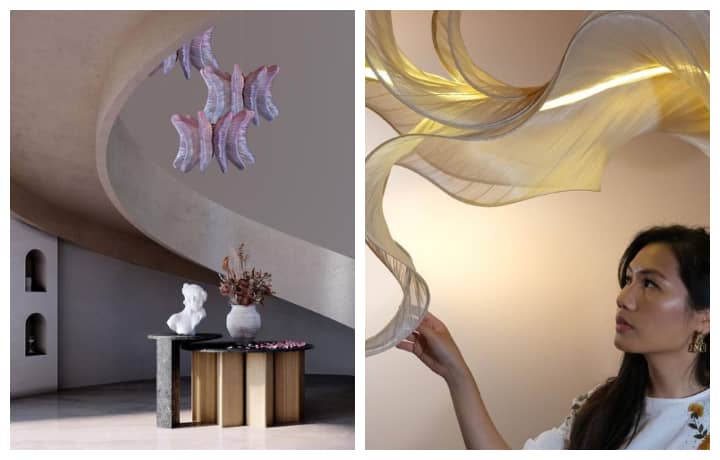 Photo Gallery
Photo Gallery
The young designer grew up in the Philippines and moved to Italy to finish her studies of Design and Engineering at Politecnico di Milano in 2017. Her work, Nebula Lamp, has won the Salone Satellite Special Mention Award during the prestigious Salone del Mobile, a furniture fair in Milan.
Just like her work, Mirei's design process is fluid and never the same. "There are times that when I try to explore an idea, I would have to stash it away for a very long time because it is not ready to be conceived," said Mirei. At times, Mirei also finds herself spending years for an idea to take form, slowly adding bits and pieces throughout time. She attributes this slower and more intentional approach to design on her inclination to get to know a material, spend time with it and learn what it can do. But there are also pieces she finds perfect from the get-go. "To keep my mind active, I try to immerse myself in nature, get out in the world, explore new things, experience new places and meet interesting people."
She recalled one of her favorite projects for a luxury villa along the shoreline of Lake Como. "The architect asked me to come to oversee the lamp installation. That was such a treat to see because the lamps looked perfect in that setting, and I worked so hard on getting the exact color shade to match the interiors," she said.
Photographs and thumbs by @mirei.monticelli