Japanese Artistry And Modern Perspectives Combine In This Two-Tower Condo Designed By World-Renowned Tange Associates
Rising in Ortigas is an embodiment of wabi-sabi and miyabi, designed by the firm behind the Tokyo Olympics' Aquatic Centre
Zen is about simplicity, finding ways to meditate to cope with the chaos of everyday living. It makes one strive to be mindful, be present, and find inner peace and let it manifest outwardly. So it is unsurprising to see why more designers and home owners apply the Zen philosophy in their own homes. The Zen style creates a serene atmosphere that neutralizes the bustle of city living. That dream Zen address takes shape in the heart of Metro Manila with The Grand Midori Ortigas.
The Grand Midori Ortigas by Federal Land Inc. is a two-tower condominium with over 908 housing units and the first foray of the group in the heart of Ortigas Central Business District. The local real estate developer tapped world renowned Tokyo-based architecture firm, Tange Associates, as the project's Design Consultant. The move was meant to ensure authentic infusion of Japanese aesthetics, technology, and innovation in the building's architecture.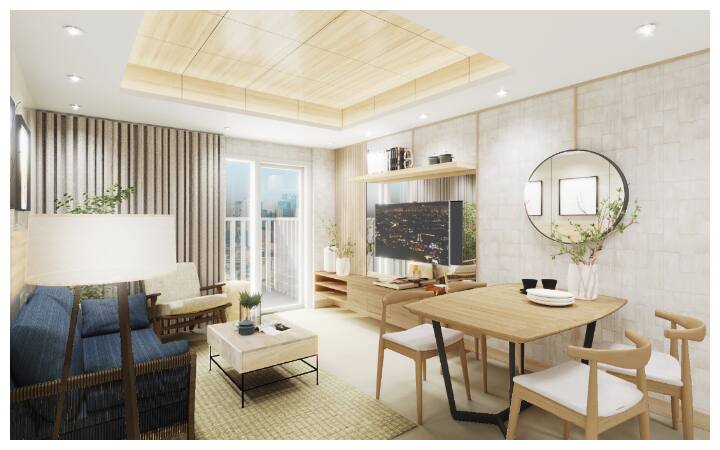 Modern Zen Living In Ortigas
Modern Zen Living In Ortigas
Tange Associates is a world-renowned Tokyo-based Japanese architectural firm founded by 1987 Pritzker Laureate Kenzo Tange. The firm is known for combining traditional Japanese artistry with modern perspectives. Their notable projects include Tokyo Metropolitan Government Building, Yoyogi Gymnasium, and The Grand Midori Makati. Furthermore, both Kenzo Tange and his son, Paul Tange, also designed venues of Tokyo Olympics' swimming and diving events—they did so half a century apart. The former completed the Yoyogi National Stadium in 1964 while the latter designed the Tokyo Aquatics Centre for the recently held 2020 games.
The Grand Midori Ortigas' interiors and landscape take inspiration from the Japanese concept 'wabi-sabi' and 'miyabi,' which focus on the discovery of beauty in imperfections and the expression of elegance and refinement. It also incorporates lush greenery represented by its very own name "Midori," which means green—the color of fresh shoots, new leaves, and young plants. The word also connotes beauty and creativity, which aptly describes The Grand Midori Ortigas as a Zen-inspired sanctuary in the middle of the city.
Situated in a 5,090sqm prime property, The Grand Midori Ortigas two-tower condominium lets residents maximize space by providing enough leeway to design their unit according to their desired purpose. It has a mix offering of studio (35.5 to 38sqm), one bedroom (46 to 64sqm), two bedroom (70 to 107sqm), and three bedroom (105 to 109sqm) variations, designed with airy and light-filled interiors as well as expansive windows. Prominent weave patterns were also used as an expression of delicate beauty seen in Japanese architecture, interpreted as part of the establishment's façade design.
The residential building also offers Zen-inspired indoor and outdoor amenities for social, fitness, and recreational activities. The features are beautifully integrated into the development, thereby creating serene and quiet spaces where residents can lead meaningful and balanced lives amidst the city. Each amenity caters to every resident's need. Its prime indoor amenities include a lounge area, fitness area, yoga room, game room, study lounge, conference room, children's playroom, and a multi-purpose room. It also boasts of outdoor amenities perfect for people with an active lifestyle. These include a lap pool, Jacuzzi, children's pool, pool lounge, children's play area, zen garden, and a landscaped area with lounge.
Residence in The Grand Midori Ortigas also promises convenience, as its location rests on the true mid-point of Metro Manila. Strategically positioned along Exchange Road in Ortigas Center, TGMO benefits from the nearby infrastructure developments such as Metro Manila Subway System and Ortigas Greenway Project—providing residents with convenient mobility options. Moreover, TGMO is also in close proximity to the new BGC-Ortigas Center Link's Kalayaan Bridge—the main artery linking BGC to Pasig—which cuts down the travel time between both business districts to 15 minutes.
Rising in the heart of a vibrant central business district, The Grand Midori Ortigas is close to establishments that offer a comfortable lifestyle—malls, leisure spaces, restaurants, coffee shops, retail stores, as well as schools and hospitals. It is the ideal home for families and individuals who prefer a balanced lifestyle that easily shifts between the quirks of the city and the tranquility of a Zen-inspired home.
Home is a place to relax and unwind at the end of the day. Discover the balance of bliss and excitement of urban Zen living at The Grand Midori Ortigas. For inquiries, visit https://smm.federalland.ph/the-grand-midori-ortigas/ or email invest@@federalland.ph.