If Your Kids And Vegetables Are Like Oil And Water, Monique Santos-Roxas' Urban Gardening Story Can Help Fix That For You
To the moms that can relate, don't give up just yet!
Sometimes life takes away for it to be able to give back a hundredfold.
You simply need to keep your eyes peeled, your heart receptive, and your palms wide open in order to welcome the occurrence when it finally presents itself. We mustn't reject the change. After all, life needs to shift and move around to flourish, the same way that, say, a bud that has transformed into a fragile sapling within the circular confines of a clay pot must be transferred to a boundless space to grow—only then will its tender green twigs become strong, barky branches, only then can it bear fruit and lend shade, only then can a tiny seed show off the massive beauty that has always lied within.
Sometimes life takes away what's comfortable and known to be able to introduce you to the uncomfortable and unknown, yet also better, healthier, and much more apt for you.
And in the course of a year, life has done exactly that for Monique Santos-Roxas, and then some.
The COVID crisis reared its ugly head and life happened the way it did for all of us, Monique included, and boy were things taken away from her; her freedoms to live the way she pleased and knew how to were suddenly curtailed by an invisible iron fist and though she might have resisted the change that came with life under lockdown, deep personal reflections allowed her perspective on her circumstances to bloom, rather than wilt.
"When lockdown began last March, my dad inspired me to start planting fruit trees and vegetables. Food security was of utmost importance then. Spending time outdoors would not only be a good source of vitamin D, but was [also] the key to improving mental health especially during lockdown," she begins.
"Health was wealth, and this seemed to be the perfect place to start for my small family. I was hesitant at first because I didn't know if I was going to succeed. And then memories brought me back to [my family's farm], Sunburst, yet again. I said a silent prayer and got my hands deep within the dirt," she continues.
With each centimeter that she dug deeper into ground, she uncovered more treasures in the form of memories from her childhood that were previously too far in the past for her adult self to relate to.
The feel of cool soil against her skin and the scent of earth alive with minerals and life-giving nutrients transported her to Lipa, Batangas. It was where her parents struck gold all those years back, they themselves tilling the soil on which their business, an entrepreneurial heirloom, would be constructed, one seedling at a time.
Monique's parents were farmers. She says this with pride even though she's traveled leaps and bounds from this inherited identity as a Paris-trained chef, a wife and mom of two, and a known contemporary art collector. Being the daughter of farmers is her foundation. It's what's cultivated her values.
She remembers how her parents painstakingly cared for the land before them—a former sugarcane plantation abandoned to age into unusable, barren dirt. At the end of it all, theirs became a story of an investor's dream ROI; dry, crusty fields eventually gave way to soil packed with moisture that could sustain whatever they wished to grow. Sunburst Farms was born, its name a perfect match for the journey behind it.
"Nature's paradise," is what Monique calls the farm.
"It is a special place, a place that was built bit and bit by dedication and love," she says, adding that she remembers "silently closing my eyes and saying a silent prayer that [seedlings] would take root and thrive. Forty years forward, and these seedlings have rooted and multiplied, and now form massive 25-foot canopies around Sunburst."
But as children do, Monique grew up and adolescent and adult preoccupations lessened her time on the farm, and the weekends that were once devoted to joining her parents were allocated to other things that city folks do. The every day experience of farm life crystalized into memories, and memories were deposited into the parts of her mind that seemingly had no use for every day living.
Decades after her Lipa weekends and as she was deeply steeped in her own family life and career, there came life, deciding to turn the wheel in directions she'd neglected to venture into for far too long. Life had decided for her what needed to be done to get her reacquainted with the things she needed most at the time.
It was the beginning of the lockdown. As a chef, Monique always had a penchant for garden-to-table cooking and with two young boys to feed, she admittedly worried about where to source wholesome ingredients to incorporate into daily meals. It wasn't an exaggeration then as economic and agricultural activity in the country were at bottlenecks, no thanks to quarantine protocols.
And then it was if muscle memory kicked in.

The memories that had crystalized were thawing, one image after the other, and when they had softened enough to help Monique in what steps to take next, it was as if her hands and ideas were being guided by her parents themselves.
"I first got my hands 'dirty' with two composting drums from Down to Earth in March of 2020 They supplied me with two drums: vertical food gardens with built-in composters. The containers (filled with African night crawler worms) have tubes in the middle and kitchen scrap (fruit and vegetable peelings) get turned into organic fertilizer—vermigold," Monique explains.
"When lockdown began, tending to the drums became our daily activity. My sons and I would water our seedlings and watch in earnest as they grew a little everyday and flourished... Slowly, what began as a family affair eventually became a whole household activity. Gardening was becoming a therapeutic activity not only for my family, but for our whole household staff as well! Every morning, we would gather outdoors to till, sow and water," she beams.
What she'd always known to be true was validated by the sudden reintroduction to "farming," albeit on a scale much friendlier to city living—or, pandemic urban gardening, as it's been termed by the community of green thumbs brought together by the last few months.
However long she's been away from Sunburst, Monique says, "My love for plants, though, never waned."
Her summer planting project lived on long after she purchased her first two vertical food gardens. Sooner than later, Monique also had raised planter beds, many, if not all, of which were made of recycled material. Every space that her lot could lend to her pocket gardens (including her home's perimeter that's just about two meters wide) she used efficiently and deliberately.
Almost 12 months to the date since Monique began her little project, and we'll bet that you'll never guess the kinds of deliciously fresh goodies that she and her family enjoy at the table on a regular basis.
Kang-kong is there, sure, and so are wing beans, okra, bell pepper, tanglad, sitaw, and alugbati, but among these Filipino pantry staples are also romaine lettuce, fairytale and black beauty eggplants, mizuna, Thai basil, Boston cucumbers, talinum, French beans, amaranth, Russian red kale, collared greens, watermelon radish, cilantro, mint, giant garnet mustard, spinach, plus cherry, Roma and kinalabasa tomatoes.
Whoever said pocket urban gardens could only yield basic veggies will surely be met with an all-knowing smile from Monique.
In more ways than one, Monique and her family might have even begun eating more healthily than they did, pre-COVID. Her children, especially, have benefited from their mom's hard work under the sun and creativity in the kitchen.
Imagine, her eldest son, once a picky eater who now feasts on veggies that most kids would grimace at, and both her kids who have dealt with eczema and a host of other allergies, have been ailment-free throughout lockdown. For Monique, this reinforces the age-old belief that we are what we eat—and that other moms can achieve what she's done even with limited space, time, and budget.
While this mom advocates health is indeed wealth, she also pushes for the fact that great amounts of wealth are not a precursor to family, especially children's, health.
Take it from Monique who graduated from the prestigious Le Cordon Bleu; though she's well-versed in the most delicate and complex of recipes, she's also got a trick or two up her sleeve for simple yet healthy meals that she's eager to share with moms hoping to address the same COVID-diet concerns she had (i.e.: how to ensure access to fresh produce without depending on groceries/trips to the market and how to get the whole family in on wholesome eating).
First, there's the matter of figuring out step one: how to plant your own greens.
"Our drums take up four square feet of space each, while our homemade raised planter beds only take up two by four feet of space. Vegetables can be grown anywhere there is an abundance of sun—on the porch, roof deck or balcony even. All you need is soil or potting mix, seedlings or seeds, a container, water, sun and a whole lot of passion," Monique advises.
And as with any project, big or small, starting is always the hardest part. So to all the dear moms (and dads!) who might have a tomato plant or monggo sprouts give up on you on your first try, it certainly doesn't mean you're an awful parent who can't follow gardening 101 steps. Learn, and perhaps do a little YouTubing and Googling, and try again. Monique's parents' first attempts at propagating trees surely didn't result in Sunburst Farm in their first try.
Second, once you've got the "keeping my urban garden crops alive" situation under control and mastered the preferences of each of your plants, the next step is to figure out what to cook with your harvest. Think out of the box, but also, don't overthink!
"I think with fresh produce and vegetables, simpler is best so the flavors really come out," Monique shares from her experience. Especially when it comes to kid-friendly recipes, you really don't want to overwhelm them with dishes whose names they can' yet pronounce or spell.
Monique has four recommendations for moms that have made it this far:
Veggies don't have to be just viands. Rice-loving kids can get their veggie fix via rice, steamed or fried, that has carrots, corns, and other beginner greens incorporated in it.
Homemade burgers or meatballs—kids won't notice that you've grated carrots and infused them in ground meat.
Omelets are also great at masking the raw taste of veggies. Chop up some of your choice finely and chuck them in, but Monique suggests to do this gradually. Start with a combo of two veggies. If they don't complain, level up to three, and so on.
Pasta-eaters can benefit from veggies, too! The main difference is to swap cream-based sauces with olive oil ones instead.
"I learned that the more you pressure them to eat their vegetables, the more they will resist... Once they get used to having vegetables mixed into their meals, the resistance eventually fades," she shares a matter-of-factly.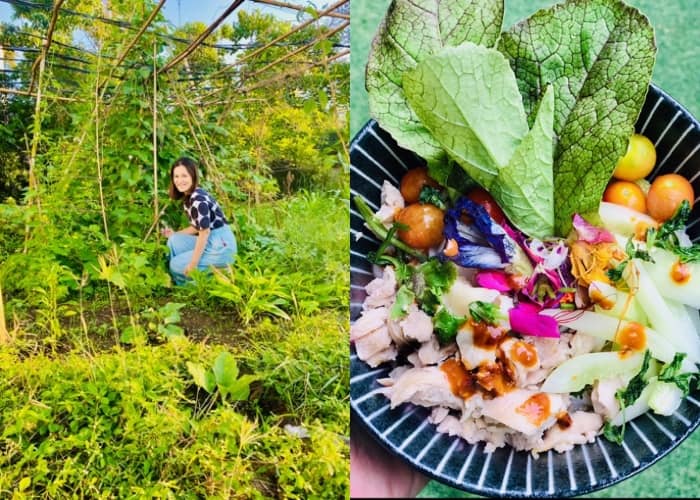 finds from monique santos roxas' home garden
finds from monique santos roxas' home garden
As for her family's personal favorites, they're a little more delectable than your run of the mill fried fare. For moms more confident in their kitchen skills, they shouldn't shy away from making their own versions of Monique's own dishes like:
A pasta made with cherry tomato and cheese. ("We bake [the tomatoes] in the oven for 15 minutes just drizzled with a bit of olive oil, salt, pepper, sliced garlic and Italian basil. I add in some pasta and sliced quesong puti and it becomes a wonderful dish!" she says).
Kofta kebab with an eggplant side. ("I make [eggplants] into moussaka for my boys or into baba ganoush," Monique reveals).
Cold sesame noodles. (It's the cucumber and edible flowers from her harvest that make it special).
A variety of stir-fry veggies. (It's amaranth, kale, talinum with adlai, malunggay as well as corn and winged beans that are used in this recipe most often for Monique. Keep in mind that something as simple as olive oil, lemon, juice, and garlic are enough to make them super tasty. Enjoy these veggies on their own or serve as a side dish to a roast).
For even more recipes for the advanced cook, Monique looks to Ottolenghi, Smitten Kitchen and Marion's Kitchen for new ideas to try.
As for kids that take longer than usual to drop their aversion to veggies, there's another gateway to healthy eating.
Monique assures, "Don't pressure yourself that your kids aren't eating enough vegetables; herbs are nutritious too and provide a whole lot of anti-oxidants!"
As a third tip to moms looking to begin or up their urban gardening game, weekly meal plans might be useful, too. Base them on what your garden is ready to provide, and allow what's available to dictate what other ingredients you should be prepared with. It's the essence of garden-to-table eating.
Finally, as a fourth and final step to moms in this process, Monique has a four last words for them: be a role model. Kids will almost always look up to the adults at home for cues for how to behave, what to like, what to not like. If they see you enjoying your healthy meals, it will only be a matter of time before they stop with the "ews" and "yucks" and have a forkful of the yummy greens sitting in front of them.
Now this newfound advocacy of Monique's to prove to moms of different cooking (and gardening) abilities that healthy eating is indeed possible wouldn't have come to light if not for the consequences of living life with COVID.
If Monique and her family hadn't been stuck indoors like the rest of the country was, we have our doubts that Monique would have revisited her roots as the proud daughter of two farmers whose bread and butter wasn't multi-step recipes or a professional culinary degree, but the knowledge of how to make life grow and thrive from deep within the earth.
"The plants that they grow and propagate fill my living space, my kitchen and our bedrooms. A propagated plant on the windowsill brings me back to memories at Sunburst. I see my dad—his hands deep in the soil, transplanting a seedling deep into the earth, saying a prayer for it to take root," she describes with fondness.
And with a year of quarantine behind her, Monique repeats a freshly formed mantra to herself to make sure she never forgets the truth of it, even when COVID has long gone:
"I am the daughter of two passionate farmers. Love for nature and the soil practically runs through my veins. Growing up, I spent every weekend with my parents as they visited their farm in Lipa, Batangas. My roots are deep, and my memories lie deep within these visits. I am rooted in the earth, and the earth is deeply rooted in me."
Sometimes life takes away for it to be able to give back a hundredfold.
And with the taking away of a lifestyle an adult Monique knew before the craziness of COVID took over, she was given back the best thing of all in return: the discovery that "life" for her holds multiple meanings—it's the passion behind her love for good food, the force that holds her home together in a tight embrace, the warmth memories of her parents give her, the willingness to share her knowledge for the welfare of others, the unseen power that turns a seed into nourishment for the body and more.
So the next time you feel that life is taking something away, believe that it's simply its way of making a grand exchange for something bigger and better.
Photos courtesy of Monique Santos Roxas