Mother's Day Gift Guide: All Things Floral For Your Mom And The Home
From planted flowers and unconventional flower arrangements, to floral plates and entertaining paraphernalia—you're sure to find something for the amazing mom in your life
Why are we attracted to flowers?
Many different studies, research, and intelligent guesses have tried to make sense of why we are drawn to flowers. Some point to evolution, saying that our ancestors associated bright colors to edible fruits and friendly items in the wild. Some say it stems from the fact that we are visual creatures, that our eyes play a large role in creating associations in our brains. Some mentioned Chromatherapy, which is the science of using colors to adjust body vibrations to frequencies that result in health and harmony.
Maybe it's all of those. In plain words: flowers are nice. Colors attract us the same way moths are attracted to flames. The sight of flowers arouses positive memories and feelings within us, bringing us back to that time we spent on the farm, that movie we watched, or the idea of a nice spring day on a field of flowers.
All of these positive emotions and feelings triggered by flowers is exactly what put it in the pinnacle of timeless gifts for all time. Flowers have become the ultimate gift for any occasion—or no occasion at all.
With Mother's Day coming up, it's easy to pick the most beautiful bouquet we can find to give to the amazing moms in our life—whether it's your birth mom or in-law, your grandmother, your sister who is a mom to her kids, your lady boss at work, or your wife. But what if they would like something a bit more unconventional, a bit more unique and creative? What if you'd like to give them something that will last longer, to remind them longer of your love and affection for them?
With this in mind, we have curated a Mother's Day gift guide of all-things floral that you can give your loved one. From planted flowers that can grow and thrive longer, floral plates and mats for the entertaining mom, to unconventional flower arrangements that will sit beautifully in your home—you're sure to find something in our list!
Check out the gallery below for our favorite floral finds. Happy Mother's Day shopping!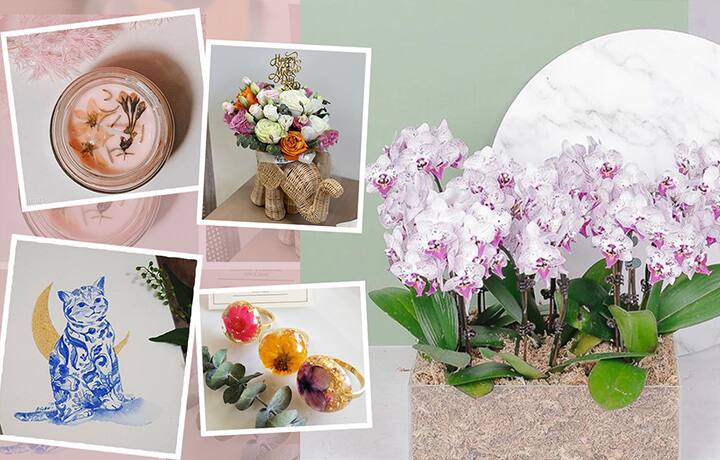 Photo Gallery
Photo Gallery