This Modern Rustic Hotel Is The Perfect Excuse To Pack Your Bags For Siargao
Everything unique and nothing boring… Muni Muni Villas is a charming combination of tropical and contemporary
Siargao Island will always be a favorite for everyone. City dwellers love the escape it offers, while never really veering away from the modernity we are all so used to. Living the island life isn't stressful, especially when you have accommodations like Muni Muni Villas to stay in and experience all the place has to offer and more.
This chic, tropical hotel may be a newcomer, but its carefully planned structure is what makes the wait worth it. Welcoming guests since November last year, Muni Muni Villas boasts of luxurious accommodations that combine modern and rustic design, executed by artist and designer, Carlo Tanseco. It assures that your vacation isn't just comfortable—it's also picture-perfect!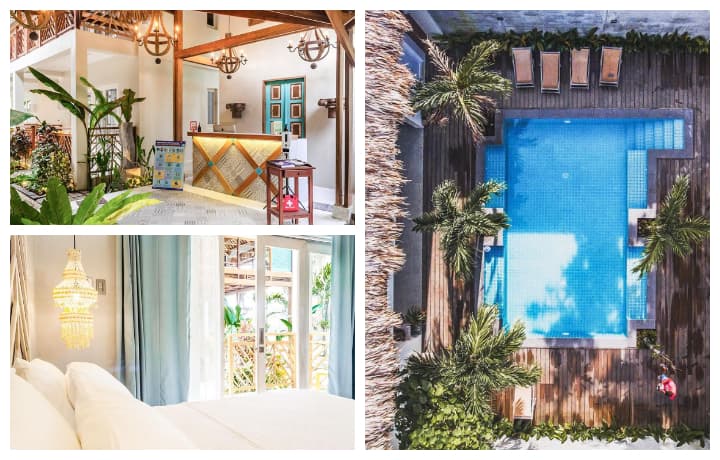 Photo Gallery
Photo Gallery
"We want to distinguish ourselves from the rest. We want to be different. We change our perspective of normal things. We never want to be normal," they wrote in one of their social media posts. And different they are, as the accommodations went up a notch in making sure that pieces within the property are one-of-a-kind.
Taking careful steps in their design, every detail is handcrafted. Take, for instance, the mismatched tiles that instantly give off character. The myriad of designs is wonderfully contrasted by the striking wooden elements throughout the property.
They also give a nod to the tropics with nipa hut-inspired exterior; and when you enter the rooms, it's all sophistication and class with bright, minimalist interiors.
Greenery also makes each nook and cranny come alive, while accessories such as vintage and tropical lamps give the space the edge. More antiques can be found in walls and other spots, and carved pieces show off the love for all things local. And while rustic is a major theme, Muni Muni Villas aim for a relaxing and sunny experience—thus the punches of color, from throw pillows to chairs and more.
The large pool situated at the center of the property is definitely a win. It also separates itself from other accommodations in Siargao with their yoga deck, featuring handmade art and natural earth tones.
The next time you fly out to Siargao for some surf and sun, check out Muni Muni Villas and embrace a sunny island vacation of your dreams.
Book your stay here.
Photographs by @munimunisiargao