Neat Labels—The New Organizing Must-Have For Your New Year Neat Goals
We introduce you to Neat Obsessions' not-so-secret art of labeling that will help keep your home orderly and aesthetic—and your kids neat, too!
If there's one thing we learned about the art of organizing from professional organizer and expert Neat Obsessions, it's that the way we fix and tidy up at home is always a personal journey—this means that the way I fix my home may be different from yours, and it all depends on our own priorities, needs, and resources.
Then again, there are some universal tricks when it comes to home organizing. One of these is the not-so-secret art of labeling.
Preparing our homes for 2021 can be a bit tedious, this is why we sat down with Issa Reyes of Neat Obsessions to tackle this endeavor—from the importance of establishing a cleaning festival to tips on organizing your home.
To cap it all off and set out our homes for this year, we now look at the practice and perks of labeling, which Neat Obsessions pretty much revived and made cool again with her new collection, the Neat Labels.
This series is a 3-part series on cleaning and organizing your home to start 2021 on a positive and productive note. This is part 3 of the series. Read the previous article on home organizing below.
Why label?
Off hand, when we think about labeling, we think about our kids' lunchboxes, books, and notebooks and how they're always labeled with a name tag so that they don't lose them in school. Here in the Philippines, label makers are a rarity in any household. The adults that I know who have one would usually use it to attach names to their items so that they don't lose them in the office. Just like the old times, but much more sophisticated.
Little do we appreciate the convenience and order that labels can also establish in our homes.
According to Issa, organizing the home is all about creating a personalized system that works for you and your household. This is what she specializes in: creating order and a replicable system for homes that seek her help, so that the household can keep the organization she put in place even after she finishes the project.
This is where labeling comes in.
"Labels help keep your system in place," says Issa. "In shared spaces such as the pantry or kitchen, labels serve as visual guides for everyone who uses the space. It's difficult to maintain a system if only one person in the household knows and understands which things go where."
A classic example is when only the mom establishes a system for everyone's clothes. She puts all underwear in the first drawer, all shirts on the second one, and all shorts and pants on the third one. And then you come in, without a regard for the system that she put in place, and you mix up all the stuff in a hurry to find something that you want to wear. And more often than not, you'll hear the usual "Moooom, where is my ?" echoing throughout the house.
If the drawers are labeled accordingly, you have a cue and a reminder to keep things where they belong.
Apart from helping every member of the house adhere to the system in place, labels also help you in your day-to-day tasks.
"Labels help you avoid overthinking," Issa says. "Since labels are there to tell you where you placed your things, you wouldn't have to spend your energy to think as much, most especially on days when you have important decisions to make."
Case in point: you have organized your pantry essentials into beautiful glass containers so that they look nice and orderly on your shelf. But then, without labeling, you become lost when you're cooking because you can't distinguish the flour from the cornstarch from the potato starch that you poured out of their boxes.
Are you liking the idea of labels more now?
Enter: Neat Labels
Neat Labels aim to fill the gap and educate people on the convenience of labeling. These Neat Labels are pre-printed labels for the pantry, kids stuff, baking essentials, and home use. They were developed by Issa for Filipino homes, in collaboration with bespoke label maker, Mayfair & Co.
And since organizing is half order, half aesthetics, you'll love that these Neat Labels don't just help you create and maintain that orderly system you put in place; they're also just as aesthetic for your home! They come in a classy black or white design, which goes well with any kind of theme or style that you have at home.
What we love the most about these Neat Labels is that they are waterproof, oil-proof, and with a repositionable adhesive. This means you can keep reusing them even when you change containers or bins. They also adhere to different kinds of surfaces, so you can even use them to label pouches or reusable bags.
"These pre-printed labels help you avoid thinking of unnecessary categories in different areas in your home. It is important to categorize when you sort, but creating many specific categories might not be as efficient as creating more general categories," Issa explains.
As a mom, Issa also knows that most households deal with the issue of ever-makalat kids. This is why one of her advocacies is to raise kids as homemakers in their own right, so they themselves have that initiative to keep their things orderly after playtime or school work.
Interestingly, if you look at the Kids Label under the Neat Labels line, you'll find that there are encouraging affirmations at the bottom of the labels so that the kids are rewarded and encouraged to do their part in keeping your home neat.
Check out the gallery below for some inspiration on how to use these Neat Labels.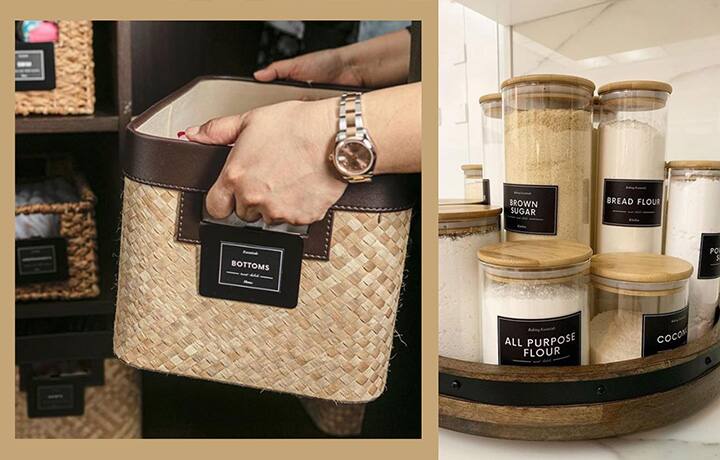 Photo Gallery
Photo Gallery