Nix Alañon Discovers The Meditative Art Of Ikebana During Lockdown
His creations are sculptural, enhancing the natural qualities of local foliage
On the opposite end of the spectrum from a home market flooded by trendy dried flowers, we find interior designer Nix Alañon foraging the tropical forest for greens and blooms for his #everydayikebana projects during lock down. "Just like everybody else, I was also scrambling in the beginning to find my bearings amidst all the uncertainties brought about by this pandemic. Six months into the quarantine, I could say now that I have adjusted into the new, slower pace of things. Creatively, I been doing well and dare I say thriving given the current situation that we are all in," shares Nix .
"I have always appreciated beautiful floral arrangements and being locked down in nature definitely gave me the time and opportunity to do more of my own as well. Since the strict lockdown started at the beginning of summer, I was so inspired with to create different table arrangements using the different plants and flowers that were blooming around us," he continues. His partner, fashion designer Rajo Laurel, proudly shows Nix's flower arrangements on Instagram:
Creating these involves the gorgeous blooms and tropical fronds he finds in nature. While he is guided by the principles of ikebana to create these still lives, he uses what he finds locally. The result is are floral arrangements that are not unlike sculptures. Ikebana, the Japanese art of floral arrangement, unlike Western floral arrangements, bring out the natural beauty of all the materials involved: flowers, twigs and leaves to express emotion. The elements of art: color, line, form are considered in assembling these. The assemblage need not be overly decorated, as one simple flower, versus many, can be powerful on its own. "Ikebana is the Japanese art of flower arranging that is seen as more than just decorative and is associated with a meditative quality. I interpret it in a more contemporary way than in its traditional sense… Any simple container that has a nice shape to it [will serve this purpose]. I believe that there should be a dialogue between the actual arrangement and the vase you are using it. I wouldn't do a busy arrangement using an overly-decorated vase, for example," Nix explains.
These pieces grace their dining table, too. During the lockdown, poetic images of these arrangements alternate with photos of abundant table spreads, lavished with food: baskets brimming with local produce and fresh catch cocooned in banana leaves, painting a picture of what it's like to be quarantined with Rajo and Nix in their Batangas bolthole known as "The Monohouse." On entertaining, Nix says, "Just learn to mix and match! You don't need to have the finest China to create beautiful tablescapes all the time. Although it would be best to slowly build even a small collection of local tableware and linens that are easily accessible nowadays."
This gallery of Nix's ikebana arrangements will inspire you to find what's in your own backyard, and brighten up corners of your home with your own arrangements: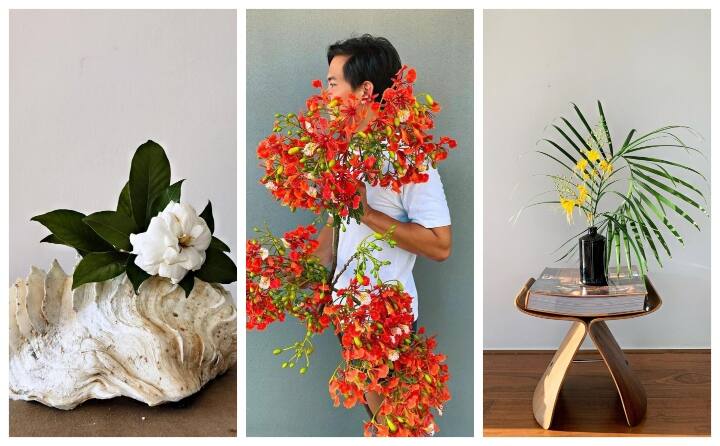 Photo Gallery
SWIPE LEFT OR RIGHT
TO NAVIGATE BETWEEN PAGES
Nix Alañon's #everydayikebana
Photo Credit: @nixalanon
Nix Alañon's #everydayikebana
Photo Credit: @nixalanon
Nix Alañon's #everydayikebana
Photo Credit: @nixalanon
Nix Alañon's #everydayikebana
Photo Credit: @nixalanon
Nix Alañon's #everydayikebana
Photo Credit: @nixalanon
Nix Alañon's #everydayikebana
Photo Credit: @nixalanon
Nix Alañon's #everydayikebana
Photo Credit: @nixalanon
Nix Alañon's #everydayikebana
Photo Credit: @nixalanon
Nix Alañon's #everydayikebana
Photo Credit: @nixalanon
Nix Alañon's #everydayikebana
Photo Credit: @nixalanon
Nix Alañon's #everydayikebana
Photo Credit: @nixalanon
For everyone who would like to start their Ikebana practice, Nix has this to say, "My top suggestion would be to just go and design by feel! Simpler is always better and does not have to be over the top. Even a fallen branch- fresh or dried- could be an elegant way to add drama to an otherwise drab area in your home. Open your eyes and be inspired."