There's Nothing Basic About This Gen Z Interior Design Trend
Called "Avant Basic," it's a mash up of psychedelic forms, pastel colors and wavy shapes
There's nothing basic about "Avant Basic," except that it has invaded TikTok and Instagram, making it hard to ignore, and well, quite common nowadays. While Gen Z (the mostly under 26 crowd) is truly a young demographic, they will eventually be interior designers', architects' and design professionals' bosses in the future. While it has been interesting to see this generation find its voice, it also makes one look back at how the previous generations tried to define theirs through their taste and style.
https://www.pinterest.de/pin/351912462705112/
For millennials, there was the "hipster" look, and still enduring, the "grandmillennial." Gen Z aspires for spaces that are "aesthetic." Simply put, rooms that have style. The term is so broad that it frankly refuses to be put in a box. One minute, we see vines strewn over their work spaces, the next, it's all about soft, pastel lighting. If anything, Gen Z encourages the "You do you" look. On Instagram and TikTok, we hardly even see their spaces professionally photographed. Accounts such as @this.is_my.room show the Instagram audience loads of photos that explain the look, with photos that feel casual, relaxed and un-styled.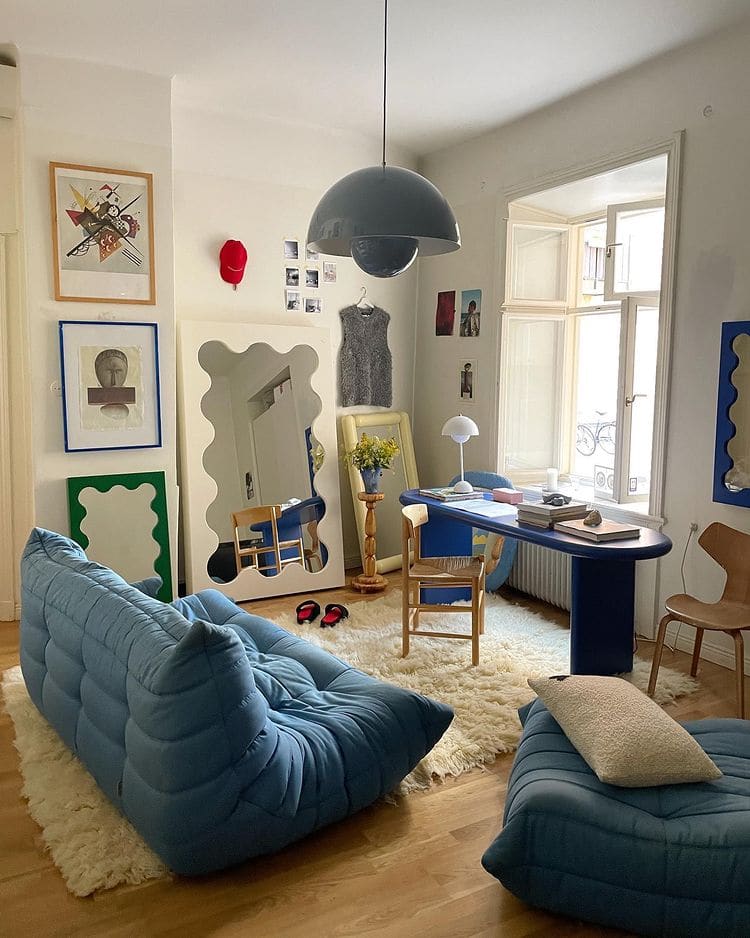 Photo Gallery
Photo Gallery
Avant Basic, also sometimes referred to as "Danish Pastels," is a contradiction. Whereas the term "Avant" means unique or original, "Basic" means ordinary. How does one get this look? Start with a white room, then layer with any (or all!) of the following:
Pops of Pastels
Let the faintest of pinks, yellows, blues and purples stand out from a white background. Small flower or gingham patterns amp up the sweetness of this look. You can also mix some soft neons here.
https://www.pinterest.de/pin/205406432995950499/
Psychedelic, Checkered and Floral Patterns
The key here is not to overwhelm the room with a lot of these. Take your floral and psychedelic patterns in smaller doses. Posters framed in plain white or blonde wood frames, for example, will do the trick. You need not envelope your room in wallpaper to get the "Avant Basic" look.
https://www.pinterest.de/pin/302233825002517225/
Wiggly and "PoMo" Forms
Add in a wavy mirror if it's a bedroom you're decorating, or a chubby chair, if you want this look for your living room. It's all about enjoying the fun Post Modern vibe, made popular by the Memphis Style.
https://www.pinterest.de/pin/18084835994752060/
This fun look is so easy to put together. Whether it's the student in your life or you just wanting to update some corners of your home, we've got prompts for you. Start shopping!
Vintage-Inspired Pastel Posters:
Colored Glass Candlesticks:
Lead and thumb images by @vintage.glamour.interior and @gustafwestman