Object of the Week: A Refrigerator For Your Beauty Products
This cool appliance stores your beauty needs, improving their longevity and ensuring their effectiveness
Raise your hands if you grew up with a lola, a tita or a mama that has refrigerator in their walk-in closet! As a little kid, you probably opened it, perplexed to find bottles of fragrance and face creams in there, expecting to find edible treats… and when you got into skincare and makeup as a young adult, you were initiated into a whole world of beauty products, and found out why the refrigerator was considered an essential in the closets of your Lola, Tita or Mama.
If you've considered having one of your own, but have found that even the smaller bar refrigerators take up too much room under your vanity or in your walk-in closet, consider the beauty refrigerator. Online searches for this appliance have grown steadily over the past year, making its buzz worth noting.
What exactly do you need to store in your Beauty Fridge? In a tropical climate such as ours, where the humidity, heat and sun can affect the effectiveness of your beauty products, store the following in a beauty refrigerator. After all, you've spent so much accumulating the products that help you maintain your beauty regimen (plus more because we all know that we hoard for fear of stocks running out)!
7 Beauty Products That Should Be In A Beauty Refrigerator:
1. Anything with anti-oxidants because the formulation can be extremely unstable when exposed to light and heat, and in this tropical setting, we need to be more vigilant in storing our beauty essentials.
2. Organic and natural skincare products where formulations have totally skipped preservatives altogether.
3. Sheet masks
4. Face mists
5. Jade or other stone quartz rollers
6. Fragrances
7. Nail polish that should be kept away from the sunlight to preserve their color.
Here are some of the coolest beauty refrigerators out in the market: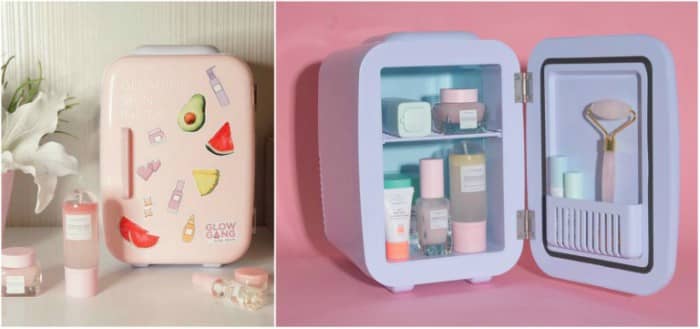 Beauty Refrigerators
Beauty Refrigerators