Object of the Week: Dyson's Newest Vacuum Promises Efficient Cleaning Minus The Excess Weight
Meet the lightweight powerhouse vacuum, the Dyson Digital Slim
We all want a clean and organized home, that's why investing in the right items for our space is very important. It's not just considering the right proportions of flooring for fixtures or finding out what detergent makes our sheets smell better—it's an overall assessment of what will work based on how we can manage our households best.
When it comes to cleaning tools, the vacuum is our lifesaver. However, the choices in the market include bulky models that can both take up precious extra space and our energy due to its weight. Thankfully, innovation leader Dyson has come out with a solution to this concern as they launch the Dyson Digital Slim vacuum, a lightweight and powerful cord free vacuum engineered to deliver a barefoot clean.
Comparably smaller and lighter to their previous vacuum models, the item delivers the same cleaning power with the Dyson Hyperdymium motor, highly efficient cyclones, and carbon fibre filaments for fine dust pick up equipped in this fresh release. With the completely re-engineered soft Fluffy cleaner head and a new light and robust brush bar, it gives a compact and lower profile cleaner head for tight spaces and improved edge pick up.
"To make a strong-performing vacuum, it must effectively capture fine dust and small debris and maintain constant powerful suction. In our latest machine, we set about going even further, seeking to condense our proprietary cleaning technologies, making our lightest machine to date while refusing to sacrifice cleaning performance," founder and chief engineer James Dyson says.
It's especially created with the Asian market in mind, responding to our frequent cleaning habits—thus, the superior fine dust pick up function. This lighter machine also complements those with a smaller physique, making it a convenient choice for most homeowners, as well as boasts of a better grip for greater comfort.
Owning this model also saves you more space. As a 3-in-1 cleaner, it solves your mess problems on floors, mattresses, and hard to reach areas with nine different attachments. Its whole machine filtration captures 99.99% of microscopic particles as small as 0.3 microns, expelling clean air. With an airtight gasket around the cyclone assembly and a pressurized rubber seal around the advanced filter, the whole system is fully sealed—preventing dust from leaking back into the air.
And as with any modern home, it's a smart tool that will assist your daily life. It has an LCD screen that shows the cleaning mode and remaining run time. It also offers filter maintenance reminders and blockage reports.
And best of all—it's easy to clean. The machine has been engineered for smoother, easier dirt ejection and the brush bar, clear bin, combined pre/post motor filter, and light-up crevice tool are all washable.
Check out the gallery below for a closer look on the Dyson Digital Slim vacuum: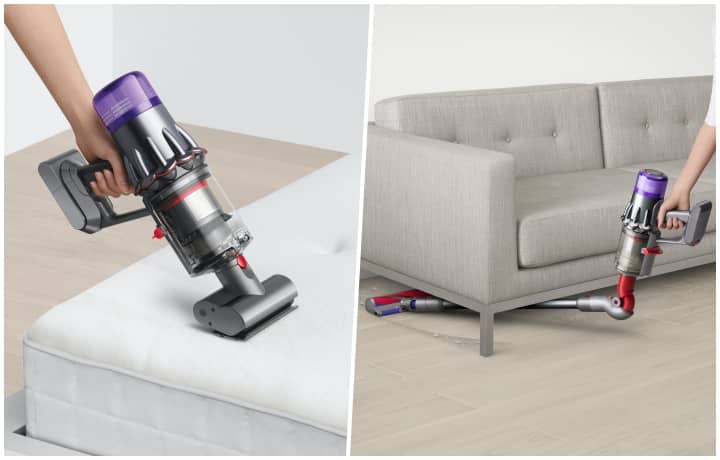 Dyson Digital Slim Vacuum
SWIPE LEFT OR RIGHT
TO NAVIGATE BETWEEN PAGES
Purchase the Dyson Digital Slim here: