Object Of The Week: The Book Nook
These intricate miniatures make settings from your favorite books come to life on your book shelves
Books immerse and transport their readers into different worlds. Everyone has a favorite book, and when a book makes it to one's must-read list, it often has a compelling narrative. Unless one peels a book open, they will never experience the world hidden within it. And when we do, our imagination can take us to limitless places with these books.
A new object has been noticed by the internet in the last few days. Imagine a location or a home from your favorite book in miniature form, inserted between the volumes in your book shelf. The alleyways in Harry Potter, for example, or the labyrinthine streets of the Gion from Memoirs of a Geisha, can now sit on your bookshelves, next to your own books via the book nook. When someone says "book nook," we think of a corner or a room in which one may enjoy their favorite title. The new book nooks are literally miniature worlds tucked into a book shelf, ideally amongst books, and almost hidden from plain site. They are tiny versions of doll houses that contain the setting, and some, even the characters, of people's favorite tomes, making them come to life, quite literally, on book shelves.
A whole social media page has been dedicated to these creations, and if you want one, there may be a shortage problem. They are so intricately made, labor intensive and time consuming, and are often sold-out. Like a lot of covetable objects, they are handmade with a lot of love, and the community that makes them is a small, emerging one.
Some of these are available via Etsy. You can always start a new hobby out of these. Connect with this community of crafters to find out the best practices and tips. Need a reason to get going with this? Here's a gallery of book nooks: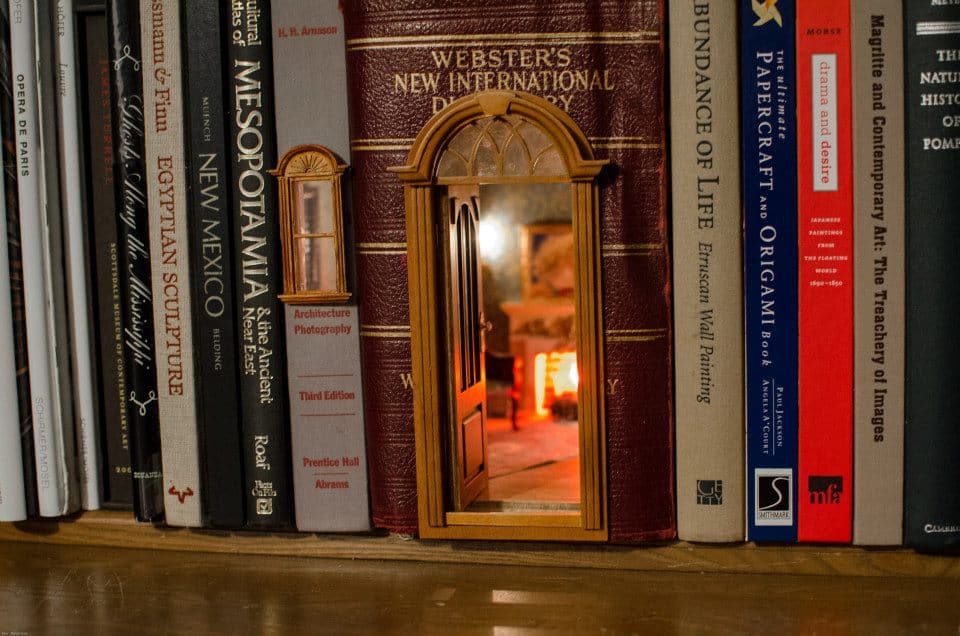 What book would you choose to give life to on your shelves?
Banner image and thumbnails by Sienna Cinnabar @techarge_llc.