Meet The Ogawa Master Drive AI
The popular massage chair has leveled up, promising true massage. true intelligence
It's a game-changer. The Ogawa Master Drive AI was developed with care and attention by the masters in Eastern Medicine and the greatest innovators in the industry to provide the most immersive massage experience.
AI Care - smart technology and healthy living at its best
The most immersive massage experience comes from the all-new OGAWA Master Drive AI 2.0. It is not just a massage chair. It is your personal health assistant. OGAWA Master Drive AI 2.0 boasts advanced artificial intelligence features: Face Recognition, Health Tracker and Scanner, and AI Powered Automated Analyst that give new meaning to massage experience and health management so that you can enjoy like while staying aware your state of wellbeing.
Powered by M.6 GEN Technology is the cutting edge operating system with 3 dedicated M.6 Gen Microprocessors for faster speed, higher accuracy, and a better massage. Intelligent Sensory Microprocessors learn and adapt to your body for a personalized massage every time.
Smart Control, Extremely Simple
Massage, with just a sentence and you can use the seat control function by voice, completely relaxing 2 hands, a comprehensive massage experience, both as an option for young people who love technology, which can solve the problem of sports elders unfamiliar cooperation.
Download the app to your tablet to control it, the software is constantly updated, offering an optimal experience, breaking up with an old form of control.
With the M DRIVE control button, you can start massage mode, perform adjustment operations, and quickly find the desired massage status. Remove the effects simply, directly, and effectively.
It also has a smart health sensor. Using the smart handle, PPG technology can measure heart rate to analyze user stress levels. The GSR sensor sends biofeedback and senses the level of oxygen in the blood.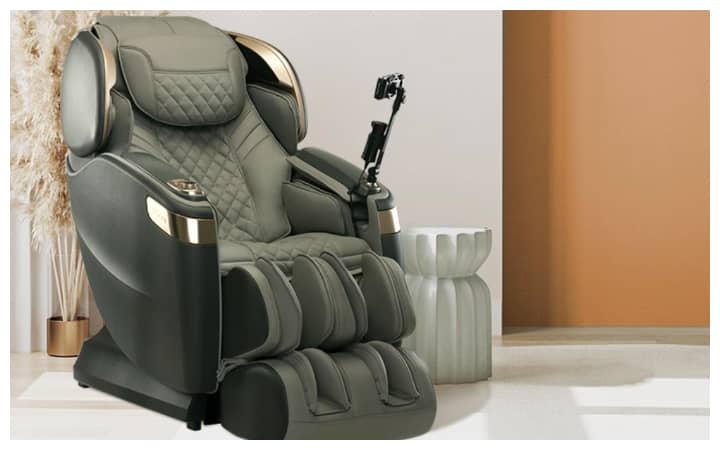 Ogawa Master Drive AI
Ogawa Master Drive AI
AI Technology, Intelligent Living
The OGAWA Master Drive AI 2.0 is packed with algorithm solutions while an AI brain that is able to think and learn through collecting information from the cloud and processes to customize your very own massage.
The innovative OGAWA Health Tracker and Scanner technology is a closed-loop therapeutic system that ties real-time detection, analysis and massage recommendation with personalized programme delivery through a host of smart technologies from trackers, health management cloud, AI-Powered Automated Analyst and massage programme personalization based on your body's unique needs. Making every massage session unique.
It also has more than 5184 massage combination to provide health solutions, The brain behind is the smart AI-Powered Automated Analyst that uses algorithms to manage masses of data and program a list of recommended solutions that precisely targeted at your problem, while you enjoy the best comfort and relaxation on your massage chair. The AI-Powered Automated Analyst is there to give you the best for every massage session at the touch of a button - it's individual, personal and fast.
Get more done with your AI Assistant
"Hey OGAWA, now we're talking!" The OGAWA AI Personal Assistant enables direct communication with your massage chair. It knows you, gets better every day and manages your health needs. It constantly learns everything about your health profile and navigates the best massage solution for you.
It recognizes people. Just scan your face, you can get started and access to your personal profile instantly.
Massage chair does what you tell it to! Just voice. You can quickly access your chair's most used settings even without using the controller, It speaks English and Chinese AI Precision Sensors.
Technology to the point with eyes all around you. Like an extra set of eyes, the precision sensors are dynamically integrated for the greatest accuracy, richer human-touch massage experience and more speed ranges.
The invigorating 4D Thermo Rollers are integrated with Extreme Speed Heating Massage Wheel Technology that can heat up to approximately 50C in 2.5minutes, offer strong yet delicate touch like human hands that deeply relaxes the tight muscles in the back and releases spinal pressure.