Let Oonga Designs Enhance Your Kids' Rooms The Way Only Natural Materials Can
Art Director and Photographer, Glaiza Alera's line of nostalgic nursery items is ethically-made by artisans, supporting local communities
With the pandemic, the home has become top of mind. There have been a variety of businesses, side hustles and pivots that focus on the homeware market during this time, and as enthusiasts of everything for the house and living, we could not be more excited about documenting our finds here for our dear readers. After all, not only do these new homegrown brands deliver more choices for everyone's homesteading pursuits. They are also a testimony to human resilience during this time, allowing us to focus on the silver lining, and thus, dwell in possibility.
One such brand is Oonga Designs. Founded by freelance creative director, advertising and events photographer, Glaiza Alera, this new brand focuses on sustainable and eco-friendly products for the nursery. "Oonga Designs was conceptualized during the quarantine period. I gave birth to my second child in the province and it was the start of the first nationwide lockdown. We forgot some of my baby's stuff in manila at that time leaving my baby with nothing to wear. Since our province, Nueva Vizcaya, is in the northern part of the country, it was still pretty cold even the first week of March. Out of frustration, I sewed a baby dress out of my knitted sweaters because there were no open shops in town. I tried looking for baby stores online but delivery was quite impossible. I told myself once everything comes back to normal, I'd like to put up my own one-stop-shop baby store. Oonga means baby in the Isinai language, a tribal language in the province of Nueva Vizcaya. Most of our product names are in Isinai. We opted to use it hoping that somehow we are able to save and revitalize this dying language," Glaiza relates.
Now a mother of two, Glaiza counts her childhood memories and her two "lovely human beings" as the inspiration for Oonga Designs. Her wealth of experiences with her lola in the province has given her the motivation to design and craft pieces for the nursery that are driven by a healthy measure of nostalgia. Reveling in her these, Glaiza recounts, "I grew up seeing my lola knitting table cloths, blankets, table runners, and our house was full of rattan furniture. I remember playing with the hula hoop made of rattan since we had a very limited toy shop in our town. We used to play in my grandparent's farm & the simplicity of life in the farm inspired me a lot. I find inspiration from nature and I believe you will agree with me."
This, coupled with a strong aesthetic direction, functionality and practicality has yielded "stunning pieces that will bring your nursery or kids' room to the next level." Products range from bassinets to play gyms, soft crochet toys and swaddles that are made from natural materials and are ethically made by local craftsmen.
Have a look at this charming line of nursery items: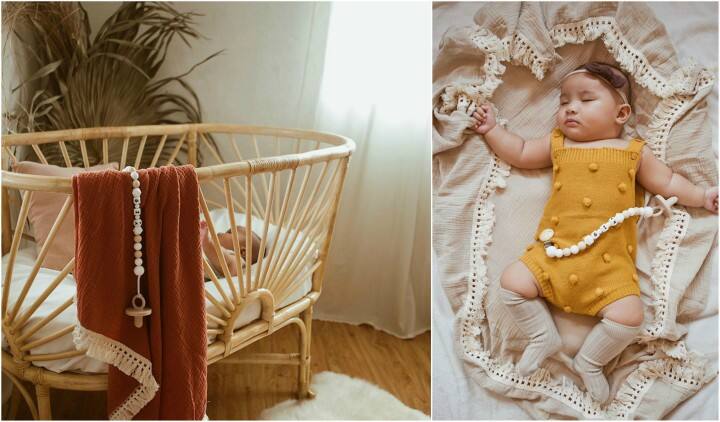 Photo Gallery
Photo Gallery