Keep Calm And Keep Your Hands Busy By Stitching To Life One Oppa At A Time
We found embroidery kits that celebrate your Hallyu bias… perfect for the coming ECQ
Here we go again with another round of ECQ (Enhanced Community Quarantine) hitting the metro, and in many parts of the country, quarantine's various versions. At this point, we are indeed familiar with the numerous woes and disruptions this brings, and at Metro.Style, we continue to find inspiration in every corner, our humble attempts at entertaining our readers through these tough times.
The pandemic has turned many into hobbyists: budding plant experts, wood workers, bakers, and even embroiderers. This season has also seen a surge in entertainment from a variety of sources and from different countries, thanks to their accessibility online. As such, K-Drama has seen an even larger viewership these past months. As fans of this genre know, their compelling storylines, transportive sets and beautiful costumes are brought to life by oppas who have brought these K-Dramas to life.
To our delight, we found a hobby that marries the love for K-Drama oppas and embroidery through Kitch.ph, a local cross stitch company that provides "a modern twist to an old favorite." Birthed by mother-daughter tandem, Mariluz Agujo and Diane Agujo, kitch.ph offers cross stitch kits for the beginner and the seasoned crafter alike. "My mom (Mariluz Agujo) and I both like to do cross-stitch. One day during a video call, my mom told me she found our old stash of unfinished cross-stitch projects from years back. She picked up the hobby again which gave her the idea to start our own cross-stitch kit brand. And after a few weeks of planning, we were able to launch Kitch," Diane Agujo tells Metro.Style.
From their kits that include patterns, basketweave cloth and thread that celebrate flora and fauna, as well as easy ones that younger embroiderers can take on, they have now expanded their collection to include K-fever with their Oppa line.
Here's what they have to offer: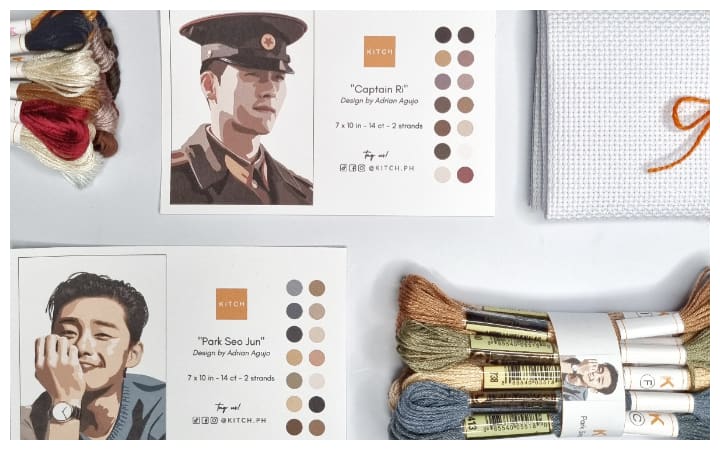 Photo Gallery
Photo Gallery
What better way to keep your hands busy this coming ECQ?
At the moment, the Oppa collection offers Hyun Bin, Park Seo-Joon and Song Joong-Ki, "three of the most popular oppas right now," as Diane Agujo, owner of Kitch.ph (whose favorite oppa is actually Ji Chang-Wook) calls them. She has chosen the most recognizable portraits of them to capture as cross- stitch likenesses.
If you're a beginner, Agujo recommends, "Watch tutorials on youtube. Cross-stitching isn't actually that hard as many would assume. Once you get the basics done, you'll be stitching in no time. Also, start slow and make sure to refer to your patterns so you don't make mistakes."
Shop this story:
Visit the kitch.ph store here.
All images courtesy of Kitch.ph.