Here's Where You Can Order Custom Pots For Your Plants Babies
Personalize your garden or your desk with these beautiful and artistic custom-painted pots
How are your lockdown plants doing?
Fellow plantitas and plantitos would know that it's easy enough to buy plants. IG stores, Facebook Marketplace, QC Circle, and our go-to plant nurseries are always teeming with new hauls to choose from—from hardy indoor plants to flowering plants in time for summer.
But what's really tricky is finding beautiful pots, really aesthetic pots for our Pinterest and IG-worthy gardens.
When it comes to finding a home for your beloved plants, succulents, and flowers, there's something personal about choosing a really nice pot. What's even better is if you can customize the pot to your exact requirements—color, shape, and even design.
Here are some stores we found online that creates and sells custom pots for your aesthetic plant needs.
Nest Plant Studio
Even before being a plantita became a thing, Nest Plant Studio was already supplying plants and pots to residential and commercial spaces. Recently, because of the pandemic, they have started to invest more on diversifying their collection, adding beautiful custom pots to their catalogue.
What's striking about Nest Plant Studio's custom pots are how beautiful and professionally finished they are. Customize a pot for yourself, for a gift, or for party or wedding favors.
For easy customization, you can choose your pot size, choose a finish or color, and add some of their stock designs like lines, XO grids, gold finish, art textures, and more.
For those who'd like something more personalized, they can now add a name or words on your pot, expertly embossed and then painted for that sleek finish. While they have existing minimalist line art designs you can choose from, they can also customize the pot based on your own line art designs.
To order, send Nest Plant Studio a DM on Instagram. Check out some of our favorite customs from the store below.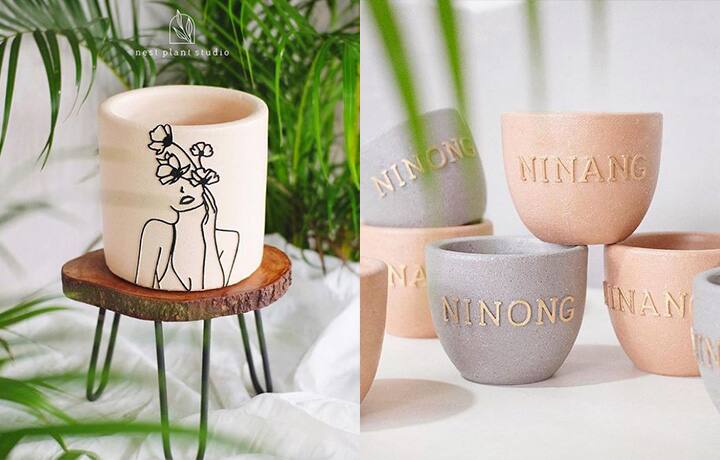 Photo Gallery
Photo Gallery
Punlâan
Terracotta pots are some of the most popular type of pots because their porous nature allows for air and water to move through the walls of the pot, preventing your plant's roots from rotting. But why settle for regular terracotta pots when you can customize it to evoke your personality and style?
Punlâan offers both readily painted terracotta pots and custom orders. For art fans, they have pots painted with famous artists like Frida Kahlo and Salvador Dali, and iconic works like Starry Night and The Scream. For custom orders, you can order your family portrait immortalized on a pot, or maybe an image of your dearest fur babies. Punlâan specializes in pet portraits, so you sure won't be disappointed.
For those who are feeling a bit artsy themselves, they also supply Paint Your Own Pot kits, inspired by those popular Paint-by-Number kits.
To order, send Punlâan a DM on Instagram. Check out some of our favorite customs from the store below.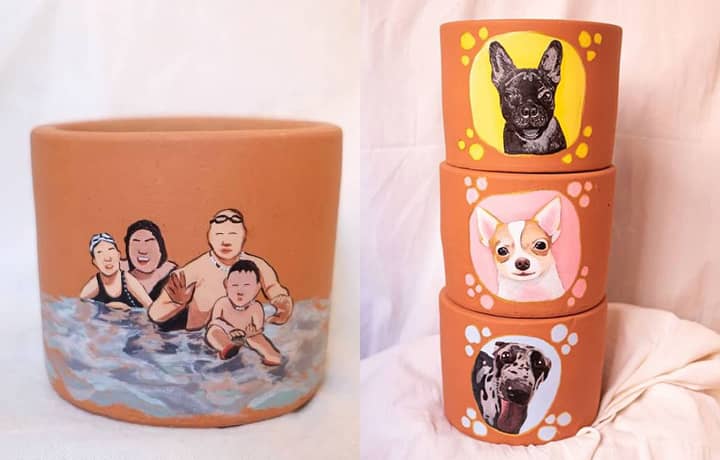 Photo Gallery
Photo Gallery
POT_ogenic
POT_ogenic is more than just a plant pot store; they're more like a collective of different artists who work together to deliver commissioned pots. At the store you'll find astounding realistic portraits by artist Rm Ang, adorable pet portraits by lenlen and phntm_ago, darker ink-inspired pieces by Joshua Momo, and cute vectors by Maria Paraluman. Each artist brings their own unique flavor and talent to POT_ogenic, creating a varied and diverse portfolio of painted pots.
While they also offer already painted pots, you can definitely submit a custom order. Commissioned pots take 3-7 days to complete, and the price will vary depending on the complexity of the peg.
They use clay pots for almost all commissioned works, finished with a sealant to protect the paint from harsh elements and wear.
To order, send POT_ogenic a DM on Instagram. Check out some of our favorite customs from the store below.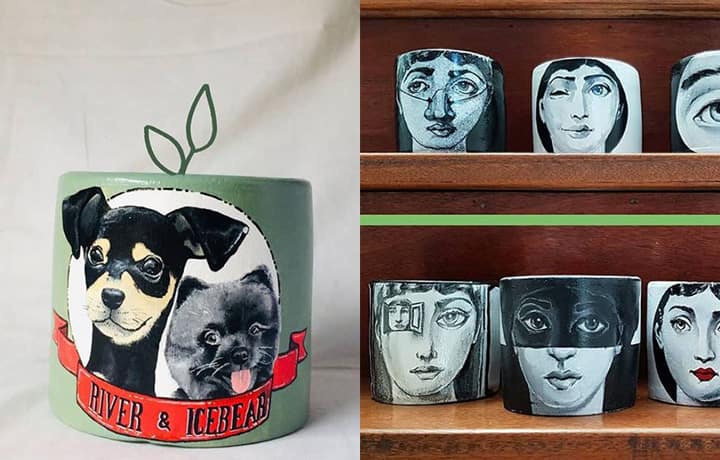 Photo Gallery
Photo Gallery
Oh, My Pots! PH
For something cute and quirky, head over to Oh, My Pots! PH. Her hand-painted clay pots will add some color and charm to your garden or desk.
Hand-painted by Mary, the pots are pretty, minimalist, fun, and colorful. Most are colorful abstracts, but you'll find adorable sleepy heads, galaxy-themed, and dreamy pastels that your plants will love. She has various designs ready to be packed and shipped, but she can also custom the pot to your needs and preferences.
To order, send Oh, My Pots! PH a DM on Instagram. Check out some of our favorite designers from the store below.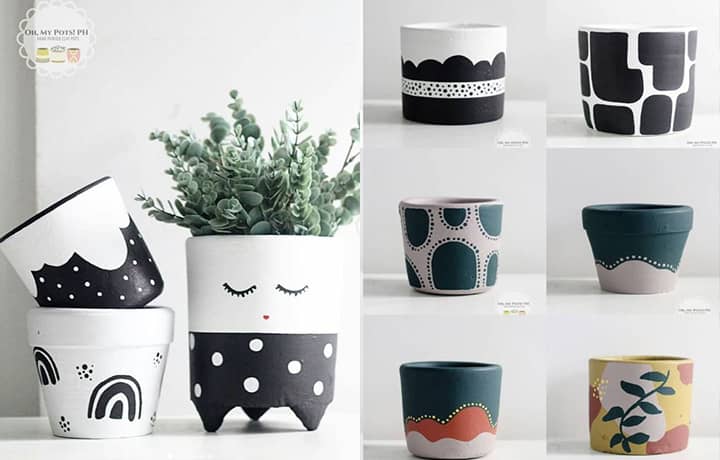 Photo Gallery
Photo Gallery
Beyond The Pots
What we love most about a shop is when you can make the most out of the delivery fee because they've got so many things for you! Good news: Beyond the Pots is one of these shops that we love. Your one-stop shop for all your plantita needs, Beyond The Pots has plants, pots, plant tools, and so much more.
When it comes to their pots, you'll be pleased with the number of choices that you have. They have pots of various shapes and sizes—not just round, not just square, but even quirky-shaped ones. You can also tailor fit each pot to your garden or room's theme because they have 24 pot shades to choose from. The best part: they have catch plates to match.
More than just customizing your pot shape and color, you can also ask for your pots to be hand-painted. They have existing designs you can choose from, but they can also paint human and pet portraits, or your favorite K-drama ships or K-Pop stans.
To order, check out Beyond The Pot's catalogue and send them a DM on Instagram. Check out some of our favorite customs from the store below.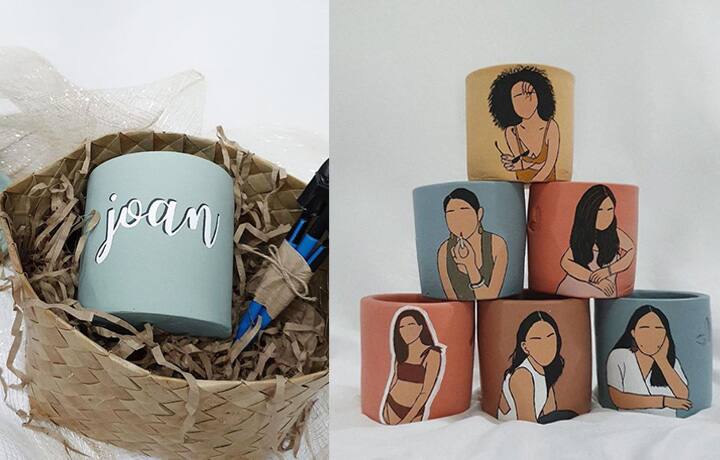 Photo Gallery
Photo Gallery