This Is Why A Good Mattress Matters For A Good Quality Sleep
The benefits you get from investing in a good quality mattress
Sleep is a luxury to most people. Falling off to dreamland can be a struggle, especially when we're stressed, in need to pull an all-nighter, or insomnia-prone. But while it's hard to predict our sleep cycles at times, we can adjust our sleeping arrangements to make us feel more comfortable for our nightly tuck in.
That's why in celebration of World Sleep Day last March 18, Our Home is campaigning to raise awareness on having a good quality sleep. The brand shared useful tips for people to have an adequate and satisfying slumber—some of which are simple things that we tend to forget to apply in our daily lives.
They began the discussion with having a fixed bedtime and wake up time to arrange your sleep cycle. Inserting power naps is highly recommended, too—given that it doesn't exceed 45 minutes of daytime sleep. Excessive drinking of alcohol, as well as caffeine intake, should be avoided at least four to six hours before you sleep. They added regular exercise as an essential, but not before bed.
And of course, reserving the bed for sleep will help acquaint your mind and body to bed as a place for rest and relaxation only. So yes, skip laying in bed with your laptop as you work—it's a major no-no!
And with this, the brand emphasized on the importance of having comfortable bedding that will not just aid in good quality sleep, but also offer the perfect balance of support to your body as you lay overnight to recuperate.
It also keeps the natural spinal alignment and body posture in place, as well as supports the healthy curvature of your spine. And finally, a mattress shouldn't get you too warmed, and instead offer a cozy and snug time in your preferred sleeping position.
Depending on one's preference, there are different types of mattresses that fit different kinds of sleepers. Good thing that they are always on their toes for customers to help them choose the best kind of mattress for their space.
And to further promote the cause, Our Home is giving up 80% off on all their mattresses, housing brands such as Uratex, Salem, Ambassador, Slumberland, Dunlopillo, Serta, and Dorma. In the gallery below, you can window shop for mattresses to see which one could be your sleeping match. And once you have your pick, head to their stores, physical or online, now—sale lasts until the end of the month only!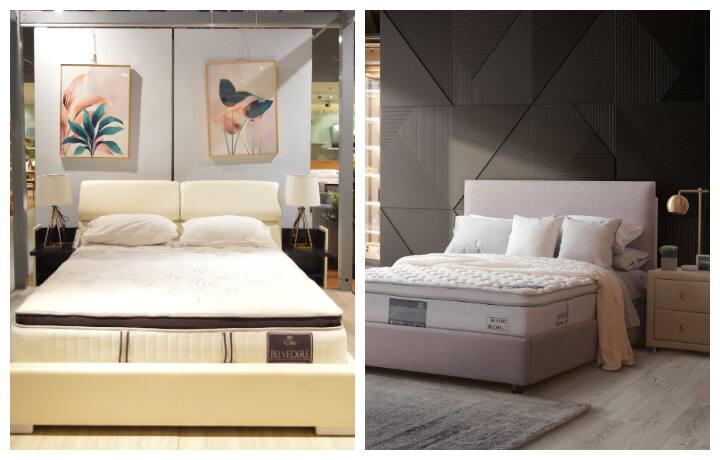 In The Market For A New Mattress?
In The Market For A New Mattress?