Park Seo-Joon And Simba's New Vlog Shows This Adorable Pup Getting A Dog-Friendly Makeover!
Just a little color on the cheeks and Simba is photoshoot-ready! (Plus, check out where you can get a hold of pet-safe cosmetics for your own fur babies!)
What would you give to trade places with Park Seo-joon's bichon frise, Simba?
The fluffy-as-a-cloud doggo is always by the Korean superstar's side whether he's at home, at play, or at work. The pair are inseparable and Simba always get the A-list treatment from Park Seo-joon and everyone he encounters on their adventures, and this time, that meant getting a dog-friendly makeover on set at a photoshoot!
In Park Seo-joon's latest upload on his YouTube channel Record PARK's, he takes us with him and Simba as he gets ready for the day's shoot. When they arrive at the venue, everyone greets the perfectly groomed pooch with lots of pets, pats, and ear rubs. (He's a popular pup, almost as popular as his human!). Simba receives them warmly until he finds the most comfortable spot of all to settle in—Park Seo-joon's lap.
With Park Seo-joon sitting on the makeup chair with Simba nestled in his lap, he gets a bright idea and asks his glam team to indulge him—why not give Simba a bit of a glam up, too?
What follows is the cutest thing you'll see today; Park Seo-joon giggling in delight as he watches Simba get a teeny tiny amount of pink applied to his cheeks for an extra dose of canine charm.
When Simba's mini transformation is complete, he gets changed out of his harness and joins his human on set; with Park Seo-joon dressed in lots of milky beiges and khakis for the shoot, he and Simba's flawless white coat make the perfect match.
The duo wrap up the shoot with Simba getting a few minutes with the photographer just for himself for his very own portraits. Simba looked every inch a photoshop pro with his brushed up tail, smooth curly coat, and the finishing touch—blushing cheeks!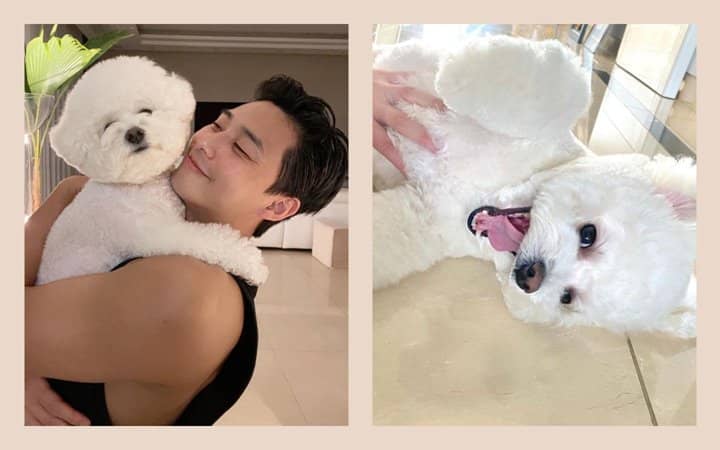 Photo Gallery
Photo Gallery
Cosmetics That Will Give Your Furbaby A Transformation
Simba's day with Park Seo-joon on set definitely got us wanting to spend more time with our own furry friends, and more than that, wondering if they too can get their very own makeovers, just like Simba!
It's a great way to bond with our dogs while we continue riding out the pandemic at home, not to mention that it'll be a rather unique way to level up our twinning game with our four-legged companions! For everyone wanting to do a totally new activity with their dogs, we rounded up a list of made-for-pets beauty products to check out.
Take note that there are cosmetics, dyes, and other products formulated especially for animals. As tempting as it is to use your go-to cheek rouge or favorite shadow palette on them, these products may contain ingredients that are totally safe for human use, but potentially harmful and even life-threatening for pets. (Also, take note that most doggy cosmetics are fur-dyeing products, and not makeup products the way we know them!).
Now without further ado, we present to you a list of four products to shop for this month for endless fun with your pets in your home-based photoshoots. Whether you want to recreate Simba's subtle cheek color or go all out with your doggy's transformation, the market has something made especially for you. Enjoy!
Opening images from @bn_sj2013