Pawssion Project's Bulacan Cattery Will Inspire You To Adopt And Cop Their Shelter's Nook
The foundation also explains how you can lend a hand in the betterment of these rescues' lives
With about 13 million stray animals just being carelessly left in the streets, the adoption of rescues sees a more urgent call for everyone. Especially when the pandemic happened, Pawssion Project Foundation's Malou Perez shares the noticeable increase in more strays being neglected and abandoned. Before the situation became worse, the organization decided to expand their shelters for these furry friends.
One of these projects is their cattery in Bulacan, which the advocate describes as once "a dream." Malou explains that it wasn't initially in their priorities given the number of dogs under their care. However, they found the need to accommodate our felines as well. "There were more cases of kittens and cats being thrown in the garbage, surrendered, or abandoned. So we decided to convert what used to be a piggery of the original caretakers of the shelter that we're renting, to a simple cattery," she says.
Originally, they housed only 20 cats—but the numbers skyrocketed to almost 100 since the pandemic started. It may be a lot for the given space, but thankfully the cat rescues have been living peacefully and in harmony with their fellow rescue canines. In fact, the cattery can comfortably accommodate 200 cat rescues. This is due to Pawssion Project's proper facility development.
The group built two catteries, which separates the rescues that were already vaccinated and neutered and those that need to be under quarantine and rehabilitation. The cats are also protected from dogs who may pick fights with them, with enough space security to prevent dog rescues from coming inside the cats' den. To save on electricity, they also created more room for air and natural light to come in. To make it even cozier, shelves and baskets are provided, as well as their own toilet area inside.
Fascinated by Pawssion Project's cattery? You may try to incorporate some ideas from their project into your own home, to make your favorite kitty happier and more comfortable. Malou says that fur parents can try imitating their built-in litter box as well as the rescues' play area on the wall.
"One of cats' basic instincts is to sharpen their claws by scratching and clawing different surfaces. They also happen to get a ton of joy from it, too, so we advise other parents to provide an area with a scratch post and other toys or DIY projects for the cats to play with, climb up to or sleep on," she points out. "Pet parents can even reuse shelves they no longer use, boxes, or palettes."
Meanwhile if you're a cat lover and have thought of reaching out to help these rescues, you may turn to the foundation to learn ways on how you can help. Malou lists down four ways.
"Adopt. That's the best way to help us as adopting an animal lessens our load, and that also gives another stray a chance," she explains.
See the gallery of felines below: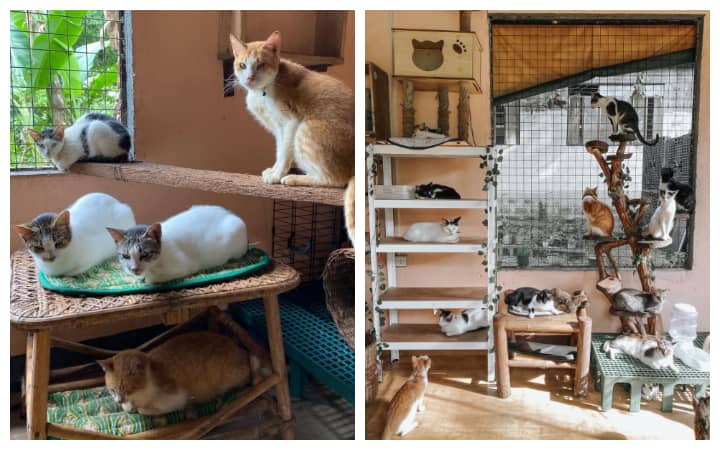 The Pawssion Project Foundation Cattery, Bulacan
The Pawssion Project Foundation Cattery, Bulacan