Fashionable And Functional Pet Clothes, Bibs, Bandanas For Your Fur Babies
Some tips for dress-up time and amazing IG pet shops to check out
As more people spend more time with their pets at home, more bonding activities are bound to emerge—like dressing up, for example.
Fashion has many applications—to look good, to feel comfortable, and to showcase your own personal style. And when it comes to our fur babies, the things they wear can also be a style choice or a functional tool.
But the truth is, dressing up our pets is not as straightforward as dressing ourselves. Some dogs may be chill enough to just let you put that santa sweater over them for that IG photo, but not all dogs will let you get away with it as easily. So, why bother? In the same way that we wear socks or underwear for functional purposes, our dogs and cats may also benefit from several clothing pieces.
Here are some important notes, tips, and things to consider if you want to level up your pet's fashion game.
Some important notes on the fashionable and functional purposes of pet wear
Keep them warm
With the rainy season coming up, it might be helpful to dress your fur baby in light jackets or clothing to keep them warm when it can get a bit cold. Dogs with very thin fur like Mini Pinschers, Rottweilers, and Dachshunds will be more comfortable in warm clothing during these cold and wet months.
Deal with slobber
Some dogs can be more drool-y than others, especially breeds like Bulldogs, Great Danes, and Boxers. For slobbering dogs, it can be challenging for pet owners to keep their dogs' chest clean and sour odor-free. When your dog is out and about, they will definitely benefit from a drool bib to catch that extra slobber. And since you're already using a bib, why not choose a stylish one?
Collar is good
Putting collars on your dog or cat has been a longstanding tradition in the pet community. To put it simply, it's a signal to the world that the pet belongs to someone else, so they may be able to return your pet to you if ever your fur baby wanders a bit too far and gets lost. This is also why some collars can also be customized to include a contact number so it's easy to return the pet to its owners.
Introduce pet wear gradually
Some pets may not like the idea of getting into fancy or stylish clothes or bibs, so never force it on them. Instead, introduce the new material gradually by letting them familiarize themselves with the item. Let your dog sniff the material, lay it across their back so they can familiarize themselves with the texture, and build up your pet's affinity with pet apparel by rewarding your dog every time they engage positively to a dress-up session.
Keep it cute, but comfortable!
Dressing your pets can be super adorable, but always keep in mind your pet's comfort and reaction to the things that you make them wear. Observe your cat or dog's body language when you dress them up. If you spot signs of discomfort like lowered head, flat ears, or round eyes, you may want to look for a new material or clothing that can be more comfortable for them.
Are you ready to dress up your fur babies? Check out some of our pet fashion picks—from collars to bibs to trendy and customized apparel.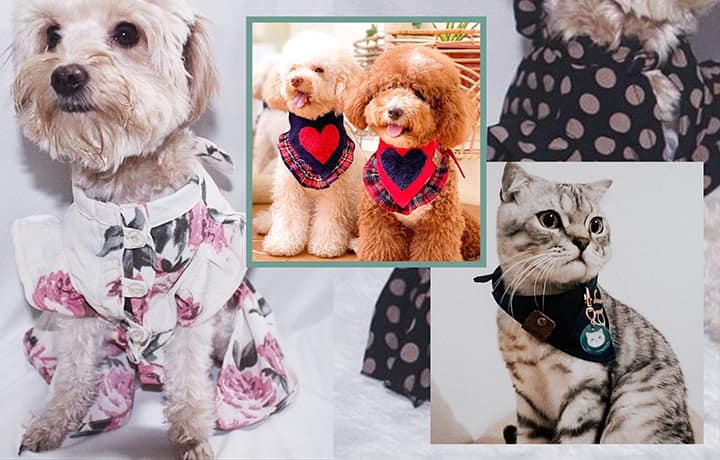 Photo Gallery
Photo Gallery