Pet Of The Week: 30 Puppers Who Stole Famous Hearts
Meet these furry bundles of joy who are making their celebrity moms brim with happiness
A dose of cuteness often gives us sunshine through rainy days, literally and figuratively. Our everyday, during the past few months, may have been somber and a bit moody—but pets give the ultimate happy boost that we all need to carry on.
As if our in-house fur babies aren't enough to lift up our spirits with their lovely and warm cuddles, pets on social media offer that extra charm, too! As we scroll through Instagram or Facebook or spend time watching vlogs on YouTube, our favorite celebrities' pets are lovely scene-stealers that we couldn't help but adore. Everyone is proud of their respective four-legged buddies—and flaunts these charmers whenever they can.
So for this week's Pet Of The Week, we present to you these beautiful female celebrities who, like you, are totally head over heels for their dogs! Featuring big hounds and young pups, chunky and dorky canine friends, these artistas are as proud of a paw parent as anyone else. Meet their furry quarantine buddies below!
Sharon Cuneta's Coton de Tulear 'Pixie' and Giant Poodle 'Bella'
The Mega Star, apart from taking care of her family, also mothers a bunch of dogs! While they are all adorable, we can't help but take extra notice of her resident cuties, Pixie the Coton de Tulear and Bella the Giant Poodle! Sharon shares the same love for the rare breed Coton de Tulear, with the likes of Barbra Streisand, Jane Fonda, Catherine Zeta Jones, and Deborah Messing owning theirs, too. These two fur sisters are close with each other, while the other members of the brood—Ari, Cookie, Twinkie, Pippi, Halle, and Daisy—are as equally active as their older sibs.
KC Concepcion's pomeranians, 'Churro' and 'Chica'
The mega daughter obviously got her mom's love for dogs in her veins! A furmom to her two pomeranians she named Churro and Chica, she describes the journey of dog parenthood as "so good for the heart!" From morning cuddles and kisses to vacationing with these pom sibs, KC's days are definitely better than before, thanks to Churro and Chica!
Carmina Villarroel-Legaspi's eight dogs
The Legaspi family's furry babies are a sight to behold on Instagram. But the mom of twins and eight dogs went further and created a vlog featuring their in-house cuties! In the recently uploaded video on her YouTube channel, Carmina introduced Fifi, Boo, Pumpkin, Mochi Boy, Munchkin, Popper, Puppup, and Snuffy. It's sure a riot with all these different dog breeds in one pen!
Kathryn Bernardo's Snow, Summer, Cloud, and Tala
It's no secret that the Teen Queen plays mom to several dogs, so it's always a treat to see her Instagram posts which showcases her lovely furry brood! With Cloud, Tala, Snow, and Summer in the Bernardo residence, it's always a delight to find them cuddled with this glowing fur momma who equally loves them all so much.
Bea Alonzo's Maltese 'Walter'
Actress Bea Alonzo used to be afraid of dogs—until she met her Maltese, Walter. Life with Walter brought happiness to her, especially with the ongoing quarantine. Apart from being picture-perfect together, these buddies are perfect companions as well. One glance at their hangout sesh posts and you'll know they're meant to spend their lives together!






Nadine Lustre's corgi 'Calcifer'






Who doesn't follow @cal.doggo on Instagram? I'm sure everyone does! This lovable fur son of actress Nadine Lustre is all sorts of cute—innocent cute, funny cute, swag cute, name it, Calcifer the corgi's got it. This canine dork's full name is Calcifer Dante Pendragon, which are names combined characters in the film Howl's Moving Castle and the video game series Devil May Cry. Just call him Cal for short, and enjoy his daily musings with Nadine on Instagram!
Heart Evangelista's AsPin 'Panda'
Heart Evangelista prides in all things Filipino—her Instagram feed is full of lovely proudly Pinoy-made products! In line with this passion, she's also taken it to her preference in her paw babies. The AsPin (Asong Pinoy) she takes care of now is named Panda, who also owns a separate Instagram account where followers of this furry pet with her other AsPin friends. Join her at adventures and follow @pandaongpaucoescudero!






Lovi Poe's Maltese 'Señor'






The certified dog momma owns a bunch of dogs in her home. But most prominent (and everyone's favorite!) on her Instagram account is her Maltese baby, Señor! Her paw baby's smile is too irresistible to ignore—Señor is always camera-ready, just like her gorgeous mom!
Janice de Belen's Saint Bernard 'Haneul'
A certified K-drama fan, it's no surprise that Janice de Belen named her Saint Bernard, Haneul! She's been taking care of Saint Bernard breeds for a while, and the new addition to the family is the current favorite that takes over the actress' Instagram feed!
Yassi Pressman's 'The Presidential Bullies'
Yassi's adorable gang of pitbulls are dubbed by the actress as 'the presidential bullies.' Composed of Moolah the Bully, Rolee the Bully, Dime the Bully, Biggie Bank, and Breezy the Bully, these furry bros and sisters are the cute bunch that brings joy to the Pressman's abode. Follow their antics on Instagram @thepresidentialbullies!
In the gallery below, fill yourself with feel-good vibes with photos of these 10 celebrity fur moms and their dogs!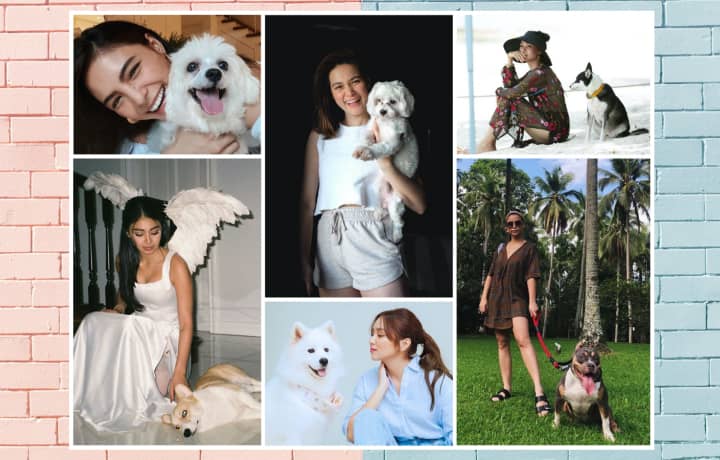 10 Celebrity Fur Moms
10 Celebrity Fur Moms