Pet of the Week: Meet Daniel Henney's Juliette
The Criminal Minds actor just adopted a rescue sister for his famous golden retriever, Roscoe
It's been a little over two years since Criminal Minds actor, Daniel Henney, wrote these heartfelt words for Mango Henney, his 16-year old golden retriever. "She was my light, my love, and my very best friend. I will miss her dearly. Thank you everyone for loving her so much. Her spirit and legacy will live on and continue to make progress. I promise you that. Angels can only stay on earth for so long. Sooner or later, it's time to go home."
Since then, he has been accompanied by another golden retriever, Roscoe, who is now nine years old. Last week, the model-actor posted an exciting message on his Instagram account. "Roscoe and I have some exciting news to share with you all tomorrow. Stay tuned," it read.
The next day, his announcement came on the social media platform, "Wanna introduce you all to my beautiful new girl, Juliette. She's had an amazing journey and now finally found her home… Roscoe has a sister!" As the Instagram video showed, Juliette, another golden retriever, was rescued by the Humane Society from a dog meat farm in South Korea. She was found by the HSI staff chained to an outdoor kennel, one of seventy dogs discovered in that condition.
The Humane Society website further elaborates these dogs' situation in dog meat farms, "many are chained outdoors or housed in rows of raised metal cages with wire flooring. Food is scarce. Their waste accumulates under the crates, they have no protection from the extreme weather, including freezing winters, and they never know a kind human touch or any sort of enrichment," emphasizing Juliette's long, grueling and love-starved journey towards her discovery by Daniel Henney.
"I saw the videos of her on the Instagram page, and as you can see in the comments section, our hearts just dropped. It was a no brainer. I saw her, and I said, 'That's my girl. That's her.' It was love at first sight," Henney narrates. He lovingly talks about their first meeting here:
Henney explains the benefits of adopting Juliette. "What I really loved is that it didn't just help her so much. It's helped US so much. Roscoe is so much more full of life now because she has a new sister, and they are inseparable… absolutely inseparable," he reveals. Still, he says that there are so many more dogs sharing the same plight as Juliette, "living in cages in dog meat farms." He says that it's not easy to support the cause, as emotions are involved with this sensitive cultural issue that will take time to reverse. "It's not gonna happen overnight," he says of ending the dog meat farm industry. Acknowledging his advocacy, The Humane Society commented, "Thank you SO much for supporting our campaign to end the dog meat trade, @danielhenney and for giving sweet Juliette a loving, new home! We are SO very grateful!" To date, The Humane Society reports that they have closed 16 dog meat farms, rescuing more than 2,000 dogs who now reside in the US, the Netherlands and other parts of the world. Farmers whose dog meat businesses were shut down are aided by this organization towards more humane sources of living such as growing vegetables.
We couldn't think of a happier ending for all three, Daniel, Roscoe and Juliette Henney! Here's hoping that more rescue dogs end up in loving homes.
In the meantime, enjoy some Henney family photos here: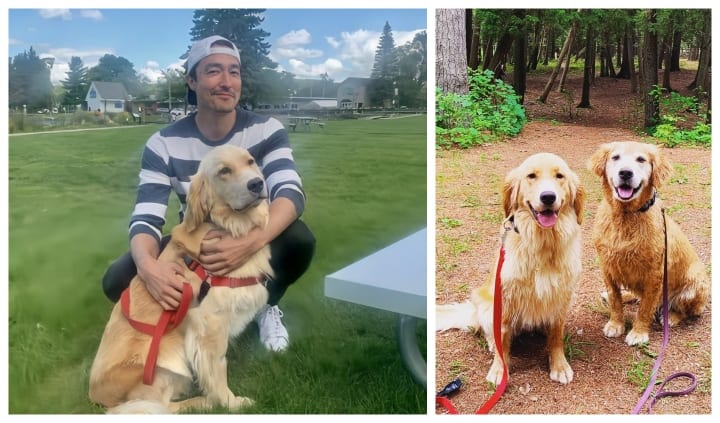 Photo Gallery
Photo Gallery