Pet Of The Week: Dogs Are Back At The White House
The Bidens' German Shepherds Champ and Major join the family in the palace
President-elect Joe Biden stayed true to his promise—he's bringing some paw-sitive vibes and putting back dogs to the White House.
After four years of furries' absence in the palace, people will now be enjoying the sight of the new president's pets.
The United States' former heads of state have formed a long tradition of presidential pets—from John F. Kennedy's ponies, Calvin Coolidge's bobcat, Teddy Roosevelt's one-legged rooster, Thomas Jefferson's grizzly bear cubs, and of course, the man's bestfriend, dogs. George W. Bush had brought his Scottish Terrier Barney there back in his time as an elected official, while Barack Obama's Portuguese water dogs Bo and Sunny were a cute pair of sibs running around the White House.
For this term, Joe Biden will be joined by another pair of canines—German Shepherds Champ and Major. The 12-year-old Champ has been with the Bidens since he was vice president of the US in 2008, and has been labeled the nation's "second dog" back then. Joe's grandchildren gave the name Champ to the dog, however, it also holds a special significance for the president as his father would often tell him, "Get up, champ," whenever things get tough.
Meanwhile, the younger dog sib Major, makes history as the first rescue dog to live in the White House! Now two years old, this pup was fostered and adopted by the family in 2018 through the Delaware Humane Association.
It seems German Shepherds are an obvious choice for Joe, as he reveals that he's always had this dog breed since he was a kid. He even says that he himself had trained them! Needless to say, we're looking forward to Champ and Major's appearances in the future as they play around the White House, with or without tricks shown!
Check out the awesome paw-some pair in the gallery below!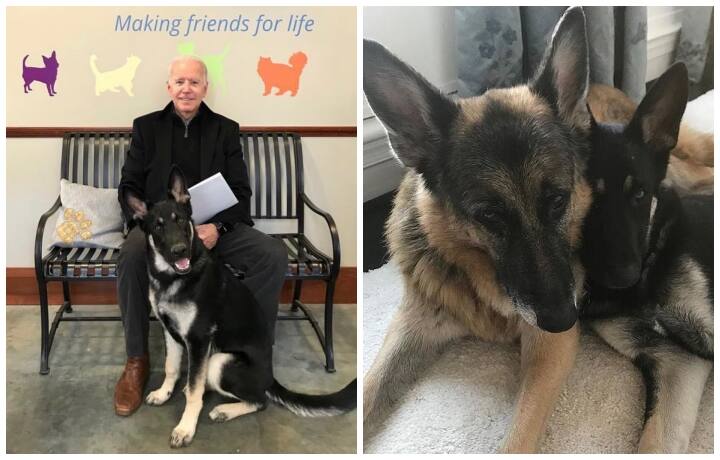 Joe Biden and his dogs
Joe Biden and his dogs