IN PHOTOS: 45 Doggos Who Snuggle With Their Celebrity Pawrents
They are constant companions and a joy to their famous hoomans, from local showbiz to Hallyu
A dose of cuteness often gives us sunshine through rainy days, literally and figuratively. Our everyday, during the past few months, may have been somber and a bit moody—but pets give the ultimate happy boost that we all need to carry on.
As if our in-house fur babies aren't enough to lift up our spirits with their lovely and warm cuddles, pets on social media offer that extra charm, too! As we scroll through Instagram or Facebook or spend time watching vlogs on YouTube, our favorite celebrities' pets are lovely scene-stealers that we couldn't help but adore. Everyone is proud of their respective four-legged buddies—and flaunts these charmers whenever they can.
After all, research suggests that interacting with pets produces positive emotional responses in people. Levels of oxytocin, the warm, fuzzy chemical responsible for feelings of trust, altruism and cooperation, inherent in the human system, increase, as humans cuddle with a beloved pet. A study by the American Heart Association concluded that "pet ownership, particularly dog ownership, is probably associated with decreased cardiovascular disease risk." In an article in Psychology Today, Dr. Stanley Coren PhD., DSc, FRSC calls dogs "smile making machines," owing to the fact that seeing dogs makes people happier. Similarly, we look at those Instagram dog accounts to invoke the same feelings of care and attention. No matter what, looking at anything cute elicits affection and concern in human beings. A study from Hiroshima University in Japan suggests that looking at cute babies or animals also improves concentration.
So on International Dog Day 2021, we present to you these celebrities, from local showbiz to Hallyu, who, like you, are totally head over heels for their dogs! Featuring big hounds and young pups, chunky and dorky canine friends, these artistas are as proud of a paw parent as anyone else. Meet their furry quarantine buddies below!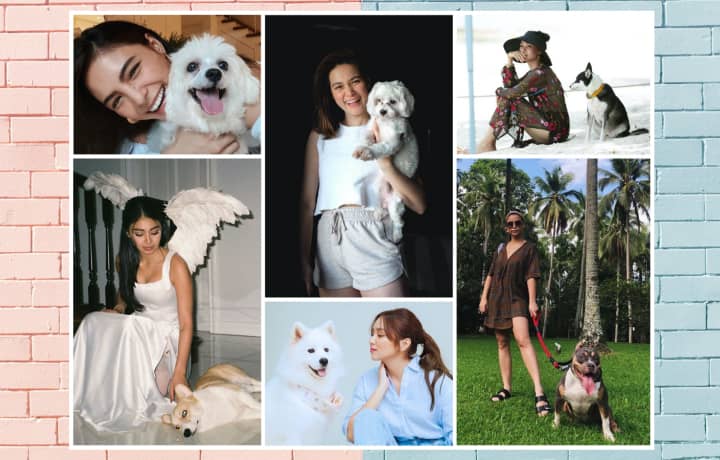 Celebrity Pawrents And Their Furbabies
Celebrity Pawrents And Their Furbabies