Pet of the Week: Jennifer Aniston Welcomes An Adorable Rescue Pup To Her Brood
Lord Chesterfield joins the actress' furbaby gang
Certified fur momma Jennifer Aniston mothers a new baby—a white four-legged rescue dog she named Lord Chesterfield! A few days ago, the actress revealed the super adorable clip of her new pup on her Instagram account, whom she says "stole her heart immediately."
The male rescue is seen shut-eyed in a restful slumber upon arriving at Jennifer's home in the video post. This little one will be joining other members of the 51-year-old's dog pack, the Schnauzer mix Clyde and white pitbull Sophie. It will be a trio riot it seems in this household from now on!
She acquired Lord Chesterfield from The Wagmor Pet Hotel & Spa, a 5-Star Luxury Pet Hotel & Spa based in California. The company, apart from offering premium services for canine friends, also advocates rescues and finds them a forever home. They were featured in The Ellen Show last year, too! We can guess it's where Jennifer discovered them—after all, she mentioned in an interview that Ellen DeGeneres always sends her photos of animals that need homes.
If you ask us, this is an inspiring move for us pet lovers to embrace the "Adopt, don't shop" advocacy. Owning a rescue pet, like Jennifer did, is as equally fulfilling and rewarding. All dogs are equal—they need (and deserve!) all the love they can get from a place they can call their home!
If you can't get enough of Lord Chesterfield, here are closer snaps of this cute pup and some of his siblings. Enjoy!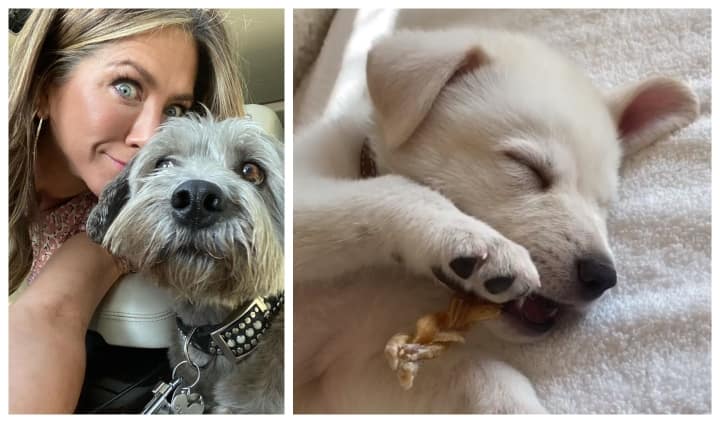 Photo Gallery
SWIPE LEFT OR RIGHT
TO NAVIGATE BETWEEN PAGES
Jennifer Aniston's Lord Chesterfield
Photo Credit: @lordchesterfield
Jennifer Aniston's Lord Chesterfield
Photo Credit: @lordchesterfield
Jennifer Aniston's Lord Chesterfield
Photo Credit: @jenniferaniston
Jennifer Aniston's Lord Chesterfield
Photo Credit: @jenniferaniston
Jennifer Aniston's Clyde
Photo Credit: @jenniferaniston
Jennifer Aniston's Clyde
Photo Credit: @jenniferaniston
Jennifer Aniston's Clyde
Photo Credit: @jenniferaniston
Jennifer Aniston's Clyde
Photo Credit: @jenniferaniston