Pet Of The Week: 'Mine' actress Kim Seo-hyung's Cute Little Kid 'Kkomaengi'
Beyond her mysterious and fierce roles, her greatest part yet is being mom to a cute Yorkshire Terrier
She's a familiar face to most K-drama fans, most especially to those who've followed her in the gripping 2018 drama "Sky Castle". This year, we saw actress Kim Seo-hyung in the latest TV series "Mine" giving life to Jung Seo-hyun, the first daughter-in-law of a huge conglomerate.
It's yet another powerful and mysterious character that the 47-year-old portrayed, and many have lauded her performance for such complex characters. But outside the parts she takes on, there's a real-life role that's completely opposite of her stern and fierce on-cam face—the eomma of her "little kid" she named Kkomaengi.
Kkomaengi, a Yorkshire Terrier, has been with her talented mom for quite a while now—and they're an undeniably beautiful pair! Her name is derived from the affectionate way parents call their young child a baby, and the actress surely feels that way towards this irresistible dog.
Kim Seo-hyung is known as a huge pet lover and animal advocate, and her passion for furry babies is evident on her Instagram account! Just a quick scroll will tell you that these two are almost inseparable. Cuteness overload!
Her well-trimmed canine child is a member of the toy dog breeds, often nicknamed as the Yorkies. While they're small, usually weighing around four to seven pounds, they are a feisty and brave bunch. Yorkshire Terriers are also playful and energetic, which makes them great companions! However, they easily grow anxious without their owners—no wonder Kim Seohyung is always seen with her Kkomaengi.
In the gallery below, see more of their adorable bonding moments together! Yes, that uninviting face of the actress is just a facade—with Kkomaengi around her, her life truly shines a lot brighter. Check them out here!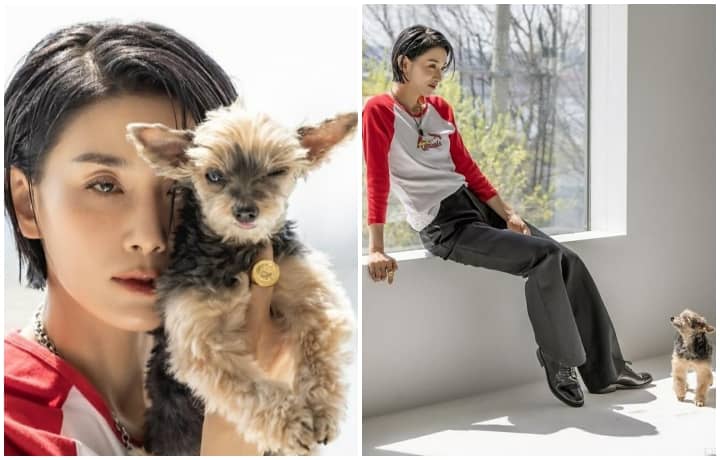 Kim Seo-hyung And Kkomaengi
Kim Seo-hyung And Kkomaengi
Photos from @kim_seohyung