Pet Of The Week: Meet Lee Min-ho's Queen, Choco
We got a glimpse of the undeniable bond between the Korean actor and his loyal furry buddy.
For this week's pet of the week, our eyes were caught by a new headturner on the block that's been beside her equally gorgeous owner—an actor who's been turning heads for as long as the K-drama hype in the Philippines a decade back can remember. Yup, we're talking about Lee Min-ho and his beloved mini pinscher, Choco!
While the actor has had Choco with him for a while now, people just got a glimpse of their bond on video via Lee Min-ho's latest upload on YouTube. Titled "Last Autumn # MK Ver.1," it featured him and Choco together on a shooting in a very autumn setting—complete with fallen brown leaves, a leisurely stroll, and even a picnic at the park with the cool weather of the season! His stylish dog is also dressed to impress, and is cozily tucked in her cute bag while her master is filming with the crew.
Previously, "The King: Eternal Monarch" leading man also posted about his dog on his social media accounts. We see "her highness" as pampered as can be, wearing a thick fur sweater on one photo and a yummy chewable on another. Choco, indeed, is treated like royalty—and rightly so!
It seems like a mini pinscher is a great fit for Lee Min-ho. These little dog breed may appear smaller in size compared to other dogs, but mini pinschers hold a lot of composure and carry a self-assured attitude. With this, they earned the nickname, "King of Toys." They are a fearless, energetic, and alert bunch, who loves to be with their families at all times. No wonder the actor and Choco have great chemistry together!
Need a little pick-me-up? Browse through photos of this tandem from the short film Lee Min-ho filmed a few days ago. Their pairing will surely give you a dose of high that only these royalties can bring!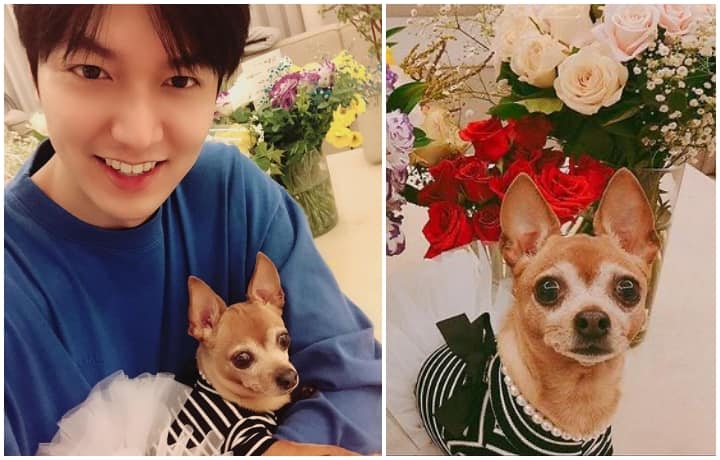 Lee Min-ho and Choco
Lee Min-ho and Choco
Photos from Lee Min Ho's Vlog