Pet Of The Week: Meet The Start Up Leads' Cute-As-A-Button Furry Babies
Nam Joo-hyuk and Bae Suzy are both parents to these irresistible gangajis
We're all both sad yet fulfilled with Korean drama Start-Up closing its great 16-episode run last weekend. So in honor of this uplifting drama that gave us not just the kilig feels but also a good dose of inspiration on reaching for our dreams, Metro.Style's Pet (or rather, pets) of the Week crowns its lead actors' furry babies.
Both dog lovers, the Start-Up pair owns two canine friends each.
You probably have met Nam Joo-hyuk and Bae Suzy's too-cute-to-handle gangajis (the Korean term for puppy or pet dog) on Instagram. The Nam Do-san actor frequently posts photos of his two pretty toy poodles, Ga-eul and Gob-soon. Meanwhile, his leading lady is mom to a maltese and bichon frise named Damon and Dezy, respectively.
Nam Joo-hyuk's furry companions have been appearing with the actor on social media for years. The sibs were even put on the same spotlight with their dad in a Dior campaign ad, proving that these beauties are true pros in front of the cam! It may be hard to distinguish the two as they're the same breed—so just remember that the older Gob-soon is gray while the younger Ga-eul is brown.
Toy poodles are a lovely, curly-haired bunch. Smart and active, they are a versatile breed that can adapt to any environment. As with any fluffy dog, however, toy poodles need utmost attention especially in their grooming—and we can see that Nam Joo-hyuk's pack is always well-groomed and ready to flash their charming smiles!
Bae Suzy's tandem, on the other hand, are breeds with similar characteristics. Damon the maltese, who's been with the actress longer, is named after Ian Somerhalder's character in The Vampire Diaries (yup, she's a big fan!). Her bichon frise Dezy is a sassy, playful puppy that she even brought for a photo op during a shooting!
Sporting similar white, luxurious coats, it's easy to confuse one with the other. The maltese is dubbed as "The Comforter," as history tracks the dog's influence to comfort and cure people around it. The bichon frise, on the other hand, is a cheerful, social breed that is perfect as a family dog. It's a popular breed that the Seo Dal-mi actress shares the same pet as Park Seo-joon and Park Min-young!
It is believed that the maltese is an ancestor of the bichon frise—so we can pretty much conclude that these two are related. After all, they both have Suzy as their mom!
Fill yourself with more doses of cuteness from the Start Up leads' furry babies in the gallery below!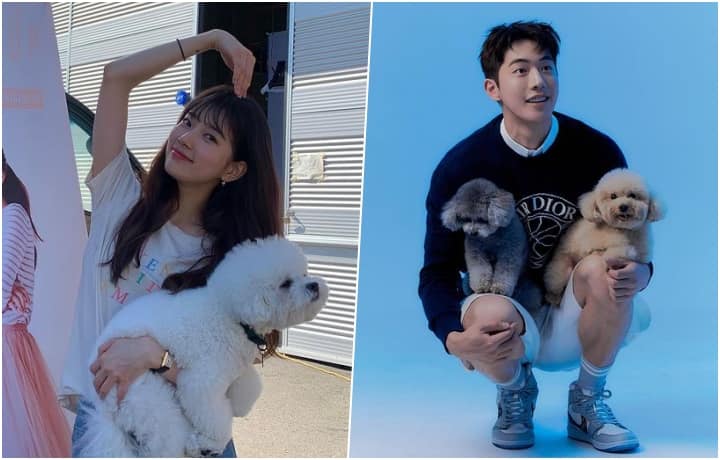 Nam Joo-Hyuk and Bae Suzy's Dogs
Nam Joo-Hyuk and Bae Suzy's Dogs