Pet Of The Week: Meet Ok Taecyeon's Charming Rescue Mutt From The Countryside, Eddie
Love between this tandem was formed on the set of Three Meals A Day… the rest is history
He plays the deplorable, evil Jang Joon-woo in Vincenzo on Netflix. The character started out seemingly endearing, but as the show progressed, he proved even easier to detest because he managed to hide his vile attitude behind a veil of sweet talk, camaraderie and obedience, following orders as an annoying, English-speaking rookie lawyer. All this until the truth exposes itself, and we see dark days ahead for Vincenzo (played by Song Joong-Ki), courtesy of Jang Joon-woo and his ilk.
That's what we see on Netflix. In real life, however, Ok Taecyeon is a sweet furdaddy who earns extra points for adopting a rescue. You see, since the 1990's, South Korea has seen the increasing growth of pet ownership. Still, pure breeds have been known to be enjoy adoption, versus mixed breeds or mutts. So when a celebrity such as Ok Taecyeon adopts a mutt from the countryside, it's all the rage, and fans are quick to note this.
The Ok Taecyeon-Eddie tandem met on the set of Three Meals A Day (Jeongseon County Edition), a South Korean reality cooking show, premised on living in a fishing village in the countryside where the hosts use local ingredients to cook their meals, sometimes planting and farming their crops in addition to what is available locally, as celebrities show up for lunch or dinner to sample their culinary creations.
In this set lived a mixed-breed dog called Minki who gave birth to Eddie and Sapphire in one of the show's highest rating episodes that gained a 15.9% viewership. Eddie was then adopted by Ok Taecyeon and Sapphire stayed.
Sadly, Minki and Sapphire did not share the same fate as Eddie. Shortly after the filming of Three Meals A Day, reports have surfaced that Minki was sold for USD 86 and Sapphire continued to stay with a grandmother who was not able to provide as much care for the puppy.
Since Three Meals A Day, South Korean television viewers enjoyed seeing Eddie in Return of Superman guesting with Taecyeon, where it was noted that indeed, he grew up well! Nowadays, Eddie is all grown up, and is living a life documented on Instagram @eddieakagaedi.
See him his thriving life with Ok Tecyeon in this gallery: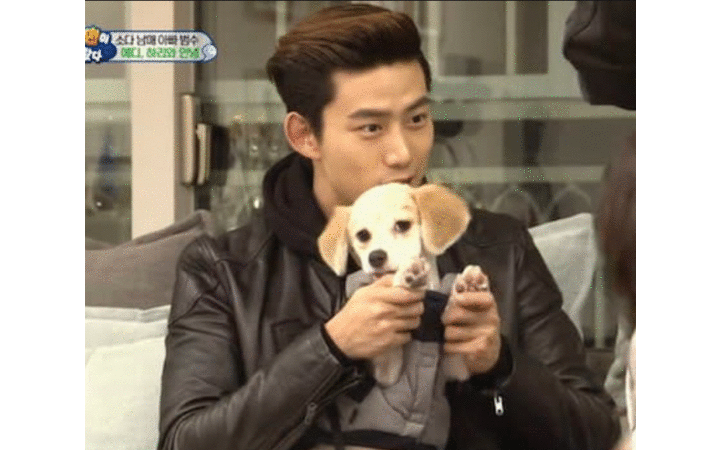 Photo Gallery
Photo Gallery
Images from @eddieakagaedi
Banner and thumb images from Pinterest