Pet of the Week: Park Min-Young's "Leon, My Boy"
This sweet bichon frise makes appearances in this K-Drama star's social media and vlogs as her one and only cuddly love
Park Min-Young is fresh out of the drama, When the Weather is Fine, which concluded last April.
Filipino audiences fell in love with this K-Drama actress in What's Wrong With Secretary Kim, where she portrayed Kim Mi-So, the kind-hearted, efficient, free-flowing with positivity love interest of Park Seo-Joon's chaebol heir character, Lee Young-Joon.
Fans noticed that the two actors have similar bichon frise dogs—if Park Seo-Joon is regularly accompanied on set by Simba, Park Min-Young's Leon is a fixture in her vlogs and Instagram account. Shippers of the Park-Park couple were quick to draw parallelisms between the two, even insinuating that down to the level of pet choices, the two actors are meant to be. This tweet specifically sates that it is just a coincidence, but come to think of it, are their names also a coincidence, too?
Whatever it may be, Metro.Style's Pet of the Week is Park Min-Young's Leon, who she often calls, "Leon my Boy." This furball is a star in his own right. See how many likes he gets on her social media feed. Just days ago, Park Min-Young posted a photo of her and Leon enjoying their day:
Watch fur baby Leon make appearances in her vlogs:
Here, he accompanies her in a photo shoot:
Catch a glimpse of Leon and Park Min-Young's everyday life together: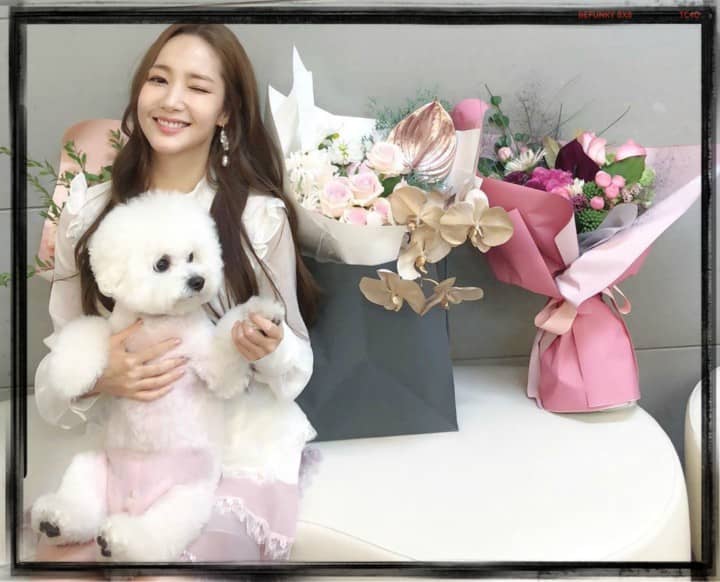 Park Min-Young and Leon
Park Min-Young and Leon
Follow Leon at @leon_myboy
All photos by @rachel_mypark and @leon_myboy