Pet Of The Week : What Dog Are You?
There is a bizarre but bound-to-make-you- smile Instagram account that tells you which dog you are based on your name
Do you ever think about how people's names actually suit them or how our brains create characters for each name?
Well now we have accounts associating furry friends with characters created for each name. This past week, our feeds have been brimming with "What ___ you are" content all following the same format - a waggish completely random photo with people's names superimposed in bright and bold letters.
@Whatdogyouare is actually one of the original accounts that kick-started this trend. You're probably wondering how something this vacuous manages to get more followers and likes than most of us, but at the same time, you're probably asking yourself why you've spent hours scrolling just to find your name.
It's as simple as this: remember that enrapturing feeling of finding your name on a mug or light-up key chain, making you feel the compulsion to buy it? Well, now it's that same thing, except it's a cute puppy picture and you feel compelled to re-post it. And if you're one of those people with an uncommon name that never got your very own personalized souvenir, don't worry, you can still get your photo by requesting on their website and donating to their partnered animal rescue shelter. Dogs always bring happiness in every shape and form, and this couldn't have come at a time when we needed it more.
Here are some of our favorite photos from @Whatdogyouare: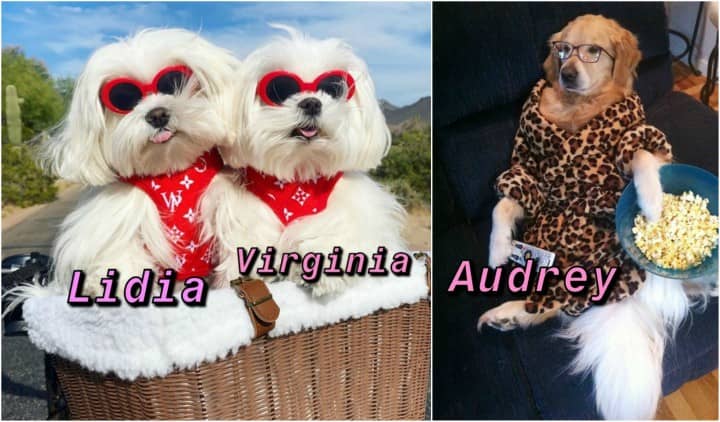 What Dog Are You?
SWIPE LEFT OR RIGHT
TO NAVIGATE BETWEEN PAGES
Matt
Photo Credit: @whatdogyouare
Davis
Photo Credit: @whatdogyouare
Audrey
Photo Credit: @whatdogyouare
Pia
Photo Credit: @whatdogyouare
Debbie
Photo Credit: @whatdogyouare
Andrea
Photo Credit: @whatdogyouare
Kiki
Photo Credit: @whatdogyouare
Nate
Photo Credit: @whatdogyouare
Lidia and Virginia
Photo Credit: @whatdogyouare
Brandon
Photo Credit: @whatdogyouare