LOOK: These Furry Family Members Are All Spiffed Up For Their Chuseok Portraits
These pets were included in the Korean Thanksgiving that celebrates familial bonds and a bountiful harvest
Harvest holidays are celebrated around the world. If, locally, we commemorate the mid-Autumn moon festival, in Korea, citizens celebrate Chuseok. Also known as the Korean Thanksgiving Day, this year, the festivities were held from Monday, September 20 through Wednesday, September 22. Preparations for this holiday are intense. They involve going back to one's ancestral town to be with family, and the ladies of the house busy in preparation. The day before Chuseok and the day after are also counted as holidays to accommodate the travel period. Pre-pandemic, this holiday caused monumental traffic jams in Korea.
Also known as Hangawi, this holiday dates back to the country's agrarian roots. It is believed that on the 15th of August of the lunar calendar, a full moon appeared in the sky. Families gathered together in admiration of the sight, and in gratitude to their ancestors for a bountiful harvest.
Today, Chuseok is still celebrated with the family. Some, however, may opt to take a vacation during this time, skipping tradition. With the pandemic, certain restrictions are in place, but the presence of food, especially the songpyeon, a rice cake, as well as family favorites hold as much meaning and importance. Indeed, nothing beats the anticipation of sharing a meal of family favorites together!
For some families, the pets are included in the festivities. Dressed in their finest Korean traditional garb, these Insta-famous pets took part in the Chuseok celebrations: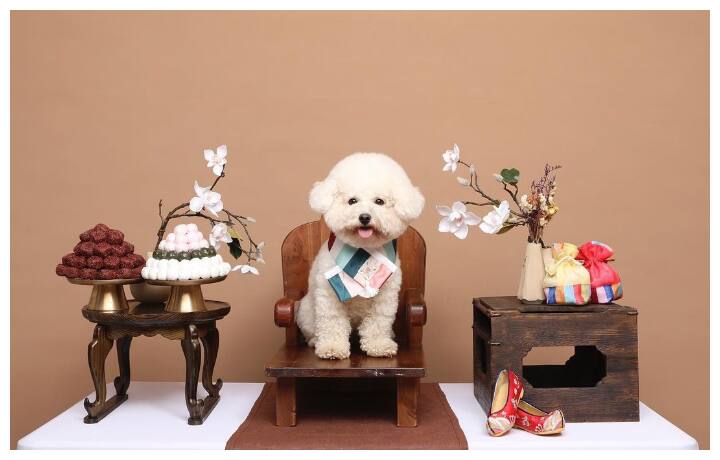 Pets Pose For Chuseok Portraits
Pets Pose For Chuseok Portraits
Banner and thumb images @lolli.lolli.pop @coton.dallae @barbi.bichon