In Photos: Homes With Geometrically Inspired Spaces By Philippine School Of Interior Design's 2019 Graduating Students
For the school's 52nd anniversary and 40th graduation exhibit, the graduating students played on geometry, putting together spaces with round, rectangular, and triangular forms
Every year, the Philippine School of Interior Design (PSID) holds a graduation exhibit, as their batch of graduating students present a bevy of design inspirations executed according to a relevant theme.
This year is particularly noteworthy as PSID happens to be celebrating its 40th year of holding interior design graduation exhibits throughout its 52-year existence. 40th anniversaries are associated with the ruby stone, and coincidentally, the theme that guided this year's exhibit is geometry. PSID president and PSID-Ahlen Institute chairman of the board Rosario Cancio-Yujuico shares, "Parallel to the play on geometry in this exhibit, the ruby stone can be beautifully shaped in many ways⁠—into cabochon and round cuts (bilog), triangle cuts (tatsulok), and princess, emerald, and Asscher cuts (parisukat at parihaba).
Aptly named "H.U.G.I.S. atbp.," the exhibit puts the spotlight on the creations by PSID's Advanced Class of 2019. The students put together homes using geometrically inspired spaces for alternative types of built spaces.
"In this day and age of evolving residential needs, it is important that we push our visionary students to keep thinking outside the norms of design and keep exploring beyond the limits of traditional spaces," shares IDr. Victor Ruel Pambid, PSID Vice President for Academic Affairs. "In congested cities, we prove that more than the size of the space, practical and inspired designs prevail to be of utmost importance in giving Filipinos the quality of life we all deserve."
The exhibit features 12 different design spaces under 30-sqm, showcasing creativity in maximizing this small space to accommodate living, dining, kitchen, bathroom, and bedroom areas with some surprises in certain nooks. The booths are impressive as they push the envelope in exploring unexpected layouts and designs; they are categorized into three galleries: Uniquely Urban (Parisukat at Parihaba), Serene Suburbs (Bilog at Biluhaba), and Restful Retreats (Tatsulok).
If there's anything that visitors can take away from this exhibit, it's that there are infinite possibles that can be explored when it comes to utilizing spaces to the fullest. All that's really needed is that winning combination of creativity, resourcefulness, and skilled craftsmanship.
Pambid adds, "This exhibit aims to inspire people to utilize the spaces they have, no matter in what shape or size. In this time of rapidly increasing property values, design and practicality make a huge difference."
Check out the booths below:
Uniquely Urban
Booth No. 1: Making Space by The Design Divs
Team Members: Joy A. Delos Reyes and Regine P. Gapasin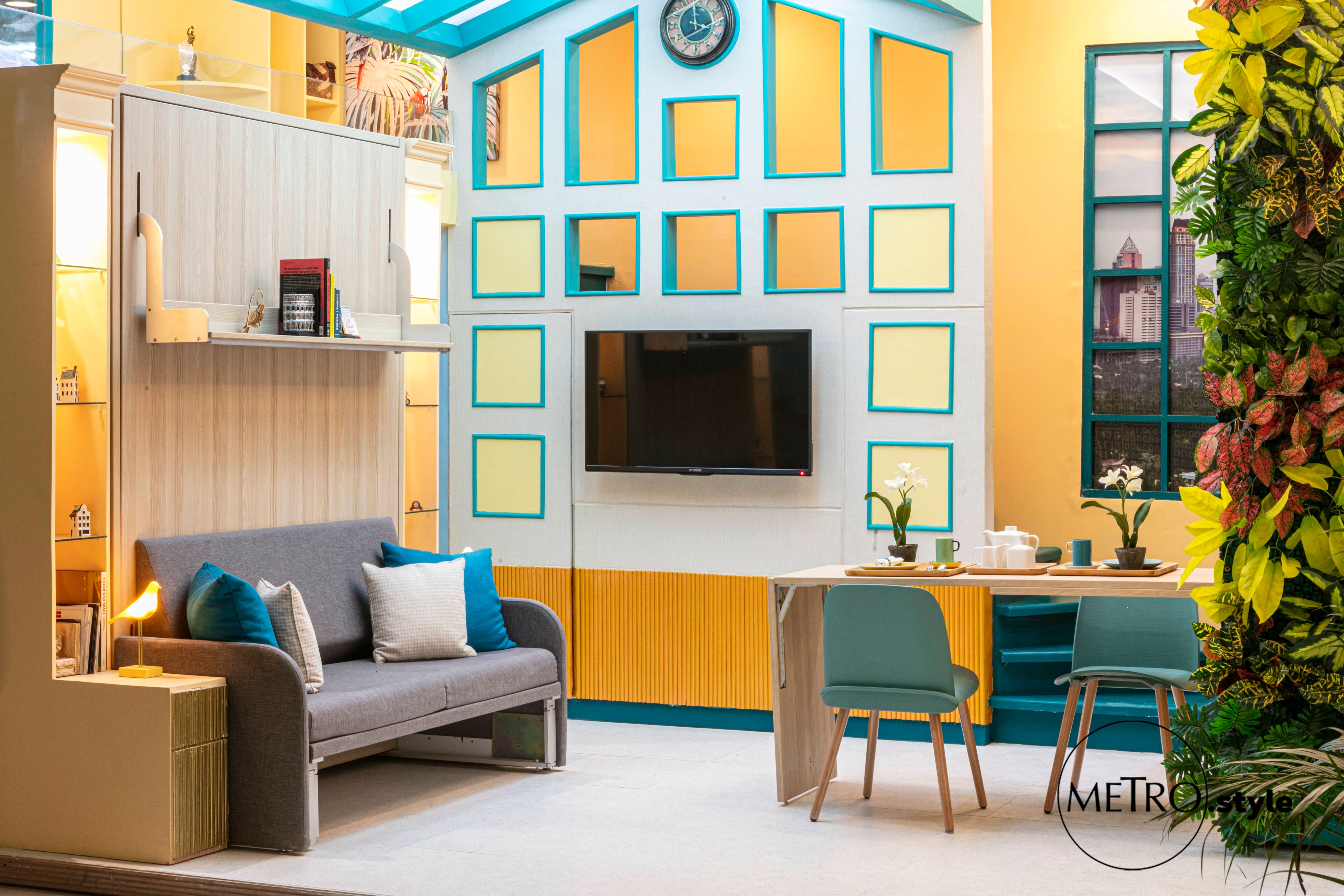 "Making Space by The Design Divs is a unit that utilizes regular-shaped multifunctional furniture and a movable cabinet to allow expansion of living space, to maximize the function of the area." | Photo by Jar Concengco
Booth No. 2: Yugto by A.R.K. Designs
Team Members: Reoben Cabrera IV, Aubrey Supan, and Katia Toledo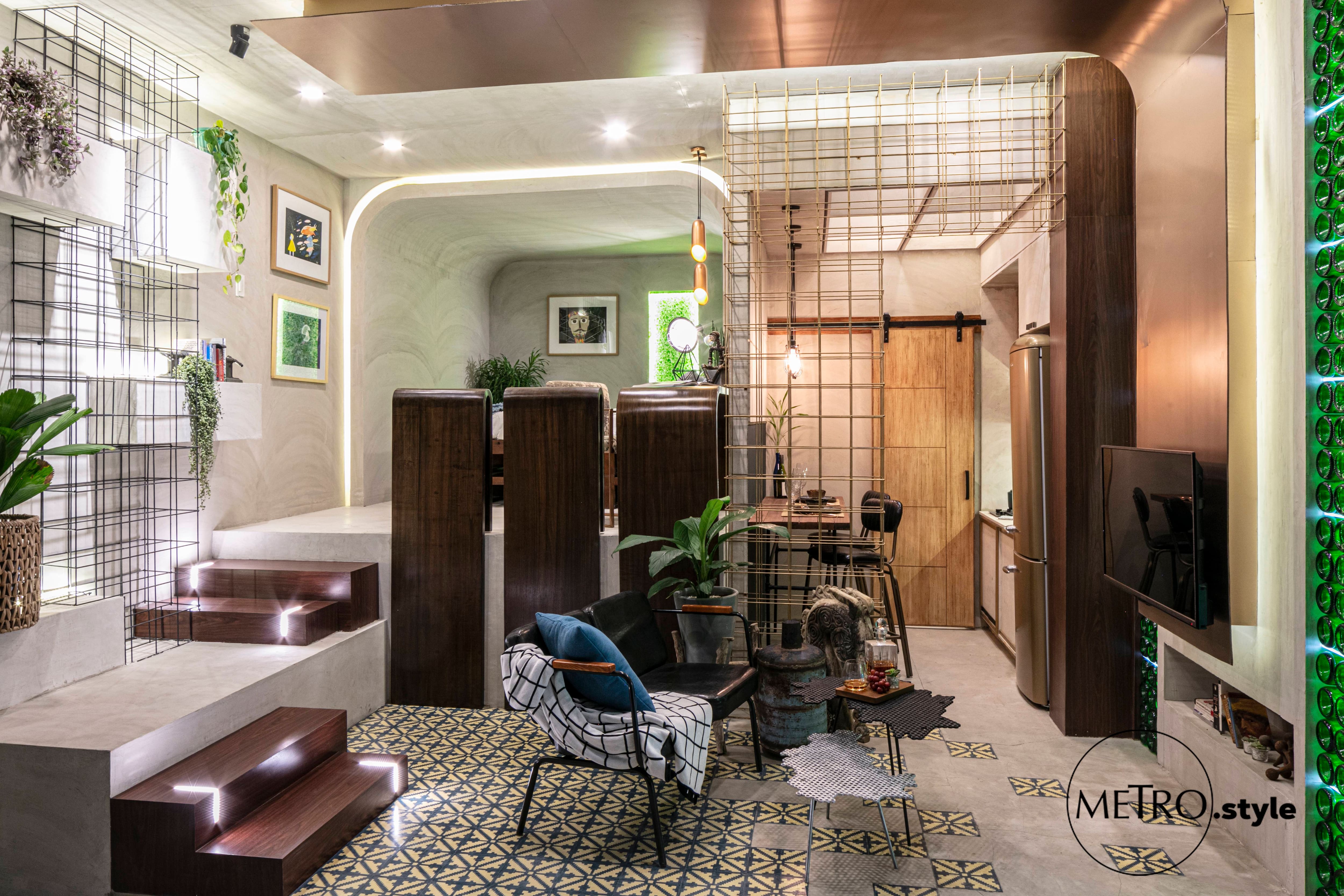 "Yugto by A.R.K. Designs features a chic and sustainable design implemented with the concept of upcycling, breathing life into a whole new chapter of urban living." | Photo by Jar Concengco
Booth No. 3: Art Deco in the Metro by BKDSS Creatives
Team Members: Sophia Gandionco, Dani Pangalangan, Betina Rellosa, Kim Santos, and Sofia Villa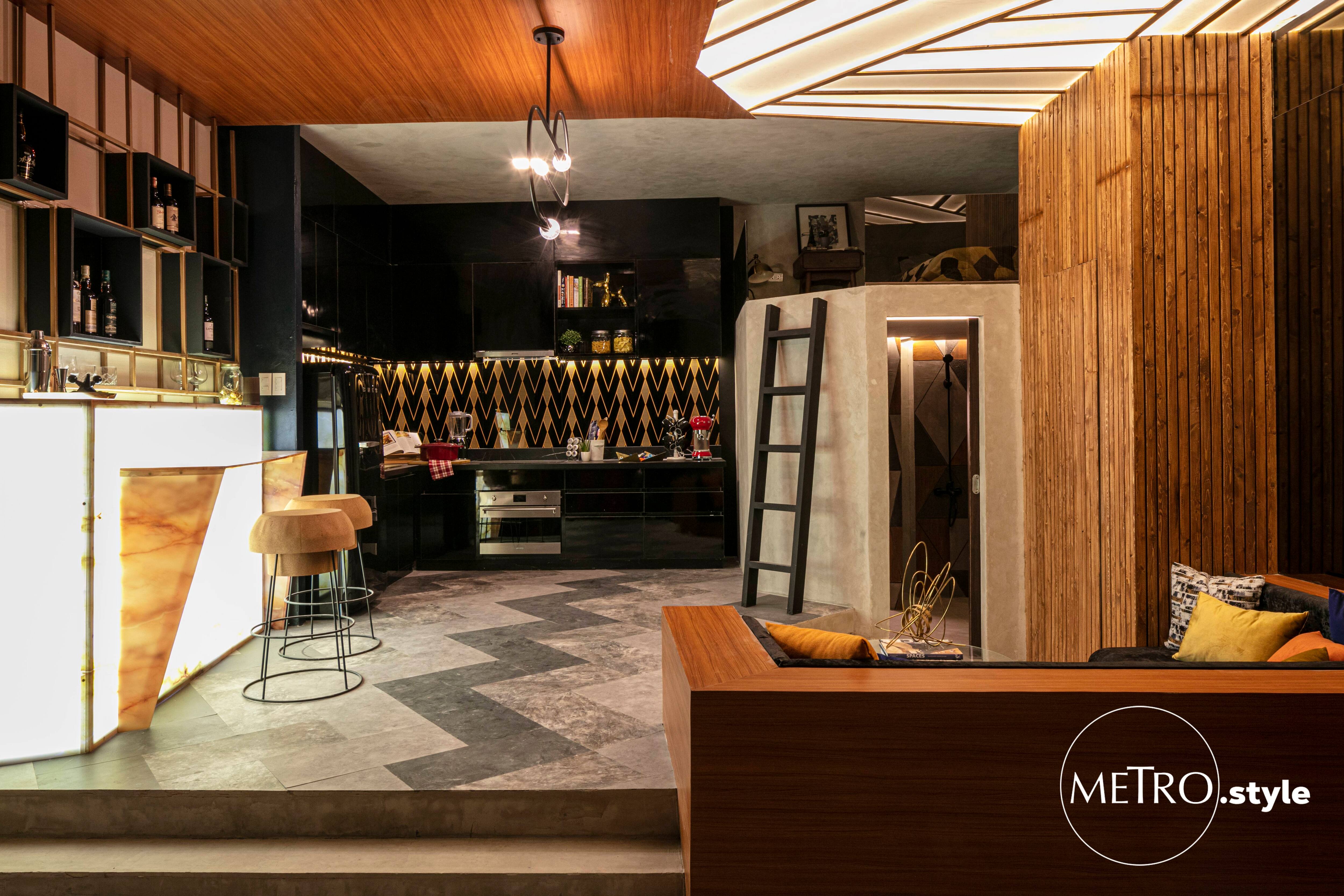 Art Deco in the Metro by BKDSS Creatives shows an idea of modern-day urban living in this space that has a masculine vibe and a sophisticated feel. | Photo by Jar Concengco
Booth No. 4: Bat Wait... There's More! by Supe Squad
Team Members: Leonard Agustin, Eena Saniel-Duay, Divine Sebuc, and Jennine Sze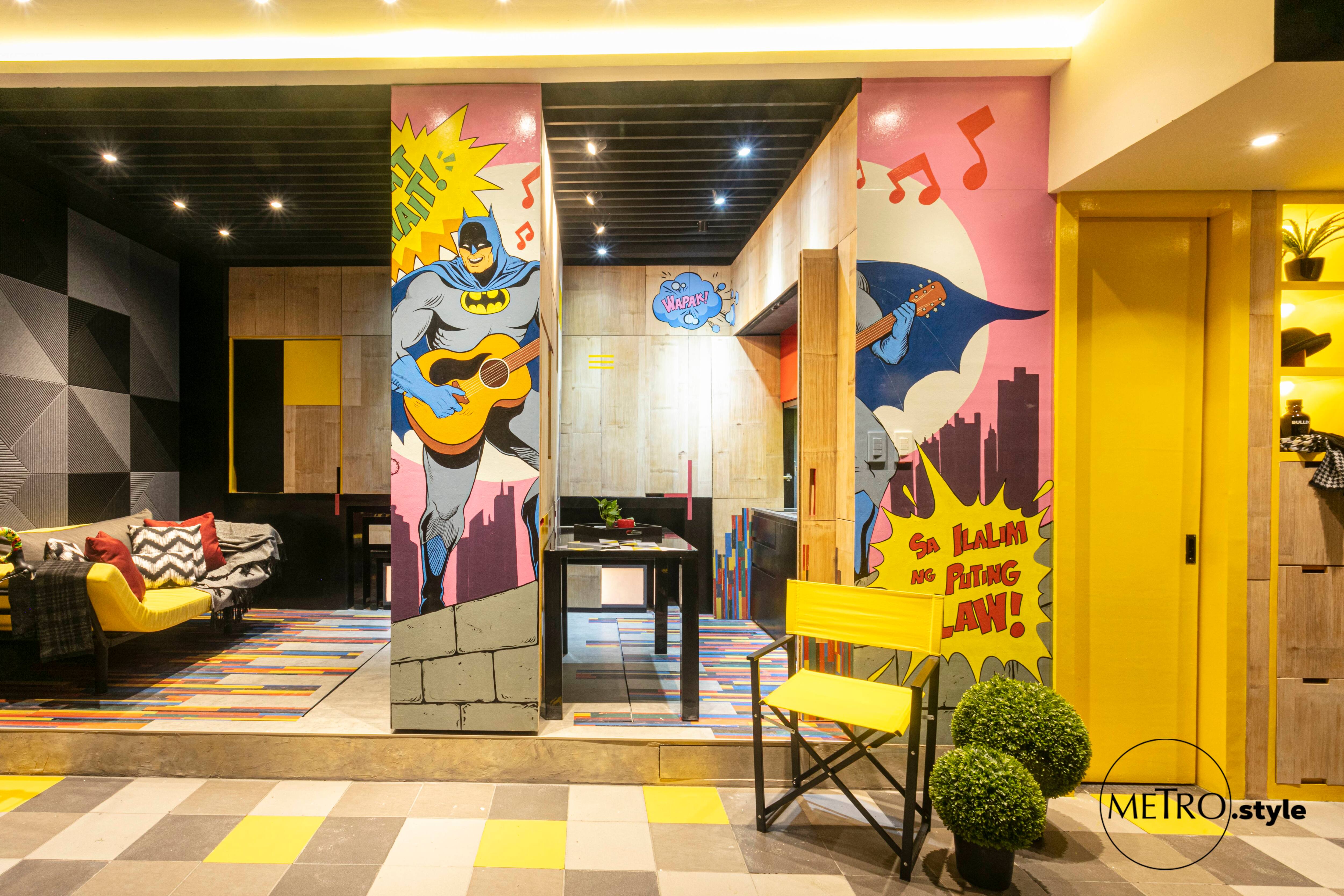 "Bat Wait... There's More by Supe Squad is a unit that transforms into five possible configurations while fusing precision with Pop Art playfulness." | Photo by Jar Concengco
Serene Suburbs
Booth No. 5: Kalinaw by Kawaiians
Team Members: Jenevieve Javier, Thea Perez, Edraline Pingol, and Kaye Tumbaga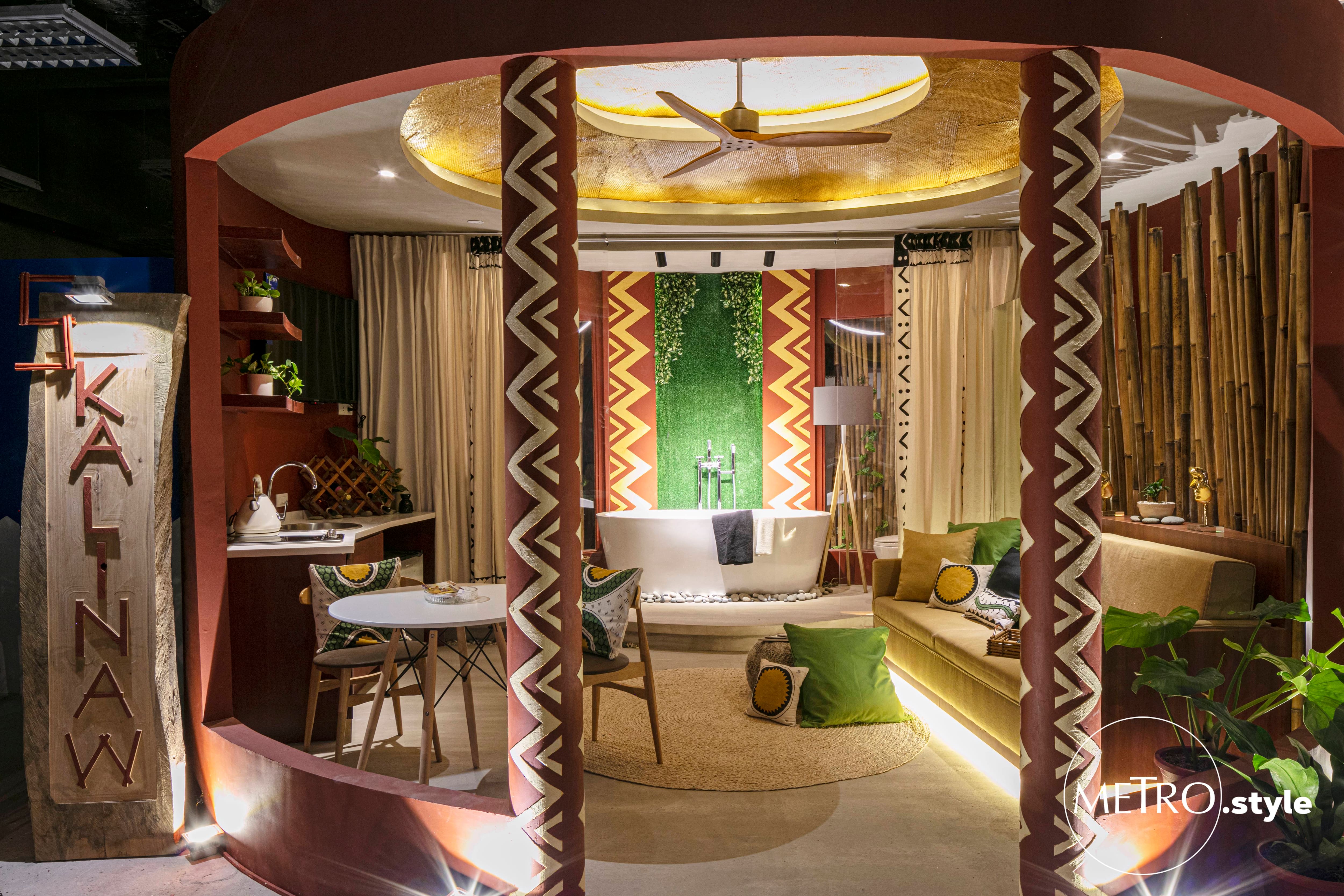 "Kalinaw by Kawaiians features a minimalist space that highlights a relaxing tone adapted from nature and ethnic tribes." | Photo by Jar Concengco
Booth No. 6: Balay Habi: A Modern Treehouse by Origins
Team Members: Cara Beltran and Lawrence Medina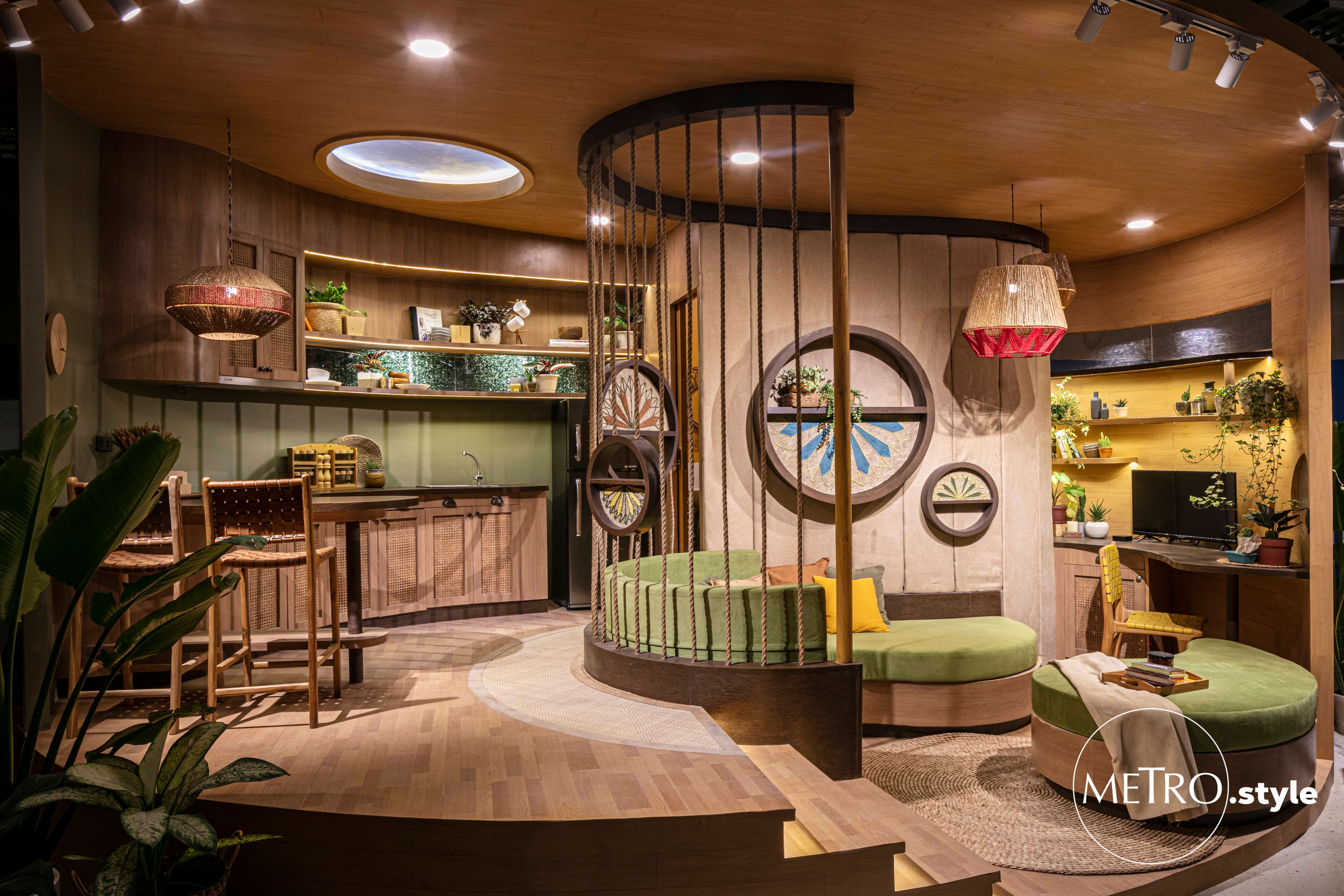 "Balay Habi: A Modern Treehouse by Origins is a contemporary, innovative approach to the sustainable Filipino craftsmanship made ready for the 21st century." | Photo by Jar Concengco
Booth No. 7: Shellter by Space Out
Team Members: Abigael Arazo, Ysabel Castro, Monic Cua, and Katherine Lee

"Shellter by Space Out is a cozy suburban home featuring a unique shape inspired by the form and beauty of a nautilus shell." | Photo by Jar Concengco
Booth No. 8: Cuarto No Canto by Likha
Team Members: Jennifer Cocjin, Geraldine Condez, Thalia de Mesa, Belle Enage, and Justine Mendoza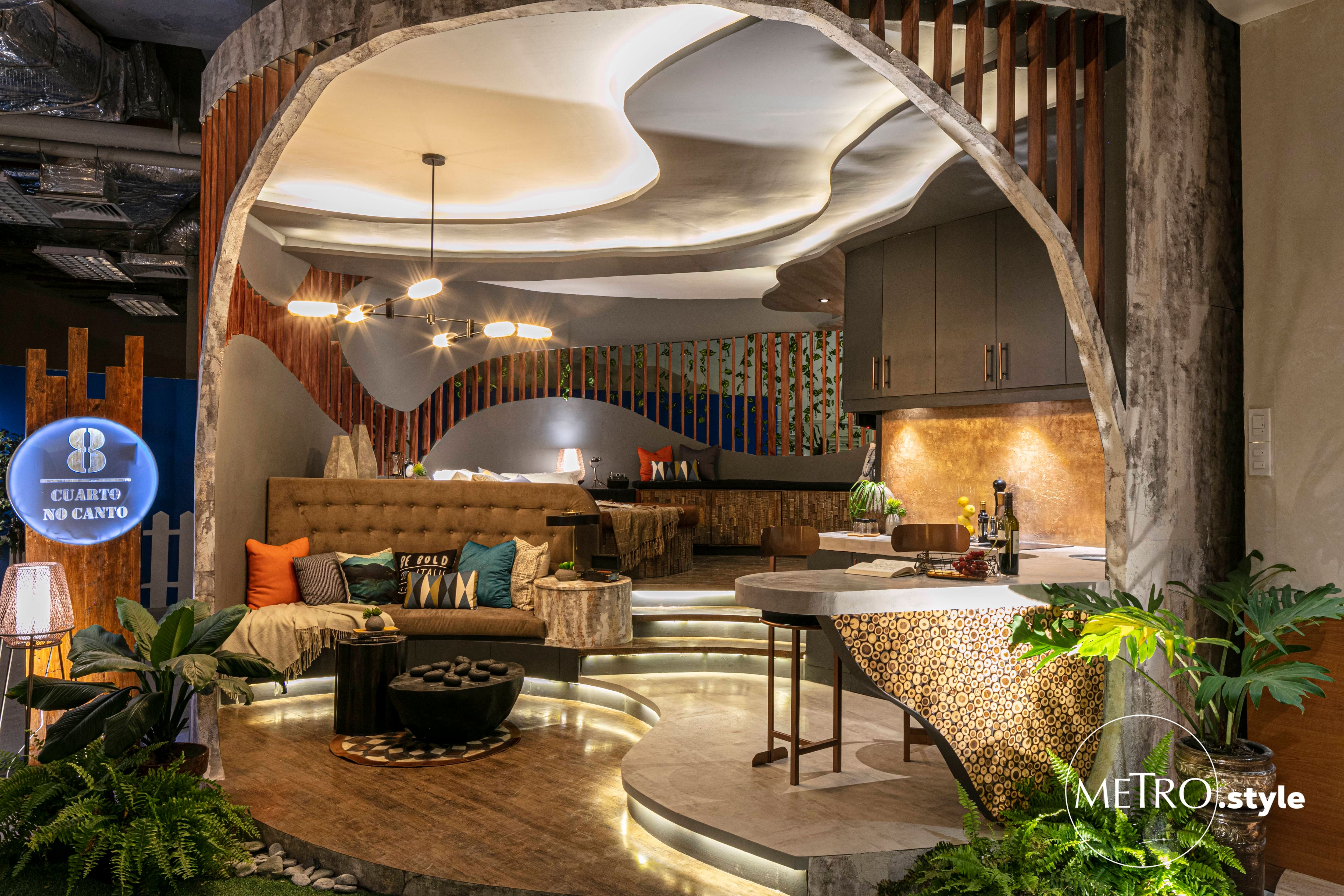 "In Cuarto No Canto by Likha, distinct spaces seamlessly and artfully flow into a unique curved whole without compromising the functions and efficiency of separate room components." | Photo by Jar Concengco
Restful Retreats
Booth No. 9: Silong by Forma
Team Members: Janine Apa, Marie Cadayona, Jonathan Lecias, and Apple Lim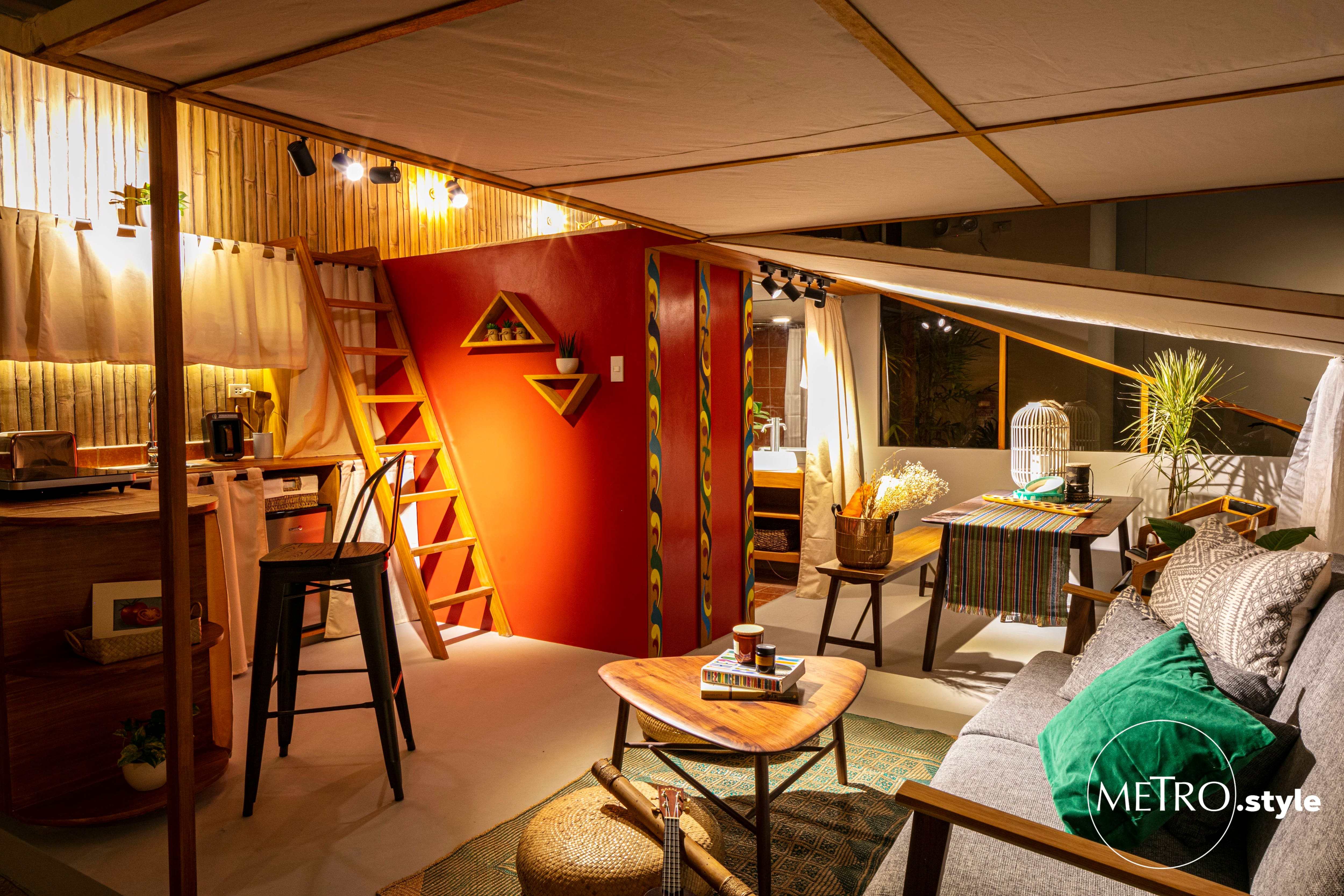 "Silong by Forma presents green living through the humble bahay kubo methodology and space-saving design." | Photo by Jar Concengco
Booth No. 10: The B'laan Retreat by Concept Creators
Team Members: Cris Arevalo, Peter James Calvez, Angel Co, Ella Go, and Michelle Lacson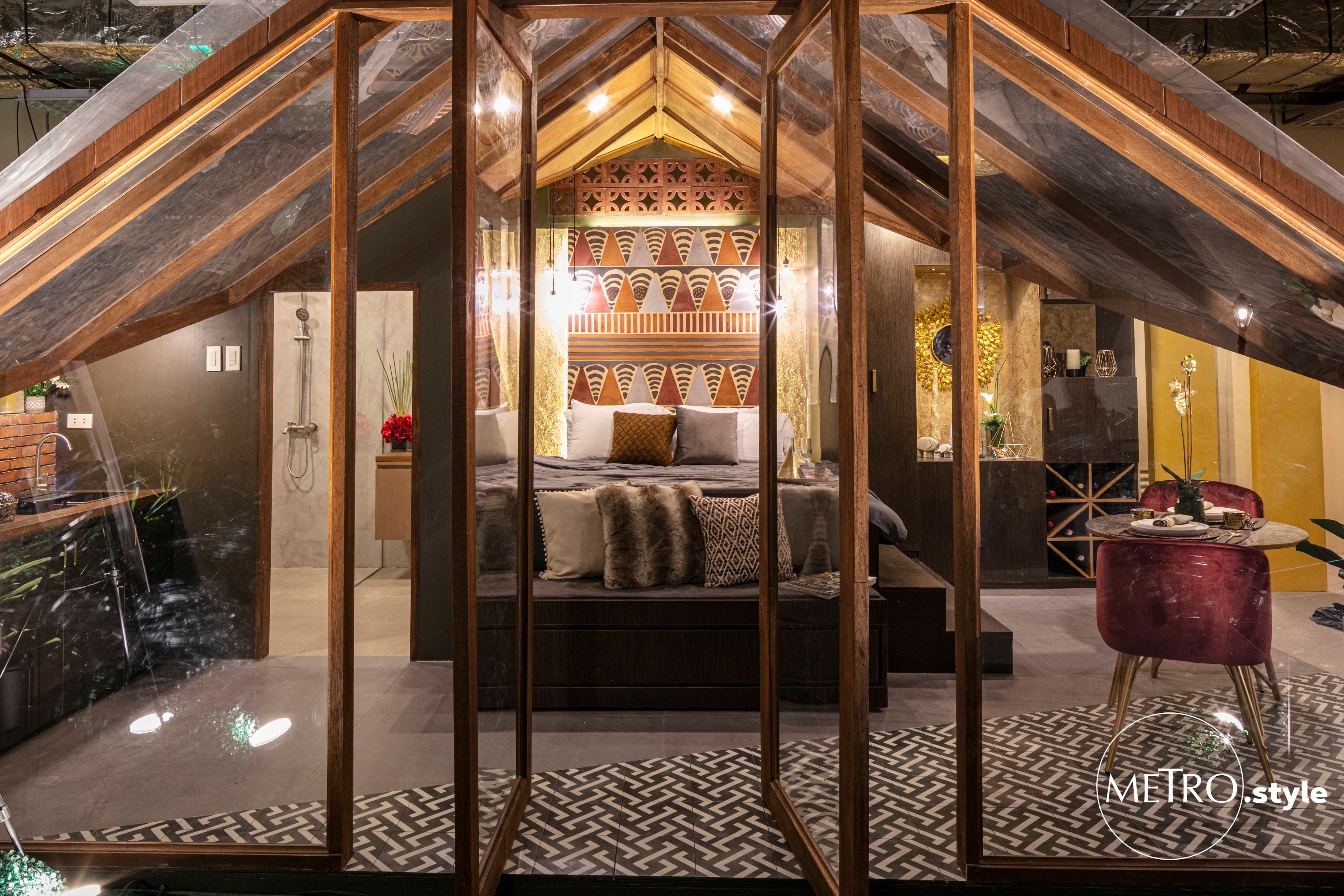 "The B'laan Retreat by Concept Creators features flexibility and a timeless elegance that reflects the culture of the B'laan tribe, producing an unconfined design and sophisticated space." | Photo by Jar Concengco
Booth No. 11: The Spear by The Beauties and the Beast
Team Members: Ireneo Jardenil, Jr., Honey Memar, and Paola Mae Caminero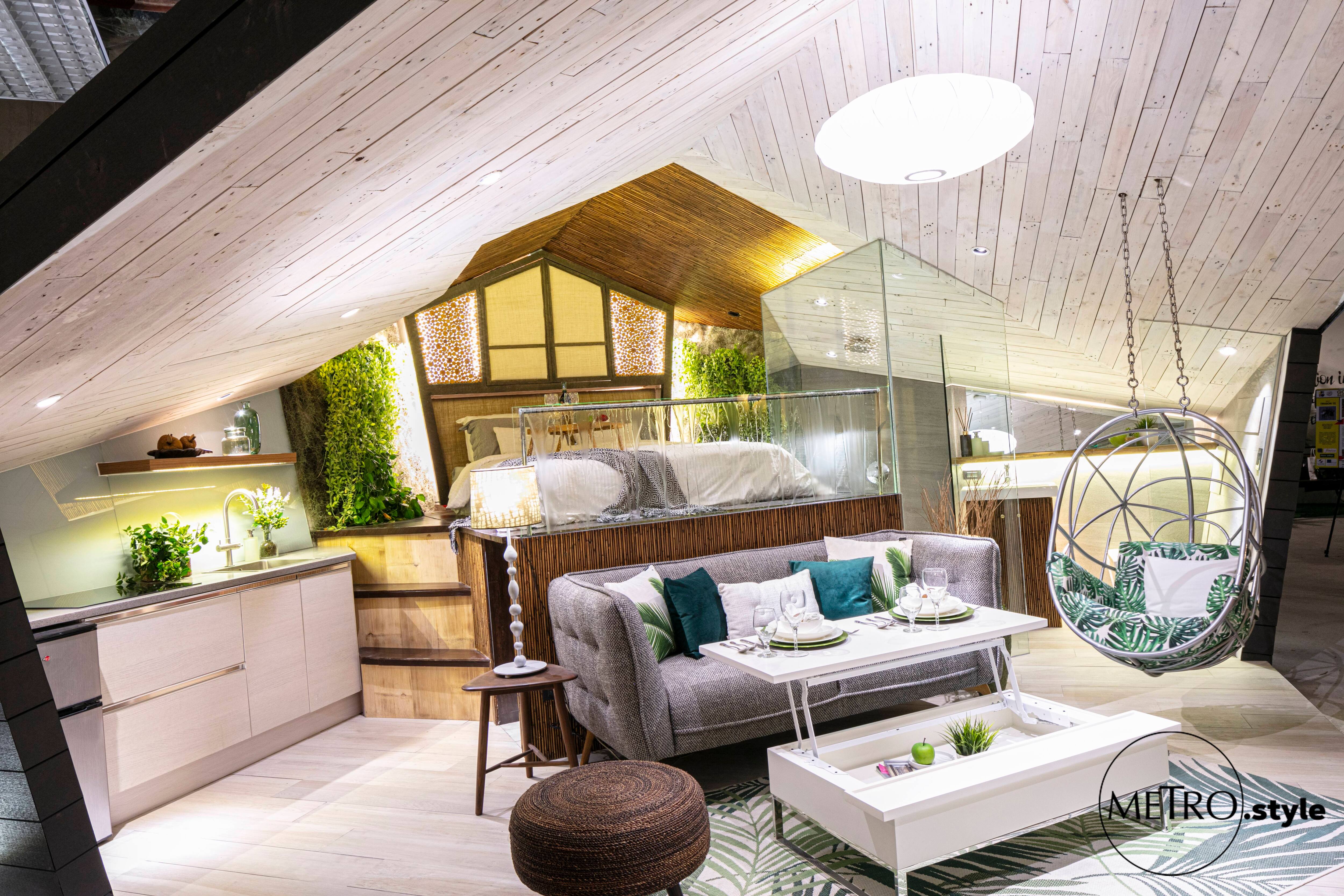 "The Spear by The Beauties and the Beast features a symmetrical, space-saving, and multifunctional modern tropical interior design that highlights Filipino indigenous, sustainable, and recycled materials." | Photo by Jar Concengco
Booth No. 12: Gotipino: Bamboo Lodge by Trigon 12
Team Members: Justin Caballero, Reneeca Cabilzo, Gabby Imbao, and Jason Nieva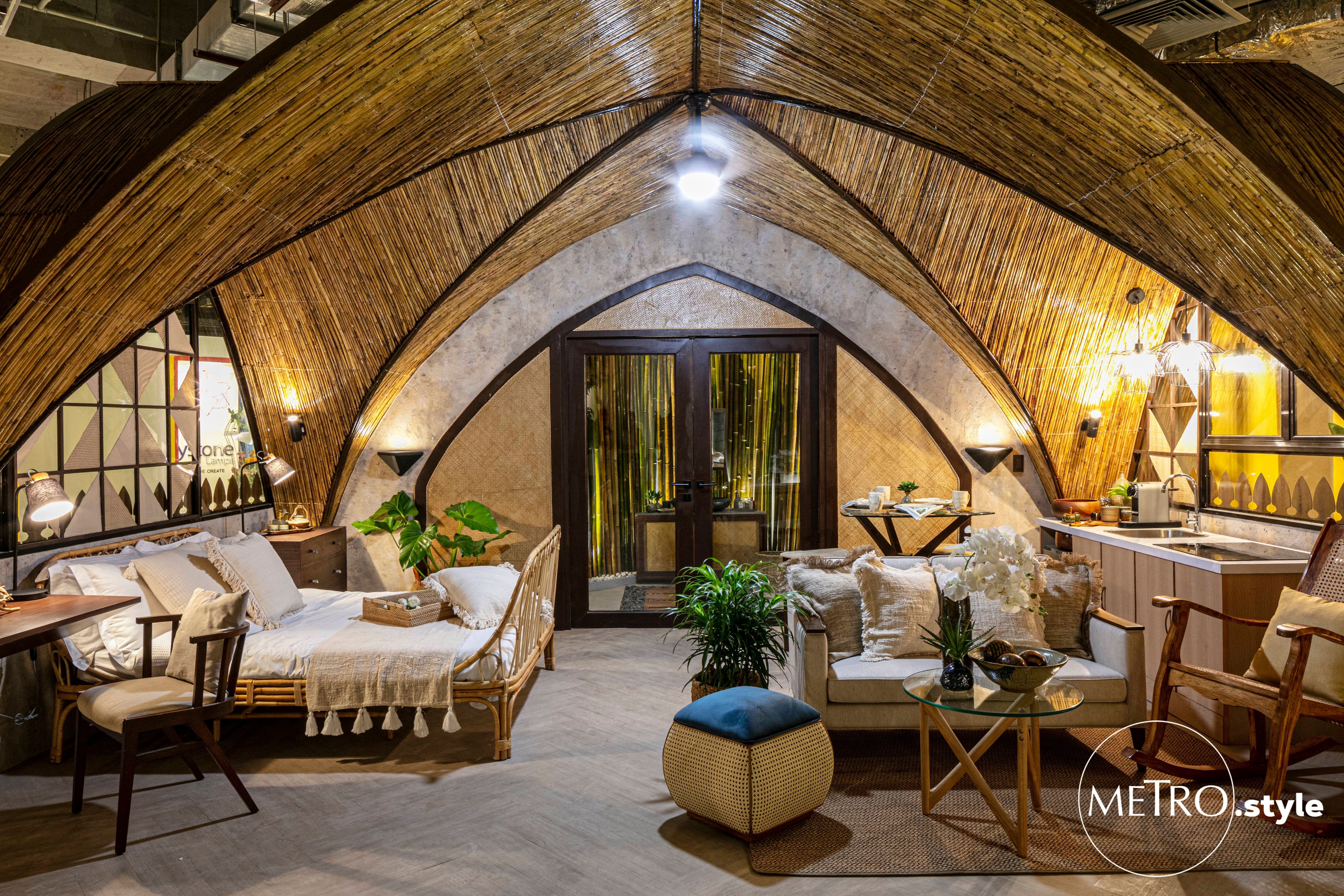 "Gotipino: Bamboo Lodge by Trigon 12 features a vaulted bamboo house with a medieval twist." | Photo by Jar Concengco