An Indoor Landscaped Garden Blooms In Art Lounge Manila
Discover plant and art pairings you can bring home from this art show
The plant craze that gripped the nation toward the middle of last year's ECQ was a pleasant surprise for many of us. In the confines of our homes, we rediscovered our love for the natural world, particularly for plants; and with this "plant fever" a new subspecies of passionate hobbyists emerged: the Plantitos and Plantitas.
Suddenly, it was fashionable for people to grow plants, and even more so, to engage in the lucrative buying and selling that caught the imagination of the nation. Almost overnight, plants became a status symbol, endorsed by celebrities, auctioned daily through Facebook live, and even became targeted by thieves who want to make a quick buck from expensive collector item plants.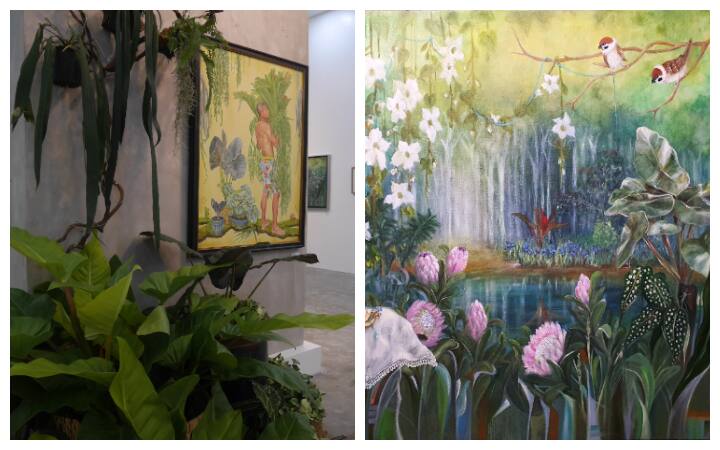 Photo Gallery
Photo Gallery
Looking into this social phenomenon, Art Lounge Manila opens the exhibition Plantitos y Plantitas with special partner Arid and Aroids, the company that contributed to this phenomenon so greatly. Combining their expertise in the visual arts and the delicate art of plant husbandry in Plantitos y Plantitas, Art Lounge Manila and Arid and Aroids present a unique art-and-plant exhibition where the gallery is not just a curated art gallery, but an indoor landscaped garden inside The Podium Mall.
"The pandemic, and the resulting community quarantines, allowed most of us to pursue passions at our own homes for extended periods. One of this was gardening. The plant selection was based on what became in demand during this time - plants that are beautiful and can successfully be kept indoors. A lot of these are found by the foremost purveyor of philodendrons, alocasias, colocasias and other foliage plants -ARID AND AROIDS - whom we have partnered in this exhibition of paintings and foliage plants," Ian Belleza of Art Lounge Manila explains.
Curated by two prolific minds, Ricky Francisco, for the art, and Mr. Bienvenido Haro of Arids and Aroids for the plants, the artists also had input on the plant and art groupings featured in the show.
"The painters were the ones who chose what to paint based on their personal preferences and what they found interesting when they went to Arid and Aroids as preparation for this exhibition," Belleza reveals.
Presenting their works are painter-sculptor Tet Ureta Aligaen, multi-awarded botanical painter Dindon Cordova, painters Inka Madera, Julie Gil, Anna de Leon, Kristine Lim, Carlo Magno, Christian Mirang, Francis Nacion, Lisa Villasenor and mixed media artist Melissa Yeung Yap.
Each of them have their unique take on presenting botanical beauty inspired by the collectible plants brought by Arid and Aroids, namely, Philodendron Leland Miyano, Philodendron Esmeraldense Colombia, Alocasia Regal Shield, Philodendron Hecules, Green Pastazanum. Silver Pastazanum. Philodendron Joepii, Golden melanoni. Philondendron Esmeraldense "Long" Philodendronn Grandipes. Philodendron SP Napo. Philodendron Green Congon Variegated. Monstera Adonsonii Variegated. Dottie. Anthurium Angel Wings. Philodendron Jerry Horne. Anthorium Tie. Philodendron Mamei. Anthurium Veitchii. the Philippines' own Amydrium Zippelianum, and the ultra-coveted Philodendron Spiritus Sancti which is extinct in the wild and goes for more than a million pesos!
Get a chance to own the uplifting artworks and the collectible plants in this unique plant-painting exhibition! Plantitos and Plantitas exhibition is presented by Art Lounge Manila and Arid and Aroids.
For inquiries, please call us at 09778398971 or 09989937963, or email info@artloungemanila.com. Follow us on our social media accounts
@artloungemanila
on Facebook, Instagram and YouTube. For updates on our upcoming shows log in to https://artloungemanila.com.