Practice Self-Love With A Restful Bedroom
Take a mini vacation from the demands of everyday when you tuck in for a restful sleep
"Prioritizing good sleep is self-love," Canadian author and inspirational speaker, Danielle LaPorte preaches. And indeed, so many agree with this sentiment, describing good sleep as a form one of the best things a person can do for himself or herself. There's something to be said about getting up in the morning refreshed, revived, rested and ready to tackle the day. Key to this, as well as to the prevention of so many diseases such as hypertension, obesity, diabetes and cardiovascular disease is good sleep. Getting quality sleep every night is very crucial for the mind and body.
https://www.pinterest.ph/pin/396316835931791016/
It need not be Valentine's Day to take a pause, and remember to love yourself a bit more. A good night's slumber also fuels your attitude, as optimism and self-esteem are both reportedly related to a good night's sleep. Sleeping well restores strength, refuels creativity, sharpens alertness, and improves confidence. Discover what true rest feels like by creating your personal sleep haven. Touch and feel soft and luxurious pillows, duvets, blankets, bed linens, and more for peaceful deep-sleep snores.
See the gallery below to get some ideas on how to build a bedroom that will help you achieve a good night's rest, and practice self-love: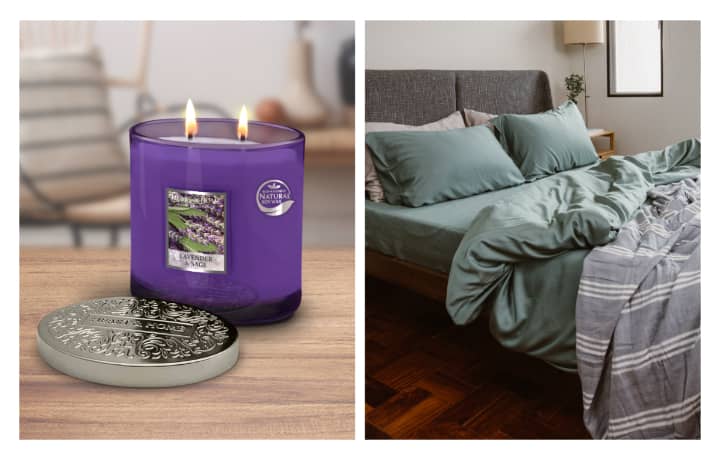 Build Your Restful Bedroom
Build Your Restful Bedroom
Shop With These Bedroom Promos
Building a sleep haven is more fun with promos and discounts up to 30% off at Rustan's brands, happening from February 15 to March 31 for Bed & Bath and February 1 to 28 for Home Appliances.
Uratex offers up to 30% discount on selected mattresses. Enjoy 30% discount on selected mattresses from Serta plus an additional 5% discount if purchased during the event. Modbed offers 10% discount on all Ergomotion & Wellsville Bed Set purchases and shoppers can get a complimentary Dock & Bay Large Towels for every minimum purchase of PhP 30,000.
Finally, Slumblerland offers 30% off on all mattresses, 10% discount on selected mattress protectors, and get an Anti-Dust Mite Pillow for every purchase of a mattress; Sheridan offers 20% discount on selected bed linens; and Blueair offers up to 20% discount on selected items.
Make the most of your rest for a reenergized mind and body every day. Visit Rustan's to build the coziest sleep haven that fits your needs.