"Prince Of Prints On Prints," Ram Lopez Vito-Bucoy Has Advice On How To Live With Heirlooms
The decorator lent his flair to Rue Angeligue at Casa De Memoria where his penchant for telling a story with objects holds court
Filipinos are known for their close family ties. This trait also bears a strong influence in how Filipinos decorate their space. Many live in multigenerational homes cohabiting with furniture and items that their parents or grandparents owned. As others try and trade everything antique for a more contemporary space, there are a few that are learning to live with items rich with history.
Ram Lopez-Vito Bucoy, interior decorator and curator of Rue Angelique at Palacio de Memoria has a few tips on embracing your inner maximalist heiress look. "I noticed the generation now has a fear of keeping old things and they think that it won't match with their aesthetics. But for me, my tip is to mix and match. Mix it with what's current now. You'd be surprised that it would look good in your space. Try to experiment," Bucoy advises.
A Giant Flea Market With Vignettes That Tell Stories
Rue Angelique - the brainchild of Angelique Lhuillier - sits on the fourth floor of Palacio de Memoria and is filled to the brim with curiosities, objets d'art and 18th century furniture. "Rue Angelique is like a giant flea market in the Philippines. It's how we wanted to envision the place," Bucoy describes the store. "It's impossible to arrange the store matchy-matchy because these are a mismatch from overseas, from the warehouses, from [the Lhuillier family's] trips abroad. So we made sure that even though it's mismatched, there is still a story. Every vignette has a story," says Manila's "Prince of Prints on Prints."
One can take a page from Bucoy's design playbook by making sure when placing items together that it tells a story. The items should converse with one another. In one corner of Rue Angelique, Bucoy placed an elaborate chinoiserie decorative jar with orange and blue accents inside a glass enclosure together with graphic artwork from China with similar colors. "It's a beautiful 18th century artwork on wax paper from China. It depicts an execution scene during that time. It may be morbid but for me it is one of my favorite pieces because it shows you how vivid the painting is and how reality was in the 18th century," Bucoy adds. "It's a nice conversation piece and not something to be afraid of."
A vintage poker set by Cartier in a burgundy leather case and a "Must de Cartier Paris" gold stamp in the interior is one of the treasures you can find perusing the items at Rue Angelique. Bucoy has placed chinaware, teapots and teacups with golden handles on a carpeted floor of another corner reminiscent of brocantes in Paris. Qing Dynasty wooden low arm chairs sit adjacent to a beautiful kimono wall hanging. "Not everything has to look the way it comes out in a magazine. Sometimes the most weird accident can make a space look pretty," says Bucoy.
Rather than source new items that are artificially made to look old, Bucoy recommends sourcing old items and refreshing it by reupholstering it to a more contemporary fabric or adding throw pillows. "For me it's important that your house have a soul. Every space should have a story." Bucoy identifies Allen Oblena and Resurrection Furniture as great places to start if you are considering taking an old piece and giving it a modern spin.
Furniture and objects around your home shouldn't be too precious either. "If it's too precious you'd be too scared to use it or interact with them. Furniture needs to be easy even if they're old. You have to be able to enjoy it. What's the point of having furniture which you can't enjoy just because it's trendy? You end up not using it and it becomes a cold piece in your home," Bucoy warns.
"Just because you live in an old house doesn't mean your furniture needs to be old. It has to be a mix. Or if you're moving into a new house in Westgrove - where everything is modern - you might think you have to put all modern things too. No. Put some old things too. Mix and match. Trust me, it's still going to look fresh," he says.
See more corners of Rue Angelique in this gallery: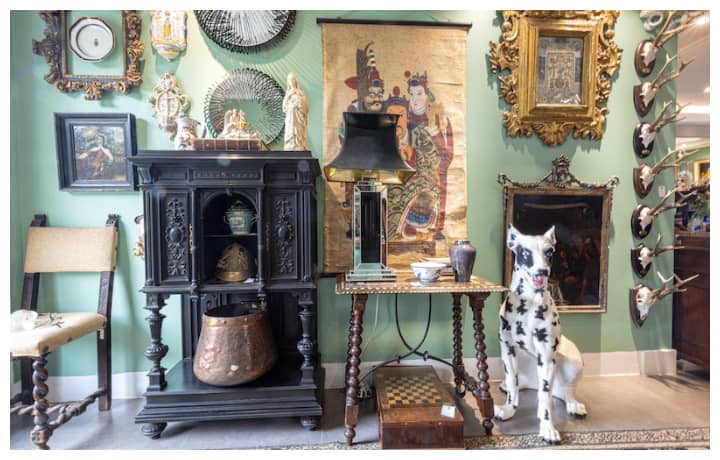 Photo Gallery
Photo Gallery
Photographs by Jar Concengco