5 Design Tips To Help You Recreate The Hello Kitty Rooms in Awaji Island
Metro.Style tells you how to make a room inspired by this sunny, kawaii destination
More than a year into the pandemic, and international travel is still limited. While we're adjusting our lifestyles to doing spending more time at home, we've learned that the best way to lessen the longing of the outdoors is by bringing it in, in whatever way we can.
We've tried taking the view of the greens via our collection of plants. We've also tried backyard barbecue, or play outdoor recreational activities even with the limited space we have. But aside from all these, styling our nooks with inspiration from our favorite destination is one of the best ideas we can (and have) come up with to somehow go traveling without leaving the comforts of home.
As the news of the wonderful Hello Kitty resort in Awaji Island in Hyogo, Japan filled our newsfeed this past month, our minds have probably started taking us to the sunny, kawaii-filled destination that's four or five hours away from our country via plane.
Of course, we know that it might take a bit more time before we can actually fly out to see this cute place in the flesh, so the next best thing? Yup, get inspired and take it to your home! We checked out this Sanrio wonderland's Hello Kitty-themed accommodations, the Grand Chariot Hotel. This hotel houses three Hello Kitty rooms—the Cocoon of Stars, the 70s room, and the Natural Forest room.
If you want to feel like you're actually in this Japan must-visit spot, check out some tips below and try incorporating Hello Kitty in your space. Not only will you get a bit of a nostalgic experience, it'll also offer extra charm that will definitely put a smile on your face no matter the time of the day.
Take your favorite quote from Hello Kitty into your walls.
Or if this isn't available, start small with a framed one, or maybe print it out, decorate it with Hello Kitty stickers, and stick it to your mood board!
Get crafty!
If you're ready to get down and dirty, try the colorful route and paint your walls with bright stars—just like in this room. The splashes of hue maintain a fun spirit in an otherwise plain room, so it'll be more fun to wake up with such a nice touch!
Switch to tropical furniture, and consider the beauty of raw wood.
Why not embrace local and shop for beach house pieces, just like in this room? These items go well with the pastel hues and cute prints used in draperies and themed accessories. In addition, the rooms at Hello Kitty Smile are paneled with raw wood, showing grains, knots and all. This warm material, also found in the rooms' beams, structural elements and ceiling, makes a neutral background, a great canvas where you can layer all sorts of pastel combinations and shades. It is also evocative of log cabins, immediately lending the space a destination feel.
Add character to your couch.
Show your love for Hello Kitty getting Hello Kitty-printed pillows cases. Mix and match the prints to achieve a truly kawaii look!
Bring out your Hello Kitty collection.
Come on, we know you have this! Take those feline softies out of your closet and decorate your bed with their presence once again. Not only does this make your room a whole love cuter, you also get a pretty companion to tuck you in bed come nighttime!
Curious about this Hello Kitty destination? See more of it in the gallery below: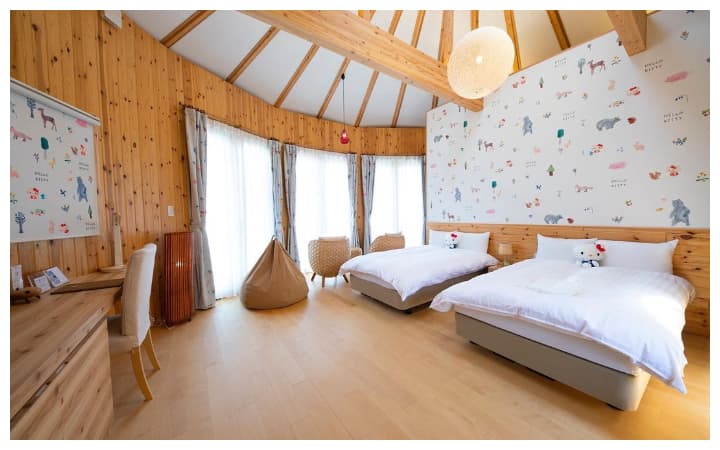 Hello Kitty Smile, Awaji Island
Hello Kitty Smile, Awaji Island