Treat Yourself To A Relaxing Retreat In These 2,700 Hectares Of Land Conservation
The family will enjoy walks along pristine paths, and moments in the garden and cottage areas while plantitas will love learning about local flora and fauna in Masungi Georeserve
Travel restrictions are easing and our borders are opening up to tourism. If you had guests traveling to the Philippines, where would you take them to? In the 21st World Travel and Tourism Council (WTTC), Tourism Secretary Bernadette Romulo Puyat mentions some observations of tourist behavior since the pandemic, "We noticed people prioritize health and safety. We looked at traveler preferences. They wanted open air and well-ventilated spaces."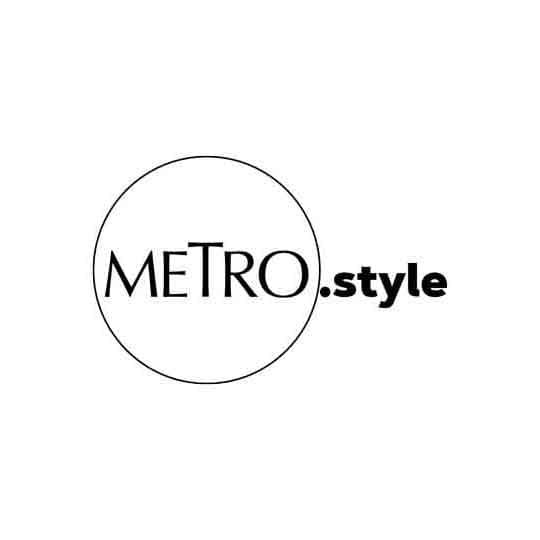 The Ishinomaki Lab stool, designed by Japanese architect and furniture designer, Keiji Ashizawa, was auctioned off for the benefit of the Masungi Georeserve. | Jar Concengco
In more than two years, it was my first time to show around guests from out of town. I missed being able to show the best of what the Philippines has to offer and so my wife and I decided to take them to the award-winning conservation project at Masungi Georeserve in Baras, Rizal.
Ann Dumaliang, co-founder and trustee of Masungi Georeserve Foundation said during the recent WTTC, "Masungi Georeserve is a conservation project that we are running just an our and a half way from Metro Manila. We managed to restore four hundred hectares of land in 1996 beginning with my dad and his team. In 2017 we entered into an agreement with the government to scale the work that we done there and restore 2,700 hectares of land around the area that we were initially conserving, effectively quadrupling the area that we needed to restore and protect. So all of that now is sustained and protected using the funds that we raised through tourism."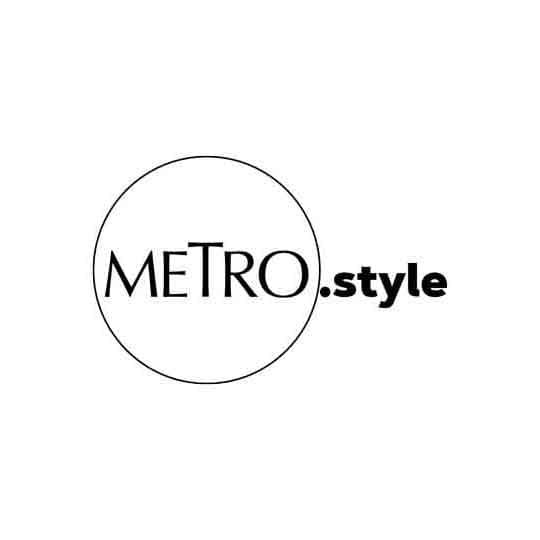 Lots of open air and nature in Masungi Georeserve. | Jar Concengco
You've probably seen photos of friends trekking the web-style platform above karst terrain called Sapot. This spiky limestone landscape is actually where Masungi got its name from - derived from the Filipino word "masungki" meaning "spiked". Although we didn't have the 3-4 hours to hike the Discovery trail that this feature was on, we decided to take a more leisurely hike and picnic in their Garden and Cottages area with flatter walk paths.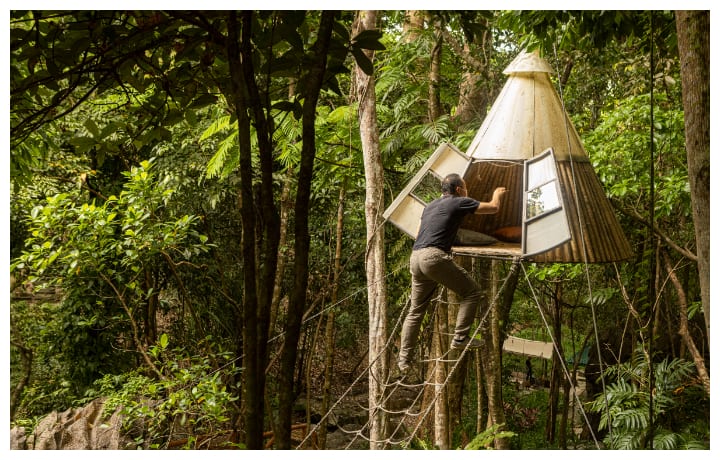 Photo Gallery
Photo Gallery
Part of Masungi's goal is to educate its visitors about the flora and fauna that live here. Our guide was a local residing in Baras, Tanay and she pointed at the different types of endemic trees as we walked passed by them. We would stop once in a while so she can tell us folk stories of the trees - such as the Balete Tree and how it was known to be a home of spirits. She let us smell the leaf of a Kayumanis Tree - an endemic tree from the cinnamon species - and told us that tribes from the Sierra Madre would use this to treat headaches.
Our guests from Japan included Tokyo-based architect and CEO of furniture brand Ishinomaki Laboratory Keiji Ashizawa. This trip was meaningful because during the brand's 10th year anniversary last year, we were able to raise funds for Masungi Georeserve by auctioning off 10 one-of-a-kind Ishinomaki Stools which Ashizawa designed.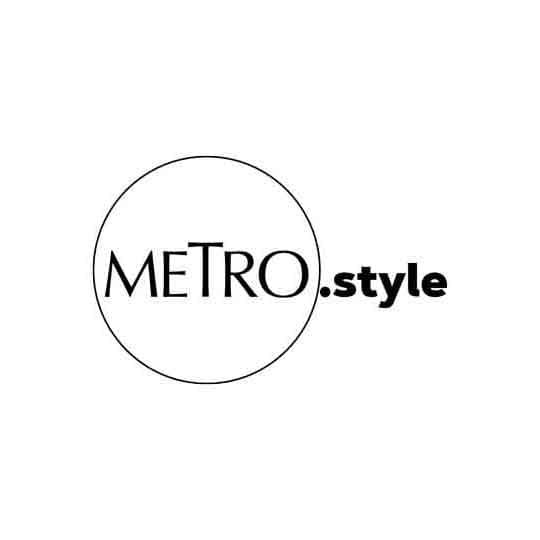 Japanese architect and furniture designer, Keiji Ashizawa in Masungi Georeserve. | Jar Concengco
Being jet lagged and on the go for the last several days, the Garden Picnic was perfect for our guests. After a short 10-15 minute hike, we were able to sit down by a stream to enjoy a bilao full of sandwiches, root crop chips, bagoong aioli, and tropical fruit. We were offered ice cold face towels to freshen up and cool bottles of water infused with lavender to quench our thirst. There were also hammocks and hanging seats spread out across the sprawling area for you to relax in and listen to the different birds. There were also dry towels provided in case you wanted to get your feet wet and walk in the stream.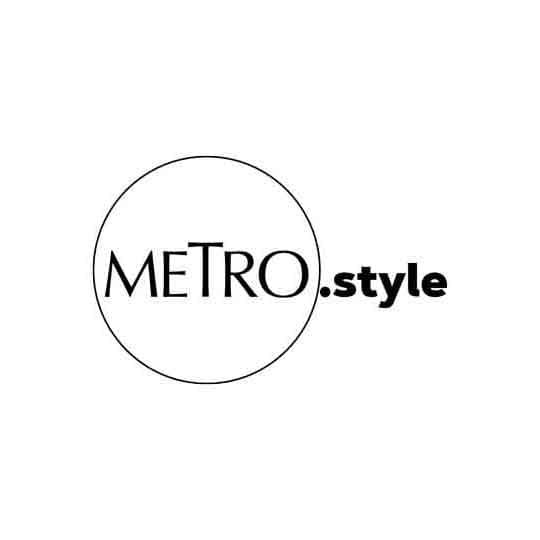 Garden picnic in Masungi Georeserve | Jar Concengco
A highlight of the picnic was the tea tasting. The ranger prepares various teas using flowers and leaves traditionally used for health and wellness here in the Philippines. There was the vibrant, red hibiscus tea which had a sour fruity taste to it. There was the blue ternate tea mixed with mint. The favorite of Ashizawa was the last one offered - a ginger tea which warmed the throat.
There was no rush for us to explore the grounds, making it a perfect place for those who want to meditate or do yoga even. There is even a small, floating hut, a conical structure hanging in mid-air and accessed by climbing up a net. The Rock Garden gives you a close up view of the limestone formations.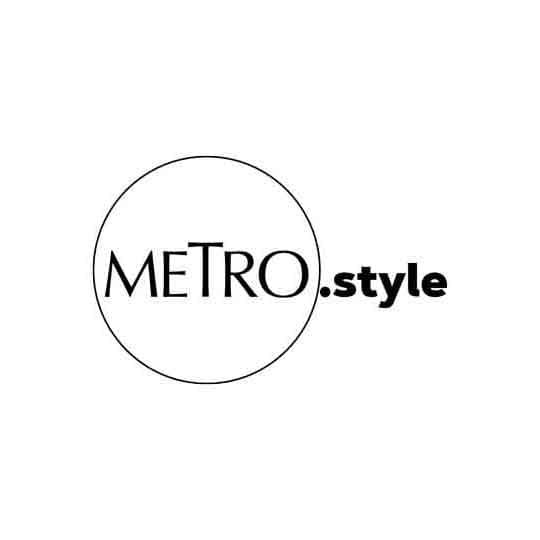 Floating huts accessible by climbing a net, a unique Masungi Georeserve experience. | Jar Concengco
Fast food in disposable or single use containers are not allowed in the grounds. In the short orientation the ranger gives you in the beginning, they teach you to make sure that you leave absolutely no outside trash on the grounds and to bring it back with you. This ensures no disruption of the ecosystem at Masungi.
If you've heard of sustainable tourism - leaving a place as it was - now comes regenerative tourism. Masungi has the Legacy Trail in which guests can directly participate in tree planting and tree nurturing.
Billie Dumaliang, co-founder and trustee explains, "Regenerative Tourism is really a change in mindset. It's a paradigm shift from a tourism that leaves no trace to a kind of a tourism that leaves things better than they were before - both for businesses and for travelers. So that brings us back to the importance of climate, of biodiversity and how we as a sector that has impacted it has to take a very clear leadership role in achieving those targets."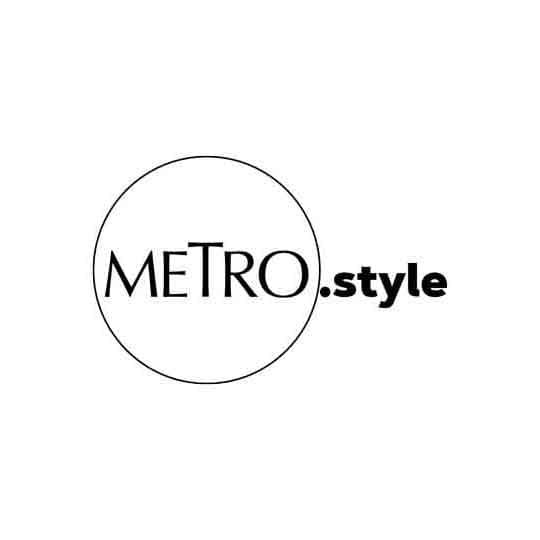 Japanese furniture designer and architect, Keiji Ashizawa admiring nature in Masungi Georeserve. | Jar Concengco
A trip here engages you not only to be a spectator but to leave as a steward of the environment. Traveling locally and knowing about the area around you is the most sustainable thing we can do as a tourist.
Ann says, "A lot of us have limited the concept of sustainability to simply reducing plastic waste, offsetting our carbon and all of this, but we tend to forget that we need to localize our approach and that means getting to know the places that we move in and understanding the geographical nature of the destinations that we belong to."